OVER CLOCK
GAMING LAPTOPS: Legit or lagging behind?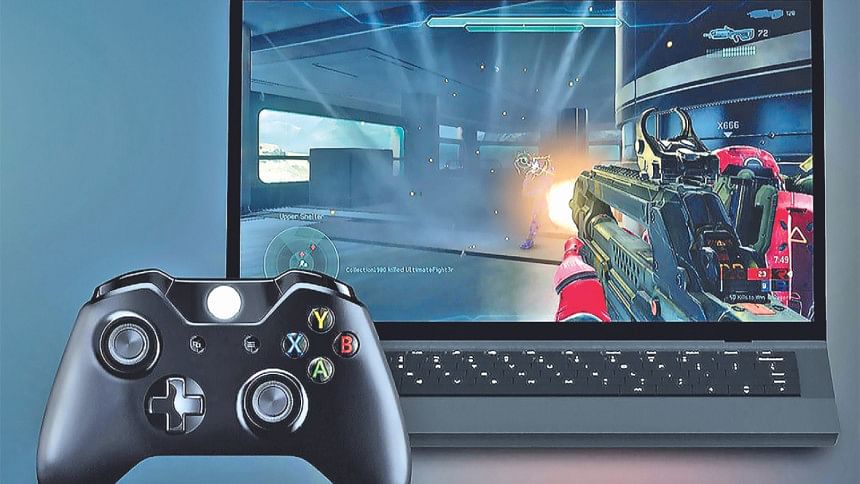 Gaming laptops have long attempted to bring about the revolution and oust the desktop PC from its throne in the gaming empire. Unfortunately, as those who bought these laptops would tell you, they couldn't quite live up to the mark.
The lack of proper graphical processing power in mobile GPUs, which most of these machines come equipped with, meant you would have a horrible experience when playing anything graphically intensive.
Bad textures, low frame rates and stuttering were common issues for laptop gamers, even the ones that paid a high premium for their systems.
However, times have changed and as technology advances, we've finally arrived at a time when gaming laptops are starting to become a legitimate competitor for the home PC.
Without any further rambling, here are some of the pros and cons of investing in a gaming laptop right now, starting off with the pros.
Portability
Portable gaming is the 'Holy Grail' for gamers, the end goal of all their hopes and dreams. Just look at the hype around the Nintendo Switch before its release and the continued demand still keeps the console close to its original retail value. Now imagine being able to play PC titles on the go, that too in 'Full HD'. This point is a no brainer, as the entire purpose of buying a gaming laptop is to experience the 'master race' on the go.
Power 
Thinking back to half a decade ago, gaming laptops were not the most powerful of systems. Look harder, and you'll see that for the price of one decent gaming laptop, you could probably buy two desktop gaming machines, that too ones which could yield far smoother performances. Thankfully, the latest generations of these portable gaming machines has done a lot to solve these problems from the past. Prices are now much more reasonable, albeit still high when compared to desktop gaming rigs. Above all, performance is now much closer to that of a full PC, with the old style of mobile GPUs being replaced by the full-fledged GPUs similar to that of a desktop system.
Easier LAN setups
Are you and all your friends part of the PC 'master race'? Is it disappointing not being able to party up and play your favourite games during a hangout or sleepover? Well, say no more. Gaming laptops make it easier than ever to set up a LAN and start playing with and against each other.
Budget options available
As shocking as this might sound, gaming laptops don't have to cost you a kidney. Therefore balancing the specs accordingly to ensure you get the most performance per taka is important. For those on a very tight budget, an alternative is to purchase a system with a good CPU and no dedicated graphics card, rather than one with a mediocre CPU and GPU combo. That's because you'll be able to easily play a wide array of games using just your integrated graphics and a good CPU. And since external GPUs are now a thing, you can invest in one sometime in the future for your more graphically intensive titles. Pro tip: Ensure your laptop supports 'Thunderbolt' USB ports, otherwise an external GPU will not work with it.
Now onto the cons.
Limited battery life
This has continued to be the bane of gaming laptops. With high-quality performance, comes poor battery life. Mostly when a GPU is involved. Gaming laptops won't make it past the four to five hour mark in most cases, meaning you'll be carrying around 'dead weight' in your backpack after a few intense sessions of Dota. Either that, or you'll have to carry additional weight in the form of a power adapter, and spend much of your day looking for a half decent charging point. However, the existence of 'thunderbolt' ports means faster charging, so that in itself could solve at least some of this particular problem.
Weight and bulk
A gaming laptop is rarely the most slender piece of tech you'll get. Generally, they tend to be a lot bulkier and weigh a ton, in part due to it housing a GPU. External GPU boxes also create the same problem, as you have to carry one more heavy item around with you to game on the go.
Not Economical
Finally, the reason that continues to be the thorn in the side of gaming laptops is that, even to this day, it cannot compete economically to a desktop PC, in terms of pure bang for buck performance. You can build a top tier PC at the price of a mid-tier gaming laptop. While the industry has definitely made great strides in laptop gaming, it still has a long way to go, if it wants to fully compete with its bigger (and cooler) older brother, the PC.
When looking at the bigger picture, the answer to whether you should invest in a gaming laptop or not will vary across the board, depending on your specific needs. My personal recommendation would be to look into the external GPU option, as you can have a light and portable system to take with you wherever you need, and a box that turns it into a gaming monster. Truly the best of both worlds.
And if that isn't quite what you're looking for, the accelerating advancement in technology is definitely an indicator that there will be a greater variety of choice to come in the near future.
Aaqib is stuck in an existential crisis loop. Send help at [email protected]