The Trials and Tribulations of Female Motorcycle Riders in Bangladesh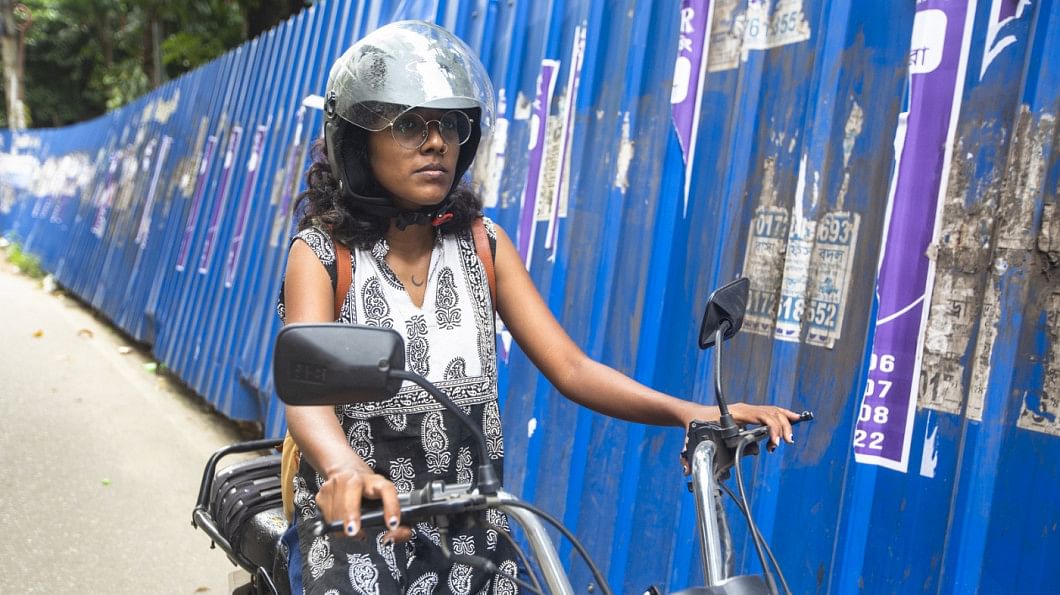 As more women are leaving the house to run errands or go to their workplaces, there's a rising need for safe transportation for women. Considering the unforgiving traffic jams, unpredictable ride-sharing services, and unsafe public transportation, having an affordable vehicle of one's own has become a necessity.
For years, the patriarchy's many qualms with women riding motorbikes did not allow them to use motorcycles or scooters for daily transportation needs. But for how long can this continue?
Motorbikes and scooters are often the safer options for women in the streets of Bangladesh because it does not involve getting into a public bus where women get harassed more often than not. It is also safer and more cost-effective than taking an Uber or a CNG.
Despite the practicality, women do not get to ride motorcycles that easily here. Aside from concerns about road safety, most families do not allow their female members to ride a scooter. The very idea of a woman sitting astride a vehicle is unacceptable to many, let alone the concept of a woman having the means to travel on her own. After convincing her family, she will have a hard time finding a proper learning facility for female riders.
If a woman surpasses these barriers and starts riding a motorbike, she is harassed by male riders/drivers. Mahmuda Sharifa Audity, Assistant Teacher at Viqarunnisa Noon School and College, shares her experience.
"Male divers often treat you like a nuisance or at the very least throw random comments at you. Recently, I was going to work on my scooter with another female colleague. A car in front of us kept blocking our way. When he kept doing it, I got annoyed and bypassed him."
Overtaking seems to take a heavy toll on the fragile male ego. As Mahmuda continues, "Once behind us, the driver kept blaring his horns at us for no reason! It was early morning, and the road wasn't congested at all. Incidents like these happen way too often to female riders. To become a female motorcycle rider in the streets of Dhaka, you need a heart of steel."
Tahsin Binta Anis, a lecturer at the Canadian University of Bangladesh, says, "Because of the harassment women face, most women riders prepare extra hard to perfect their performance on the road. I remember when I first started riding my scooter, I made sure I was used to all the manoeuvres before I dared to step foot on the road. Thankfully, in recent years, I think more male drivers are used to having female riders on the road, so the judgment is not as severe as it was."
Despite the problems that come with being a female motorcycle rider, the number of female riders is rightfully on the rise. As Mahmuda adds, "It is not just practical but also deeply liberating. It boosts a woman's self-confidence to realize she can go anywhere without having to depend on anyone but herself."
Tazreen's dream of having a lemon yellow scooter is being crushed daily by her bank balance. Console her at [email protected]