The BCS obsession of public university students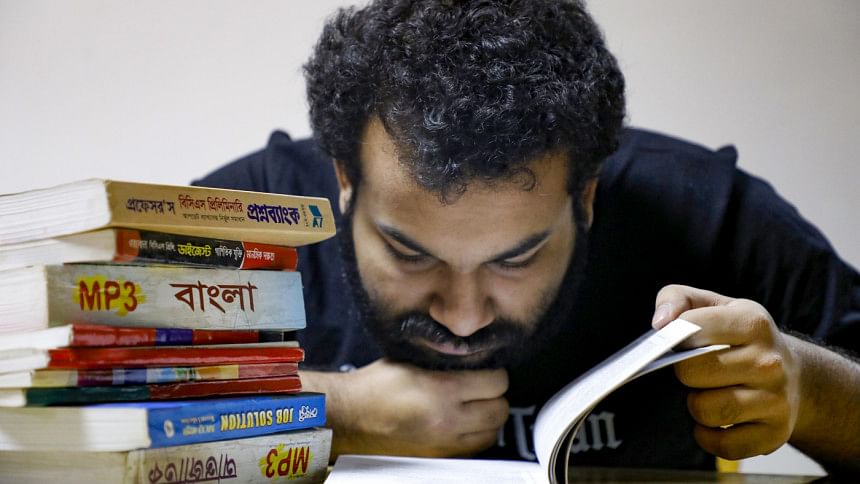 During a public seminar at Dhaka University last year, former professor and critic Syed Manzoorul Islam addressed the trend of students graduating from public universities to pursue government jobs. He humorously highlighted that if there were a "BCS university" which would consist of departments of "preliminary exams" and "viva", that university would be hugely popular among the students of public universities.
When I first started going to classes at a public university and saw a long queue of students in front of the central library, I was astounded by their zeal for learning. But after a few weeks, I learned that Bangladesh Civil Service (BCS) exams was the true cause of the long line. Insinuations from my parents that being a BCS cadre is the only way to be in a position of power began nearly as soon as I was accepted into a public university.
The number of students who sat for the 44th BCS preliminaries in 2022 was 350,716, with numbers being similarly high, if not higher, in recent years. So, why do many public university students abandon their majors to become BCS cadres?
Tahmidul Alam, a student of the Dhaka Medical College who plans to sit for the BCS exams in the future, says, "BCS after MBBS is not really a choice if you are not planning to pursue your career abroad and want to survive in the current Bangladeshi perspective. In my three and a half years as a doctor, I've seen that most MBBS students come from financially unstable families and must support them after internships. Medical officers in entry-level posts are severely underpaid. Post-graduate degrees are now required for doctors since the general public seems to look down on 'simple MBBS graduates' and always want to consult senior doctors first, breaking the referral system. Coaching and application fees make post-graduate degrees costly too. Once you're accepted for a degree, the stipend you earn throughout training isn't enough to maintain yourself and your family."
And all of these things lead to many MBBS graduates ending up in foreign services or other public services. In the 38th BCS, seven out of 25 foreign cadres were medical students.
Abdullah Anik, studying in Bangladesh University of Engineering and Technology (BUET), also plans to sit for BCS exams after graduation. He says, "I just want everybody around me to know that I did some studying. When I become a police officer or administration cadre, people will know that I worked hard for it. If you stay in the administration, it will allow you to interact with everyone and contribute to the country. Mainly, I think life can be enjoyed. You don't need to sit and hide your face in books all day like I do now, that's it. And I want to get out of this field of study as soon as possible."
To lend credence to Anik's sentiments, 13 out of 25 foreign cadres were engineering students in the 38th BCS.
Alo Akter, majoring in Journalism from Dhaka University, says, "I, myself, have no desire to sit for BCS, but my parents want me to be a cadre as it entails having power and respect from others."
From the Department of Statistics, Dhaka University, Ansuwa Karmokar has something similar to say, "My parents want to see me as a cadre because which parent does not want their child to have job security in this economy?"
A student of Jagannath University who wishes to remain anonymous says, "I did not qualify for the department I wanted to study in, so I do not see career prospects in my discipline. My father paid my admission fees on the condition that I sit for BCS and that help my family."
This paints a harrowing picture of the current psyche of public university students. Many of them are stuck studying for degrees they don't want because of closed credit system, and they often don't care about their degrees as they have their eyes set on BCS, be it for personal or familial reasons.
Dr Saiful Hoque, Associate Professor at the Department of Mass Communication and Journalism, Dhaka University, has closely observed students' behaviour toward BCS. He highlighted a few reasons why the number of BCS applicants increases every year. He pointed out that students at public universities tend to be from financially unstable families. In many cases, they are not admitted to their preferred subjects and are less motivated to find discipline-oriented careers. This also causes them to drive towards a common focus, which is BCS.
The state of the job market in Bangladesh also plays a stark role in all of this. For many of the degrees offered in public universities, one must either be exceptionally talented or skilled to be recruited for a job in the relevant field. Because students only need to concentrate on a few areas to prepare for BCS, they do not need to read the course materials related to their major. In terms of compensation and benefits, government positions are often more lucrative than private jobs.
Dr Saiful Hoque further added that students who graduate from the nation's best public universities cannot contribute to society because of institutional flaws, all of it at the cost of taxpayers' money. The structural loopholes are to blame, not the students attempting to become cadres.
After speaking with 21 students of the University of Dhaka, it became clear that it all boiled down to only five viable reasons to take the BCS exam – job stability, the honour tied to government jobs, the power that comes with it, added facilities of government service, and retirement pensions. BCS provides the opportunity to live comfortably without worrying about life's insecurities, as per the students.
Inadequacies in the educational system give students the freedom to pursue careers that have nothing to do with their major. It costs the state money in addition to the student's time. It has become a norm for students to work tirelessly to get into one of the public universities — be it an engineering or medical school — and then toss out all the information associated with that hard-earned spot to work as a bureaucrat. The system operates in a way that discourages students from selecting a position that is related to their major. It takes a lot of willpower to resist being seduced by BCS, which, as of now, is a pot of gold.
Azra Humayra is a part-time roach squasher and full-time trash television connoisseur. Send her show recommendations at [email protected]