SHOUT x UNDP Youth Co:Lab
Start-ups that empower women
One can define the term "women empowerment" in many ways, using many examples. Educating women, providing them with necessary resources, helping them set up their own businesses, teaching them self-defence – all this and more empowers women. In the process, it challenges inequalities in society and contributes to the sustainable development of a nation.
The best way to empower, perhaps, is when a woman works to look after their own. Such is the story of Begum.co, founded by Rakhshanda Rukham, which provides a "360-degree support system" for women in their careers, lifestyles, health, safety, etc.
"When I was in university, there were no platforms connecting women with similar interests, or women-centric platform and local language content for women. I realised that women of our country need assistance through life stages to support their careers. This is why I founded Begum.co in 2015," says Rukham. From a need for women mentors who could lead and inspire young girls from rural areas, Begum.co now works across cities with over 4000 women access mentors, offering career tips, leadership training and content besides being part of various special initiatives.
Simply put, Begum.co aims to improve the social status of women in Bangladesh. Begum's ecosystem is that of a healthy environment which supports a women in her journey through life. With education, mentorship and a growing community, it creates jobs for women and help them become self-dependent.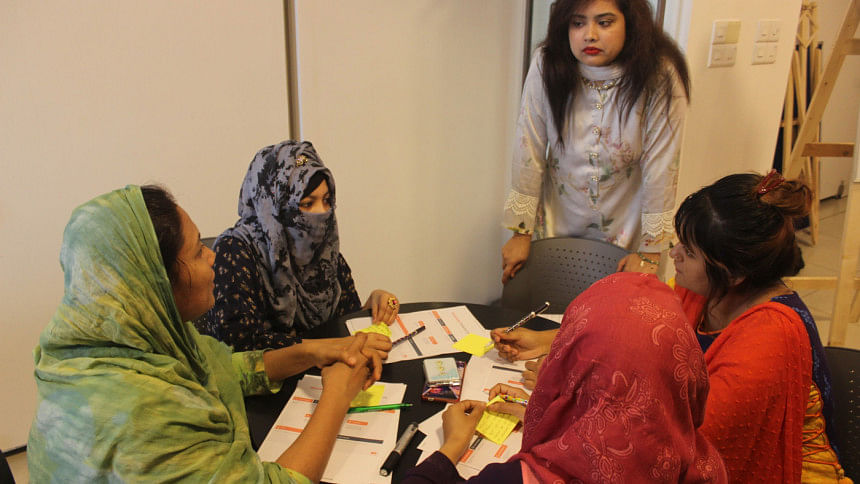 One of the biggest challenges for such an enterprise is the lack of openness of our society towards women. Rakhshanda comments, "Start-ups working to empower women have to break gender-based barriers and social norms. The work does not end by building a product and promoting it online or offline; the majority of the work lies on fighting patriarchy."
This year, however, has been especially difficult for women around the country. Rukham states, "We have identified that many women have lost their jobs during this pandemic, and experienced violence at homes. They need support to get back to their normal lives and we are more focused on helping those women. Begum wants to create more income opportunities for women and reduce gender-based violence."
Similarly, it was a woman thinking about other women that gave life to Karigor.
"Years ago, I had bought a shawl in Bandarban for 250 taka only. When I came back to Dhaka, I found the same shawl in a renowned brand store going for 1700 taka. I asked myself, if the local craftsperson's products are worth so much, why do they struggle to survive? The answer was simple: They don't get the value of their work because of middlemen and the current market structure," Saraban Tahura Turin, co-founder of Karigor, tells us.
Karigor digitises businesses and connects the dots for craftspeople and consumers. Here, creative entrepreneurs can open shop and get maximum product value. Through the digital platform, artisans are brought under one roof and using the technology and modern solutions, be able to revive and their businesses through the digital platform. In the long run, the target is to promote the tradition and heritage of Bangladeshi handicrafts as part of the global economy.
According to a study by Bangladesh Women Chamber of Commerce and Industry (BWCCI), 69.4 percent of women entrepreneurs are involved in the handicraft sector. The cottage-based craft industry empowers them to work from home and earn an additional income, gradually creating new employment opportunities for women. A considerable part of the population have been employed for generations through small and cottage industries. Therefore, this industry offers a way out of poverty for many disadvantaged women.
Despite easy availability of raw materials and the industry being less capital intensive, there are barriers to flourishing. Therefore, Turin envisions a digital handicraft ecosystem where "supply chain, market demand, product value, capital requirements, training and innovation can be crafted under a digitalised monitoring system".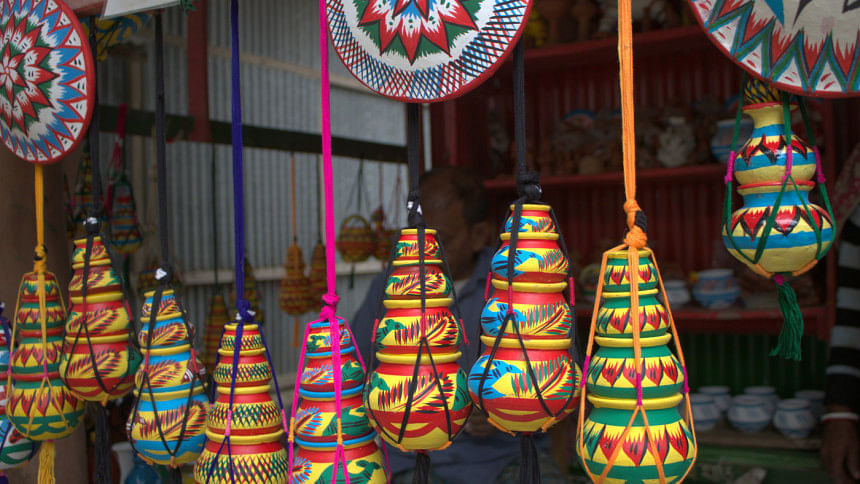 Turin describes, "With UNDP's help, we turned Karigor into a social enterprise. We focused on social impacts and SDGs and after the incubation program, we modified our idea from scratch and turned it into an ecosystem."
Shuttle, on the other hand, was digital and urban-focused from the start. And founded by three men.
Reyasat Chowdhury, co-founder and CEO of the female-only transport service, explains, "Upon observing and sharing our concerns regarding problems women face during commute, we realised this needed a customised solution. It was a key finding for us. We launched Shuttle in July 2018 with just two vehicles and after the positive response from initial users, we kept expanding and introducing new routes."
Shuttle's primary goal is a noble thought: To ensure that each and every woman in Bangladesh has the freedom to commute wherever and whenever they want to.
In between developing a sustainable business model and managing stakeholders, Shuttle faced many bumps on the road. "Because all three co-founders of Shuttle are men, people had this notion that we would not be able to relate to women's issues. So, we created a closed Facebook group for all the users, which really helped us to communicate with our users and build trust over time. In addition, dealing with rent-a-car companies, training the drivers and ensuring smooth service were some of the other challenges we had to face," recalls Reyasat.
"We envision to redefine public transport in Bangladesh so that safe and comfortable transportation is inclusive and affordable for mass people," Reyasat adds. "We are still operating in Dhaka and Chittagong, however, we believe we're on the right path." A new service, Shuttle for Business, was launched this year, which enables organisations to support their employees on the move.
UNDP and Youth Co:Lab has been an integral part in the growth of these start-ups, especially in the early stages. Through its mentorship programs, guidance and networking opportunities, the enterprises have learned how to bring about positive impacts on the society that can be measured and developed.
Kazi Akib Bin Asad is the editor in-charge of SHOUT. Write to him at [email protected]