How literary communities can do wonders for your writing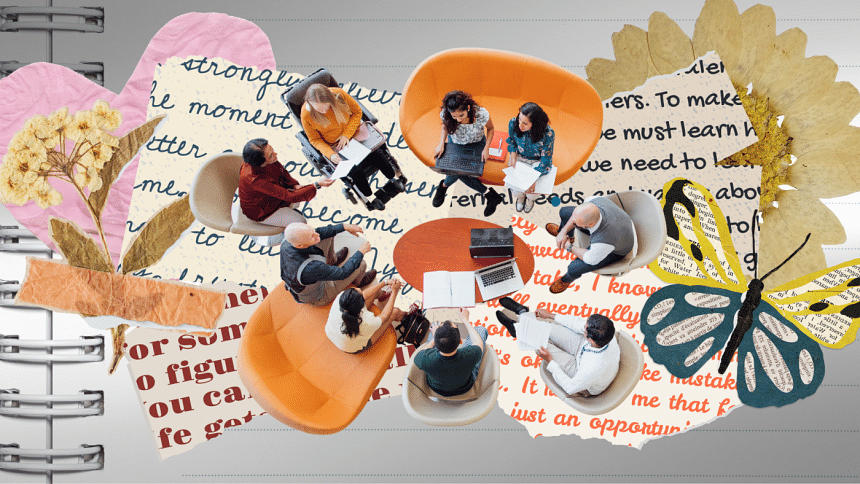 When I first signed up for a college level literary course, I was thrilled by the idea of sharing a classroom with like-minded literary enthusiasts. I was fresh out of high-school on a gap year, taking a break from the overwhelming NCTB course-load to pursue what stimulated me intellectually – a non-fiction creative writing course. Talespeople, the writing community that hosts Sehri Tales every year, proved to be that creative outlet for me.
What I didn't know was the biggest learning curve would come from my peers and would fundamentally change how I perceived writing later.
The class room was different from what I had expected. It was a hodgepodge of students from different backgrounds – a high-school English teacher, a business student, a researcher, an engineer turned writer, a photographer. Despite our diverse backgrounds, we all had one goal in common, which was to learn more about the craft of writing. It felt like a scene straight out of The Breakfast Club.
In between class breaks, our routine had become to discuss literary ideas, writing techniques, and book recommendations. We asked for feedback on our writing and would sometimes talk about life and jobs beyond the classroom. Our love for literature and writing brought us closer together and the collaborative nature of the entire class harboured an ideal learning environment.
That literary course fundamentally changed how I write. It taught me that writing is just as much as group work as it is solitary work.
The primary notion of writing is that it is a solitary and isolated act. You lock yourself up in a room, shut away the world, type away on your keyboard for hours on end and let the thoughts flow. The process has always been cathartic that way. But with this process also comes writer's block, procrastination, lack of inspiration, zero accountability, and the list goes on. But writers' communities can help with that.
The concept of writing groups or literary communities aren't new. They've existed for hundreds of years. Many influential writers have been part of a close-knit literary circle at some point. The Bloomsbury Group which housed writers like Virginia Woolf, E. M. Forster, Bertrand Russell, and T.S Eliot, met up every Thursday to share ideas and support each other's creative ideas over food and drinks.
I believe a literary atmosphere is crucial to nourish your writing skills and it's an essential part of the process.  A tight-knight writing community can help you with that.
Talespeople helped immensely with creative accountability, feedback and positive community support. And when the bouts of self-doubt came, the support from the community kept me going.
There are many ways you can find yourself in a literary community. Attending a writer's workshop, creative summer courses, writing/literature festivals, online communities, literary salon, etc.
Just like any other creative pursuit, a community can help immensely in a multitude of ways. Like Ursula K. Le Guin says in Steering the Craft, writers' peer groups are a "wonderful invention". And for writers, a literary community might be just what they need.
Usraat Fahmidah loves philosophy. Her favourite philosophers include Simone de Beauvoir and Agust D. Send her book recommendations: [email protected]