HUMOUR
Diary of a Terrible Chess Player
At exactly the 13th minute of the first episode of The Queen's Gambit, I realised chess was my true calling. I remembered what Barbie and countless motivational influencers taught me – "You can be anything you want to be," – and decided to embark on a long journey, to become the greatest chess player on Earth.
It went something like this.
Day 1
I opened my laptop and searched for tutorials, excited to stare at a black and white board intensely for prolonged periods of time. In my heart I knew that with a little dedication, I'd win many championships and have my own chess anime in no time. Four hours later, I had learned how to say cool chess stuff like queen to b3 and rook to a7.
"What do you think is the best move in this position?" asked the game guide.
"Moving the bishop is obviously the best move," I thought to myself. "Duh."
It was not the best move in that position.
Day 4
Everyone probably thinks I'm a genius — because chess is a game of wit, and I always tell people how I've been playing a lot of chess recently, even though I only think about playing and don't actually do it. I even throw in a bit of chess jargon, occasionally, to make sure their respect for me skyrockets.
Day 7
Everyone is annoyed by my chess references. I should have known better than to explain the Karpov vs Kasparov match of 1985 to the food delivery person. Luckily, I found some friends to talk about chess with and opened a group chat.
I sent them a meme with a cool pun I made to impress them. "CHECK this out, MATES." No replies yet.
Day 10
In the middle of a game with one of my new chess friends, I wracked my brain to come up with the best move possible — and I got it. I was very proud of myself. Alas, it was not my turn. But that's okay, I ended up winning.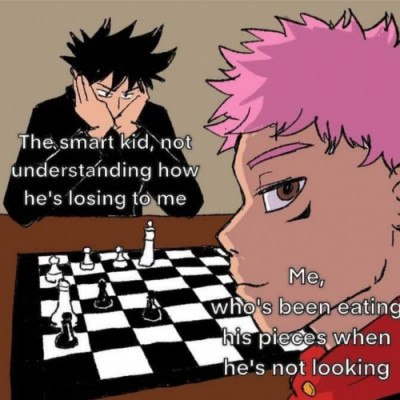 Day 14
I've lost twenty games consecutively. There seem to be a billion fancy-named chess opening strategies and it's getting really tough. Caro-Kann Fantasy Variation, Sicilian Pterodactyl Defence, Nimzowitsch Queen's Pawn Defence, Super Mega Falcon Punch Defence Boom Boom Variation. I made that last one up.
People who come up with these are sadists, and I think Mom may have intentionally let me win four days ago.
Day 17
I trash-talked a computer chess bot for beating me, knowing full well it couldn't hear me. At night, I vigorously scribbled down frustrations about my chess career in the Notes app.
Day 21
I have reached a new low. My 10-year-old cousin destroyed me in a match today. They say everyone's good at something, and I seem to be good at being bad at chess. Tears stream down my face as I burn all the award speeches I had written down in advance. I finally understand what Green Day was talking about in "Boulevard of Broken Dreams."
There is a reason why I'm going public about my story. Chess is a truly fascinating sport despite being challenging, and I hope that this inspired you folks to explore it. Not in a follow-in-my-footsteps way, but in a, please-please-please-pick-up-chess-at-least-you'll-never-be-as-bad-as-me way.
Maliha Momtaz Oishi is very fond of the crying emoji, conspiracy theories, and your mom jokes. Send her some of these at malihamomtazoishi@gmail.com