Crabs: Unsung heroes of the Sundarbans
I love crabs. I love to catch them, tie their large nippers, and eat them. I've learned a lot about the large mud crabs from the Sundarbans by watching crab fishermen. However, I visited a commercial crab farm recently, which has changed how I feel about them.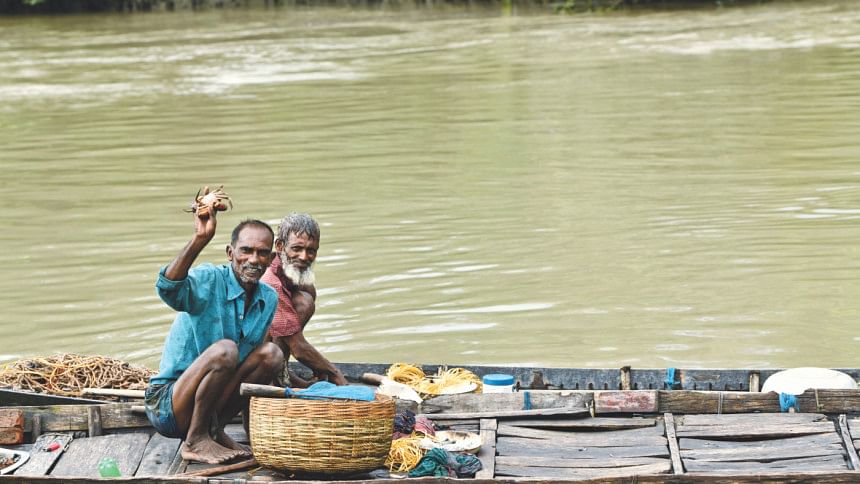 I love crabs. I love to catch them, tie their large nippers, and eat them. I've learned a lot about the large mud crabs from the Sundarbans by watching crab fishermen. However, I visited a commercial crab farm recently, which has changed how I feel about them.
Large ponds cover most land around the forest. In the smaller ponds villagers cultivate a mixture of salt-resistant rice, various small fish species, commercially valuable sea perch, shrimp and crabs. In the ponds of large crab farms owned by companies there are only crabs.
In December, I visited a commercial crab farm in Burigoalini near the Sundarbans. I was amazed by how many crabs were there. Each crab is kept in a black plastic box with holes on all sides. These boxes are aligned across long ponds. The farm has around 200 ponds, and there were more boxes than I could count in each pond. I was surprised to learn that only 50 percent of these crabs survive!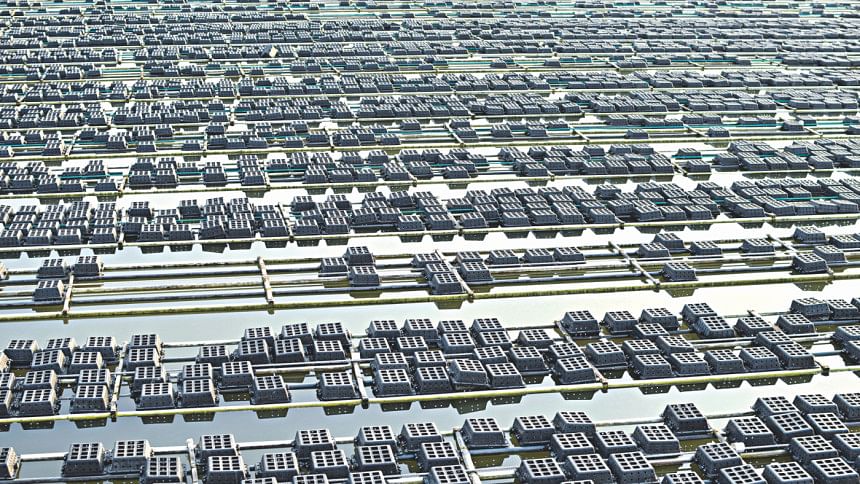 I was further surprised when I saw how many empty crab shells there were. We were told that these mud crabs moult or shed their hard shell every 21 days. They are called soft shell crabs during this period of moulting. From this farm alone, about 400 barrels of crab shells are dumped into the nearby river every day. The men in the farm told us that they were thinking of ways to use it, but for now it's just waste.
I watched the farm workers sit and check each box in the long lines; they pick out the crabs that have moulted, take them to the factory where they are washed with chlorine and treated with ozone, and then prepared according to customer demands.
All the crabs in the farms are sourced from the Sundarbans. Whatever the crab fishermen can catch they either sell directly to the factory or more commonly to a local crab dealer who then supplies the farm. We've seen crab dealers in every marketplace we got off at along the fringes. The crabs are sorted according to their gender and size—the big ones are paid for by piece, while the small ones are bought by weight; the farm takes crabs of all sizes.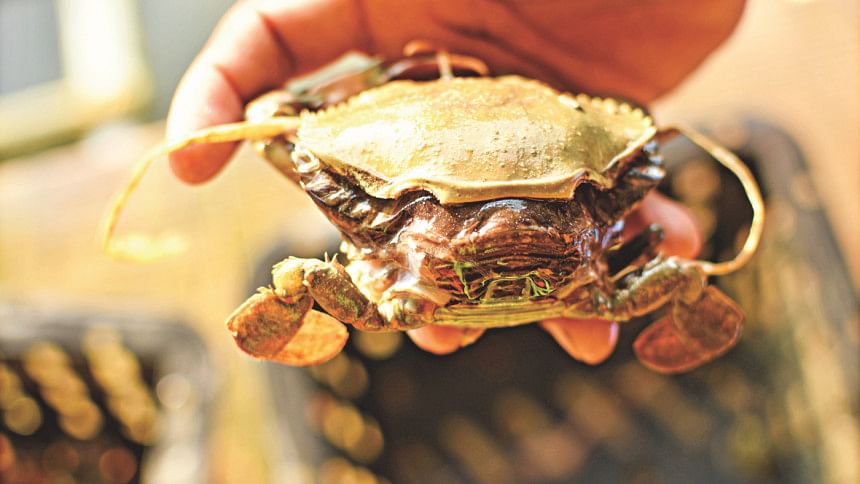 I asked the manager from the crab farm who showed us around, "Aren't you worried that the crabs will run out?" At first, he didn't really understand what I meant and said, "We have such a large area with so many crabs in it. We won't run out of crabs." So I clarified my question: "I mean in the jungle, where they come from. Aren't you worried that the crabs there will run out?" He responded, "No. We're doing a hatchery."
Despite much effort no crab hatchery is currently working. And that's highly unlikely to change in the near future. The mortality rate of crablings in hatcheries is also extremely high. Sourcing crabs from the wild is by far cheaper and less trouble for the farms.
It is actually illegal to use crab traps in the Sundarbans. There's also a seasonal closure for crabs from January to February to allow the females to reproduce.
Why am I concerned about crab farming? Mainly because the farms do not care about what size of crabs they get. Too many crabs are being caught in the wild. And all the farm crabs are exported. That's very good money for the farms, but the fishermen earn very little.
Why are crabs so important? Crabs are a very important link in the mangrove food chain. Many other animals depend on them as food. Crabs recycle the fallen leaf litter from the water and on land. They dig holes in the thick mud, which brings air into it and allows other animals and plants to thrive. The more different species of crab there are, the better the forest can deal with disasters.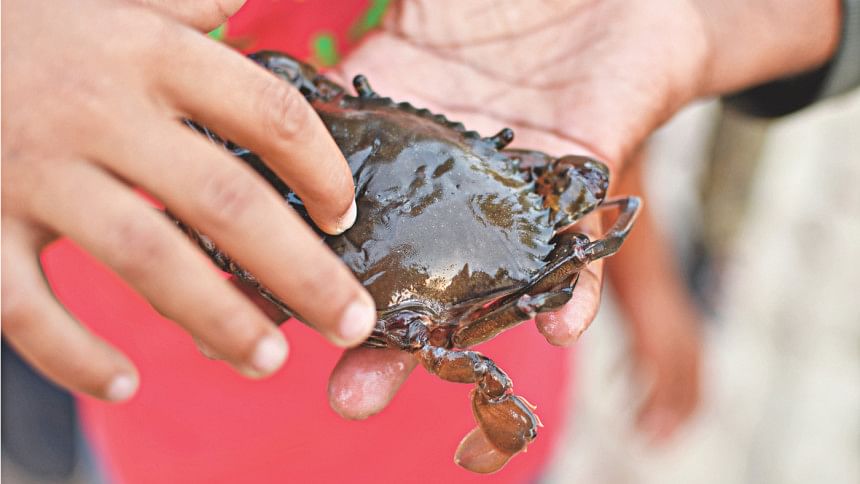 According to several recent news articles, Bangladesh exports nearly USD 42 million worth of crabs per year, mainly to China, Japan, and other countries mostly in Asia. These practices deplete the wild stocks and negatively affect the fragile Sundarban ecosystem. It's a bad deal for the forest, even if it makes good money for a few.
The majority of fishermen we met in the Sundarbans mangrove forest are crab fishermen. Most of them are not worried about existing regulations being enforced because they know they can sell anything they catch and they have paid to do so. What is the solution to this problem? I think fishermen should be encouraged not to take the undersized crabs. If they are over the permitted weight, you can be sure that they have had a chance to reproduce. I know that is actually the law, so who should enforce it? Many different people have to work together, including the Forest Department, crab fishermen, organisations (Shakib, my favourite all-rounder, too!) that buy them from the crab dealers, and the customers that buy them from the farm or from stores. Everybody should be held responsible, myself included.
Why am I concerned about keeping the Sundarbans healthy? Because we need the oxygen that this forest supplies. We must protect the many threatened species that need this forest. I in the Sundarbans during the recent cyclone Bulbul. We were safe because it was low tide and we were sheltered by trees. The cyclone caused much more damage in the villages. Houses collapsed, embankments broke, and fishponds were flooded. This forest is an important shield for the people living around the Sundarbans. They have very little and depend on the forest. I think a lot of them understand how important this forest is, but they do what they do because they have to provide for their families.
I believe that we have to make sure that the Sundarbans continues to provide food, work and safety to the people who need it—now and in the future. Why not start with the crabs and ensuring that only mature ones are taken?
Shanto Dylan Mansur is a nine-year-old nature lover currently spending a year in the Sundarban mangrove forest of Bangladesh with his family.