Bangladeshi fans abandon European football for Saudi league as Ronaldo joins Al-Nassr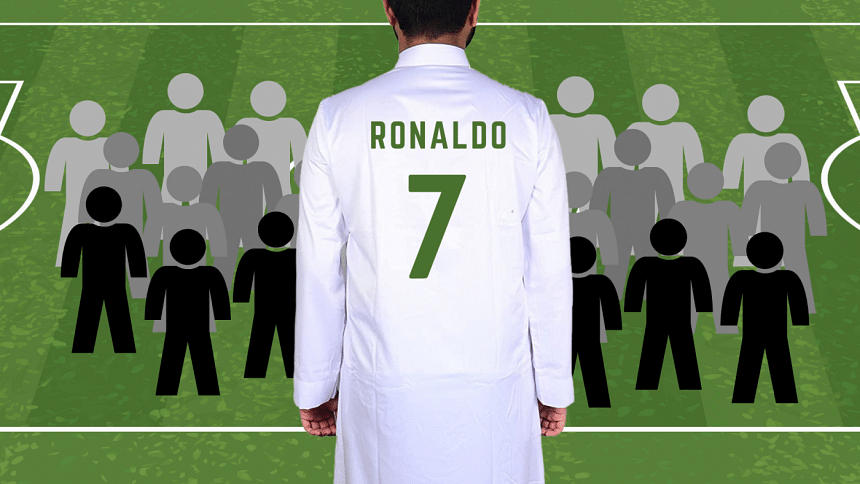 With the news of Cristiano Ronaldo joining the Saudi Arabian football club Al-Nassr storming up the internet, the world is ready to witness the biggest migration on the planet as millions of Bangladeshi fans, who were previously English Football enthusiasts, are now ready to shift to Saudi Professional League as their new favourite football league. However, these fans are in constant denial of their illegal immigration and claim that they've been fans of Saudi Arabian football for quite a while now.
Shadman Sakib, the admin of the umpteenth Ronaldo-based Facebook group in the country, talks about his recently built interest in Saudi Arabian football, "I've always been a fan of the Saudi Arabian football culture. Especially after they beat our rivals Argentina in the world cup and gave us 4 years' worth of content to troll the Argentine fans, my love for Saudi Arabian football has increased even more. Now that my favourite footballer Cristiano Ronaldo has decided to sign with a Saudi Arabian club, it's time I went public with my love for the Saudi League. Sure, I've previously been a fan of the Spanish League, the Italian League, the English League and every league Ronaldo's played for. But before you shame me for my questionable loyalty, think about the Zlatan fans!"
"Now, I need to readjust my sleep schedule according to the Saudi Arabian League match timings," Shadman talked about his struggles as a vagabond football lover, "It was tough staying up late at night and watching the Italian league matches. Thankfully, Saudi Arabia is a bit closer to our time zone! I, along with a few of my group members, have started to raise funds so that Bashundhara Kings can sign Ronaldo after he's 45. That way we'll be able to watch his matches without breaking my sleep cycle into pieces."
While Ronaldo fans have been a bit upset with his transfer news, local fans of Messi are over the moon. "After Messi signed with PSG, a French club, we were bullied heavily by the Ronaldo fans since the English League is much more competitive. Now that Ronaldo's migrating to an irrelevant league, we can finally bully them back. As generic Bangladeshi football fans, we must belittle other players to validate our favourite one and throw playground insults at each other like whiny man-children," said Nazmus Sakib, a childhood Messi fan.
However, after the rumours of Messi joining the American football league, his Bangladeshi fans have been awfully quiet as well. With the lack of toxic activity from both ends after the transfer rumours, reports suggest that Bangladeshi social media has been a much better place.
With more and more fans migrating to Saudi and American leagues, popular sports channel F-Sports has decided to start broadcasting these matches, "Messi and Ronaldo's fans have been keeping us in business all these years. Sure, they aren't rivals anymore but their fans are! And we'll milk this rivalry even if they play for the Antarctician league."
In other news, the Ministry of Environment has thanked both Messi and Ronaldo for their decisions, "With Messi and Ronaldo deciding to migrate and carry millions of plastic fans from Bangladesh along with them, the plastic deposition in our environment has dropped to an all-time lowest."
Label Ifti as a seasonal fan at [email protected]