Better than TFIOS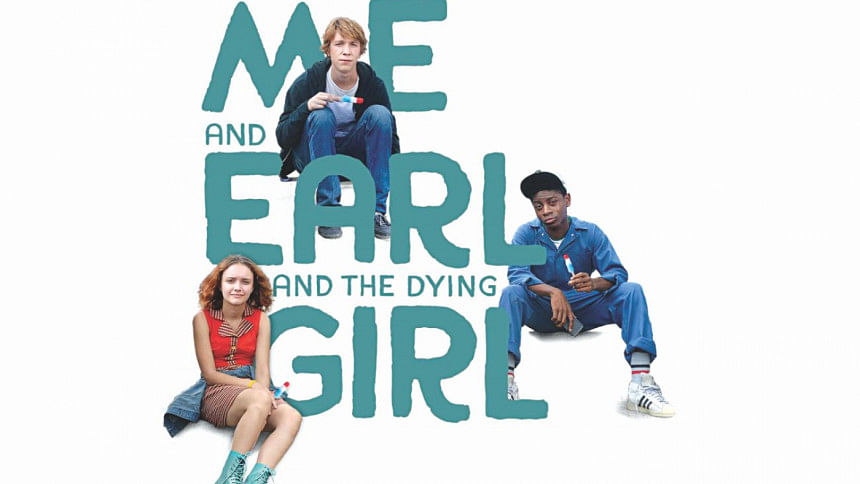 Not every young adult movie has to be romantic in nature. Directed by Alfonso Gomez-Rejon, the movie adaptation of Jesse Andrew's novel "Me and Earl and the Dying Girl" came out in June this year, and it reminds us that people can actually be friends without falling madly in love with each other. 
The narrator of the movie is Greg Gaines (Thomas Mann), an average guy with a sense of humour who stays low-key in high-school. Him and his friend – or as Greg says, his co-worker – Earl (Ronald Cyler II) make parody short films together. When Greg discovers that an acquaintance from school, Rachel Kushner (Olivia Cooke), has been diagnosed with leukaemia, his mother forces him to befriend Rachel. Despite the forceful initial hang out, Greg and Rachel become inseparable friends in a short time. 
The movie has a level of realism in it that makes it all the more believable and easy to comprehend. To be honest, the plot is less about Earl and the dying girl, and more about Greg himself due to his friendship with Rachel. It's in the last few minutes of the movie that we learn quite a bit about Rachel. The narrative can get a little annoying at times, but it avoids clichés. It is in fact quite different than The Fault in Our Stars in terms of the storyline. 
Why, then, did I compare it to everyone's favourite TFIOS? I admit, the title of this review was to grab attention of the young adult genre fans. However, both were adapted from novels, and due to the same genre and similar settings, a comparison is inevitable. Like I said, MAEATDG is not a romance story, unlike TFIOS. There are no grand gestures of love or catchphrases like in TFIOS, but it has more pragmatic elements in it that makes it relatable, like college applications and faux pas at school. Though MAEATDG has a believable plot that doesn't romanticize cancer, TFIOS has a more emotional appeal with its dialogs and the entire Amsterdam episode. The narrative is also better in TFIOS, but I credit that to John Green's years of expertise. 
Personally, I liked MAEATDG more than TFIOS, but I don't expect everyone to feel that way. Overall, Me and Earl and the Dying Girl is a movie with teenage friendship at its core, and made me want to pick up my phone and call my friends at once. I would say that if you are a lover of the YA genre, you'll probably find this movie interesting, regardless of whether you liked TFIOS.
Arman R. Khan is a caffeine addict, a dreamer and a culture enthusiast who takes life one day at a time. Correspond with him at [email protected] or tweet @ArmanRK