The two-wheeled miracle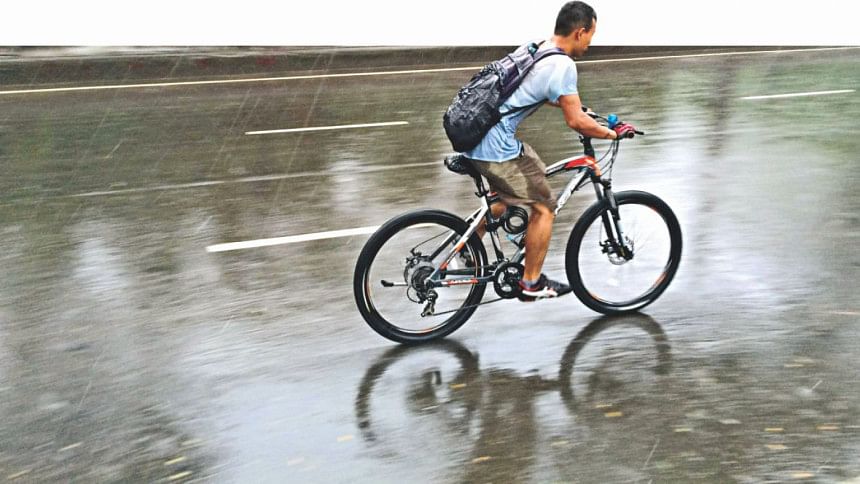 "Four legs good, two legs bad," is a famous quote of George Orwell, brilliantly put in his time-winning satirical fable Animal Farm. This seems to be the other way round, or so it appears, when you wander around Dhaka, a city of lifeless wheelers.
Here, four legs, unlike the rebellious animals in the book, don't do any good other than releasing a veil of smoke squeezing us out of our breath and blaring horns seemingly emerging from miraculous, alien-like organs. Here, two legs are fairly good. They are the ones you ride [and not drive]. That relieves you, at least for an hour or a half, of the sedentary lifestyle, which is a major cause of obesity. Moreover, a bicycle is too sober to emit a high-pitched sound like a car horn. On top of all these, it doesn't cloud your city with smoke and dust. So for Dhaka, a city of 20 million people, I'd say "Two legs good, four legs bad." Agree?
Avoiding traffic congestion, shortage of public transport, the uncertainty of reaching destinations in time, and riding a cost-effective, environment-friendly, energy-saving and fully-owned vehicle have truly encouraged people to start cycling. To reduce traffic jam and save time, cycling can be the smart solution for Dhaka streets, rather than unfit motor vehicles.
It was found in a recent survey that due to traffic congestion, a vehicle can go up to only five kilometres per hour in the capital. Even 12 years ago, this speed was 21 kilometres per hour. Besides, the congestion eats up 5 million work hours annually. The financial loss is about BDT 37,000 crore a year; it's necessary to say that the way traffic congestion is worsening day by day, it will further increase the amount of financial losses.
Cyclists are also seen hanging out and forming communities regularly through social media. To keep themselves updated and well-connected, they have formed organisations like BD Cyclists, Dhaka Cycling Club, Mirpur Cyclists, Dhaka-Northern Cyclists, Mohammadpur Cyclists and many more. These organisations encourage people to buy cycles and organise training programmes on how to ride through the traffic. Apart from this, various awareness programmes on the benefits of cycling are arranged too.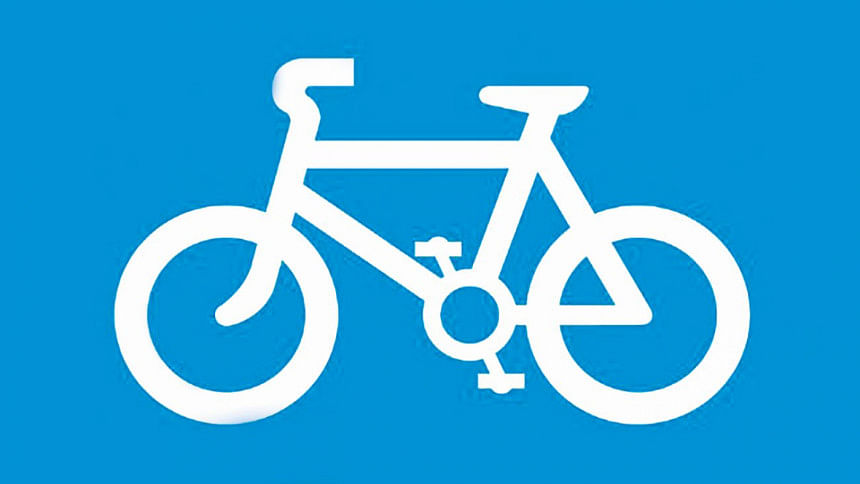 In addition to cycling, the organisations hold environmental awareness and blood donation drives, and distribute winter clothes and relief supplies among the poor and flood victims. For example, during the Rana Plaza collapse, the cyclists were able to reach the victims with medicine, blood, food, and water within the shortest possible time, braving the capital's severe traffic. Different city-based courier service companies like Pathao and Pick and Drop have proved that it's not very tough to earn extra money if you have a cycle.
Now let's talk about the benefits of cycling. Cycling burns calories from the body, eliminates the risk of stroke, reduces diabetes, and helps control blood pressure and hypertension in patients. The risk of cardiovascular diseases decreases by more than 50 percent if one cycles around 35 kilometres per week. One can go anywhere with a bicycle, within reasonable time. There is no waiting for buses and auto-rickshaws; there is no bargaining over fare. 
Sadly, the daily experience of those who cycle in Dhaka is very horrible. To them, it is a highly disordered city. According to Traffic Division of Bangladesh Police, many pedestrians in Dhaka lose their lives in road accidents every day. Therefore, it is very important to build separate lanes for cycles.
Bangladesh Cycle Lane Implementation Council observed the 7th Cycle Lane Day on April 6 this year demanding separate lanes on the road. On that day, cyclists of different age groups held rallies on the southern side of the Parliament House. In addition to encouraging cycling, they proposed the creation of separate lanes for cyclists for safe riding. As bicycles are environment-friendly rides, many countries around the world have given highest priority to making separate lanes for safe cycling. Citizens of countries like China, Germany, and South Korea are riding bikes, leaving cars in their homes; about half the Danish population in its capital Copenhagen use bicycles as the transport to their workplace.
The question arises, is it possible to create a safe environment in cities like Dhaka? We are hopeful. The awareness of people and the construction of the cycle lanes have awakened our hope.
The writer is a journalist of The Daily Star. He can be reached at [email protected]