DUDE, WHERE'S MY RICKSHAW?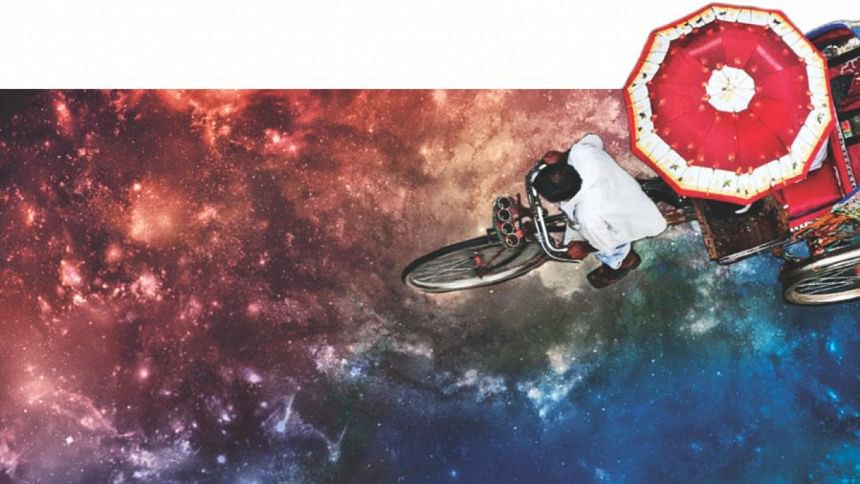 "We don't meet anymore (x3), like we used to dooo!" 
Yes, I have resorted to singing my own versions of mainstream songs. I am depressed and annoyed at the same time. The break from regular rickshaw rides is something seriously painful. If you travel through Gulshan, Banani or Niketon, you can probably relate to this agony.
"The toxicity of our city, of our ciityyy!" 
Our beloved Dhaka has always been infamous for the gridlock on the streets throughout the day. But now the citizens face an even greater annoyance in some of the poshest parts of the city. Fighting over a single rickshaw at key points deep inside these territories is a common scenario nowadays. Everyone has urgent needs: some have to travel to their coaching centres, some must pick up their siblings from school while some just need to go home. Once you do manage to win the battle against hundred other pedestrians hungry for a rickshaw, the rickshawallas make that vein on your forehead a little more prominent. Clad in yellow vests, they take advantage of your tragic situation and charge an extra 10 or 20 bucks. 
"Never mind, I'll find someone like you!" 
Nope. The love for rickshaw cannot be placed on any other vehicle. CNG auto-rickshaw drivers ask for 100 bucks for transporting you from Gulshan-1 to Gulshan-2. Does that sound like a fair deal to you? Next, let's talk about the newest attraction: rickshaw van! Yes folks, rickshaw vans have joined the party. If you do not care about your prestige in the eyes of all your buddies and relatives, you may avail this cool service which was previously only restricted to remote villages of Bangladesh. 
"I'm gonna swing from the Dhaka Chaka, from the Dhaka Chakaaa!" 
Well, that might sound lovely in your head, but what will I do with the bus when I am away from the main road? Will I get a ride when I get out of my student's home at 9 pm? When I do manage to reach the pick-up points, I am almost always greeted by a very sizable queue of people. Let's fight for a seat, shall we?
"Every night in my dreams, I see you... I feel youuu!"
Dear rickshaw, you are the Jack in my own Titanic movie. Haters may argue that rickshaws do not fit on the figurative plank that this sophisticated Gulshan-Banani zone represents, but let's agree to disagree. Rickshaws are an integral part of Dhaka life – Gulshan, Banani included – and they should be allowed to enter and leave the numerous check-posts.