Fashion Fads Guys Would Like to Forget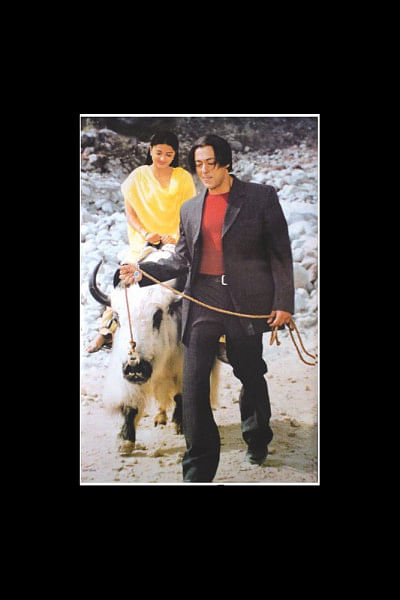 Youth is the time for trying out new things. Fashion fads are no exception, with predictably varied results. Most teen and 20-something guys have rocked at least one of these awful looks in the past, and done their best to forget it afterwards. This list may help many to jog their memories.
HAIR
 Spikes: For some time, most teen males in the country rocked the same hairstyle. Uniformly short hair, apart from the front where a huge wave of hair – giant enough to surf through – shone in gel covered glory. Whatever the intentions, the look made people resemble cockatiels more closely rather than David Beckham. 
 True Colours: Usually manifested as a lock of gold, blue, red or bleached tips. For most guys, hair dye made it look like they had something stuck on their hair. For others, it turned them into anime characters.
 The Middle Ground: Also known as the "Tere Naam" hairstyle, its legacy can be seen in every gents' salon in our country, where a photo of Salman Khan rocking this do invariably adorns one wall. Among current adopters, Kim Jong-un is the most notable.
CLOTHING
 How Low Can You Go: For a tragically long time, many young people wore their pants at defying-physics-and-common-sense low heights. Each instance of one such person picking something up threatened to offer unpleasant sceneries. Faith, potbellies and (possibly magical) belts were the only hopes of averting such disasters.
 Sailing Through: Most wearers could probably fit through one leg of these. Large enough to double as sails, these pants were especially, and inexplicably, popular among aspiring musicians. 
 Second Skin: This trend was originally pioneered by bodybuilders to show off their physique. Despite generally lacking such muscle definition, our youth adopted this style with gusto. The inevitable and unwanted peeks at potbellies this trend provided makes this a particularly potent public hazard.
 Ripped Apart: The second contribution of Salman Khan to this list. Since his movie appearance wearing a pair of these, jeans ripped in various places have enjoyed massive popularity. Many a perfectly normal pair of jeans have been bricked, knifed, needled and otherwise harmed in pursuit of this look.
ACCESSORIES
 Buckle Up: Some guys probably still have scars from attempting to sit while wearing a belt buckle the size of a manhole lid. For that added bit of ridiculousness, many preferred to tuck their t-shirts behind the huge buckle. Some belt buckles also incorporated spinning bits (remember Chain Gang?) and spike studs, resembling WWE championship belts.
 Bullet-proof Bracelets: Different people took different approaches with this particular trend. Some opted for huge metal music-inspired spiky bracelets, which complemented their Bob the Builder t-shirts quite nicely. Others covered their wrists with a dense layer of beads, manacles and other such things; thick enough to withstand radiation.
These fashion statements can be effective in moderation, but often make for strange results when taken to the extreme. But in case you're interested in bringing back one or more of the above trends, don't let their negative reputations discourage you. After all, the very least you can be certain of is gaining some serious hipster cred.
Novo Manzoor is an athlete. He surfs the web all day. You can reach him at: [email protected]