WHAT CHAMPIONS ARE MADE OF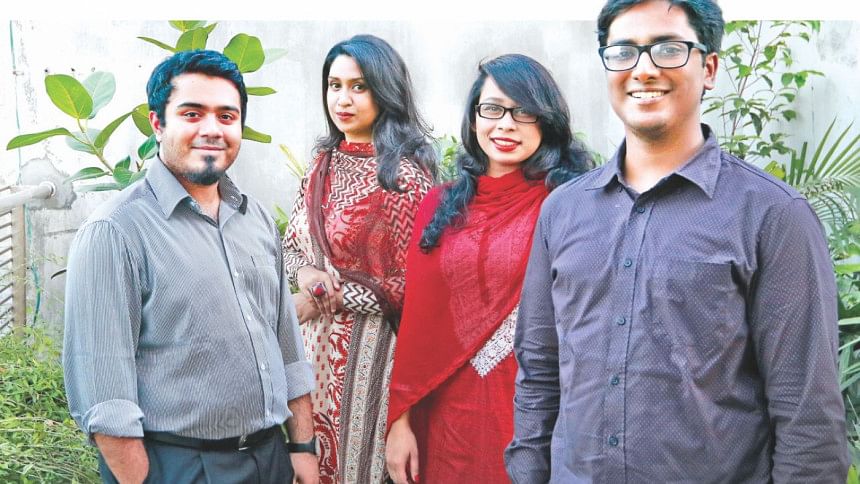 H. M. Ifteker Mahmud, Sabira Mehrin Saba, Samiha Majid Simi and Taosif Amin Khan – students from IBA, DU – were crowned champions of this year's "Battle of Minds" (BOM), the annual talent search platform hosted by British American Tobacco Bangladesh (BATB). Last week at The Daily Star Centre, the team sat down with SHOUT and shared stories and experiences of their journey.
SHOUT: Why did you participate in this platform? What have you heard about this platform before?
IFTEKER: We already knew a lot about BOM as our seniors participate in the competition every year. Our institution, IBA, has been consecutive champions of BOM and we've made it 5 in a row, so it's nothing short of a legacy that we're carrying forward. Also, this year's tagline "What are you made of?" was a real driver to our passion.
SABIRA: As final year students of business, I really wanted that exposure to the corporate world. We grabbed this opportunity and, as our results show, made the best of it. It was a great experience to get some real-world practical experiences through this competition.
SHOUT: How personal was the challenge to work with a food brand?
"We did not have the modern technologies or platforms like Battle of Minds to fulfil our dreams. I can only say 'wow' to how the participants performed with the opportunity they got. I want to give some suggestions to these youths from my personal experience.

Goals, dreams, and my parents' blessings have been the constant source of motivation in my life. I am nothing without them. If the Bangladeshi youth harness the power within their goals and dreams and work hard for it, there is nothing that can stop them from becoming the real change makers of the world."
– Annisul Haq, Mayor, Dhaka North City Corporation
TAOSIF: I am a foodie; I love to visit restaurants and enjoy the food and even want to open up my own food joint someday in the future. When I think about that, I know how personal a challenge it was for me to boost the sales of a restaurant, that too at a dynamic competition like BOM.
SABIRA: Before BOM, we only paid attention to the items on offer in the menu. Now we are more conscious - we know how to read between the lines. We've learned that every item in that menu carries specific insights into how that brand works.
SHOUT: Having different ideas, what was the strategy for each stage?
SAMIHA: It's true that we had different ideas but having spent almost 4 years in the same classes meant we knew our strengths well, so we played along those. In the process, we helped each other grow and develop.
TAOSIF: We all contributed to this personal growth, which reflected on our strategies and results. We had one member take care of technical aspects, one working on designs, one focused on the execution of the plans while the fourth member managed customer feedback. All in all, it was an exceptional blend.
SHOUT: Describe the roles of BATB mentors played in your team development.
IFTEKER: I would really like to appreciate the role the BATB mentors and officials played. We had a lot of fun in the grooming sessions and received our first lessons simultaneously in the process. The people were motivated and motivational, and never judged us by the numbers we brought in from our tasks. 
SABIRA: The mentors helped us in each stage with utmost dedication whilst pushing us to our limits. It was a very balanced progression that we observed during the competition, that learning and enjoying what we are learning could go hand in hand even at the corporate stages. 
SHOUT: What did you learn about each other during this competition?
SAMIHA: We've been friends for a long time. But yes, I would say I've learned that Ifteker is very focused, Taosif is patient and has a great sense of humour. I also love how Sabera is wonderful at managing people.
SABIRA: Samiha is full of ideas, always. She is the problem-solver of this bunch; she's super creative. 
TAOSIF: I agree with the girls. To add to that, I think Ifteker is also a perfectionist.
IFTEKER: I am. However, I am very open to criticism and encourage if someone pushes me towards my goal. I believe that is what we did, as a team - push each other towards the success.
"IBA has won the title of Battle of Minds seven times in the 13 years of the competition's history, and we take pride in this honour. Our students, especially the ones in their final year, treasure this close association as a learning experience which they can apply in future contests and in their first jobs. Battle of Minds provides a good beginning to a great future career."
– Syeda Mahrufa Bashar, Assistant Professor, IBA, University of Dhaka
SHOUT: What effect do you think BOM 2016 will have in your future careers?
IFTEKER: Even though I have my own start-up, I would like to work for different industries. The experience at BOM will play a major role as I brush up my entrepreneurial skills in the future.
TAOSIF: I love numbers and want to work in the field of finance. As of now I am undecided in what path I want to take but I want a fast-paced career for sure.
SABIRA: I want more of such practical experiences. BOM has boosted my confidence and now I know where I stand. I would count it as a stepping stone to where I will reach in the coming days.
SAMIHA: Like Taosif, I too like the rush. I learned a lot about myself and am no longer afraid to be creative and vocal in my work. So, full credits to BOM.
SHOUT: If you can say in one word – "What are you made of?"
SABIRA: Throughout this competition we've faced many individual and team challenges and we've always bounced back. I would say - resilience.
TAOSIF: Journey.
SAMIHA: Memories. I have a lot of good ones, thanks to BOM. I'll take that.
IFTEKER: As I always say – thinking is good, doing is better. Hence, action.
Kazi Akib Bin Asad is a Sub-editor at Shout who likes to travel and collect puns from all over the world. Follow him and his adventures on instagram.com/akibasad