Innovative initiative to extract export ideas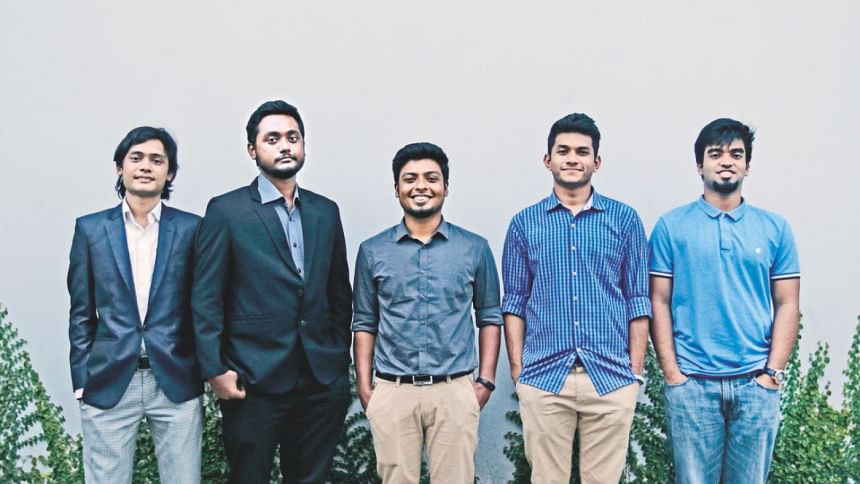 On December 3, 2016, The Daily Star, in collaboration with Crown Cement, held the grand finale of 'Rise High Bangladesh'. The winning teams were: champions Brains of Castamere (IBA, Dhaka University), 1st runner-up Inspirebels (North South University), and 2nd runner-up Team Unpredictable (Rajshahi University). SHOUT sat with the winning teams for an interview session where they got the opportunity to share their experiences. 
What were the factors in this particular campaign that grabbed your attention? 

BRAINS OF CASTAMERE: 

What really stood out for us was the concern this particular competition was dealing with. The focal point of the campaign was increasing exports. Previously, we had attended business competitions which were inclined towards a narrowed down corporate or operational affair. However, this one entailed dealing with the economy as a whole. It had a more practical approach to it. Apart from that, the reward was an exposure trip to Malaysia for the winning team. 
INSPIREBELS: 

For us, it was also the prize that was promised. An excursion to Malaysia was unique in contrast to all the monetary rewards usually offered in business competitions. Plus, the fact that one had to present a realistic idea from scratch and not just solve a business case was both intriguing and demanding.
Were there any unique approaches undertaken that made your journeys memorable once the competitive rounds started rolling? 

INSPIREBELS: 

All the finalist teams were assigned mentors who would hone our skills and help us prepare for the final round. This was quite unconventional and added to the distinctiveness of the event. Ayman Sadiq, the founder of 10 Minute School, was our consultant and despite his busy schedule, he took the time to help us as much as he could. However, what really made it memorable for us was the voting round. It was quite exciting to get votes and we went to great lengths to secure our position. The constant stress of having to outdo a team and maintaining our spot was gripping. Finally, on the day of the grand finale, which was quite an extravagant event, we were surprisingly informed that the runners-up were to be rewarded as well. We were given a cheque worth BDT one lakh and this moment took the cherry.  
BRAINS OF CASTAMERE: 

We were guided by Saimum Hossain, the co-founder of Geeky Socials, and that had been a major advantage for us. He had been a potent support system and even made us change the entire structure of our presentation before the day of the grand finale. We had stayed up till late at his office rearranging the whole framework but it was all worth it in the end. He has given us pearls of wisdom which would help us for the rest of our undergraduate and corporate lives. Additionally, another unique feature was the consistency of the judges. The panel remained the same throughout the competition which enabled us to work on our weaknesses and solidify our fortes according to the feedback. 
TEAM UNPREDICTABLE: 

The inclusion of a mentor for guiding us was one of the best features of the campaign, for us it was Ovick Alam, co-founder of WebAble. Added to that, the gala round was one of our most memorable experiences, where we bagged a prize money of BDT fifty thousand. 
How did you come up with your brainchild for the completion? From where did you generate the ideas for the proposal?

BRAINS OF CASTAMERE: 

The source of our idea originated in another business competition mainly held by another esteemed university, Bangladesh University of Professionals (BUP). We had offered our proposition of promoting bioplastic derived from sugarcane and one of the judges suggested that we should be promoting this product for an international market rather than a local one. So, when we came across this export-oriented competition, we decided to use that idea after researching more on it and giving it a more refined shape. 
INSPIREBELS: 

We had decided to work with waste products and after sessions of brainstorming and scrutiny, we finally came up with the idea. We proposed exporting the mushrooms that grow on paddy straws which are normally discarded. We were inspired by a group of Vietnamese farmers. After our selection, we talked to agricultural experts specialising on mushrooms. What really took us by surprise was the fact that we made it through despite being unaware about the time of the second round. It was an unfortunate situation where we had to prepare our pitch in five minutes but we pulled through. 
TEAM UNPREDICTABLE:

Our team was diverse, consisting of students from the Physics department, and together we decided to propose the notion of edible insects. We figured that farming such insects in Bangladesh would be very convenient given our climate and habitat. 
How was the experience in Malaysia? 

BRAINS OF CASTAMERE: 

We were taken to Langkawi and Kuala Lampur which provided us with opportunities to indulge in leisure activities. Also, the trip was informative to a good extent. The package included a visit to the University of Nottingham which had affiliation with The Daily Star where we were briefed on many graduate programmes. The trip was quite enlightening as it informed us about many educational information gaps. We came to know about programmes which focus on training faculties and improving local universities. At the university, they also acknowledged our efforts and creativity in such competitions and that was appreciable.

 

All teams agree that numbers and details are very important. They feel that it's mandatory that the idea is narrowed down and backed up by solid statistics. Sometimes it's not just about product innovation but also about process innovation which entails promoting an existing commodity in a new way, they added.  
Rise High Bangladesh 2 is already underway and submissions are being taken. Campus activations are also going on around the country. To learn more, follow the link: http://campaign.thedailystar.net

/risehighbd/