Street Food Gets a Humble Upgrade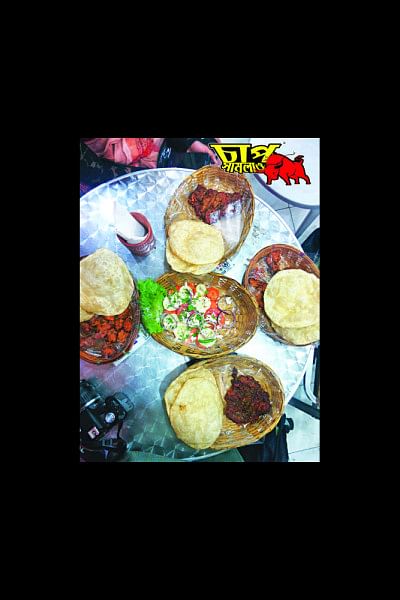 A bunch of us once went on a teeny-weeny adventure, looking for some pretty well-known shop selling chaap somewhere near the Bihari camp. Upon locating the shop and taking a few mouthfuls of the food, we realised that it wasn't really worth the hassle. The heat was terrible, the surroundings unhygienic, and the food wrapped in newspaper, dripping oil all over.
Then we learned about "Chaap Shamlao" that has been running in Banani for quite a while now. With a minimalist approach, this little eatery has been challenging the notion that chaap is essentially street food. Since it opened up its Dhanmondi branch fairly recently, it has once again grabbed the attention of foodies who love street food but also love the comfort of eating in an air conditioned space. 
The menu is simple and does justice to the name of the place. It's all about chaap – beef, chicken and even fish. Different combo meals are available too. A typical combo contains meat item, two luchi, lemonade/soft drinks and garden salad. The salad had few bits of chopped paneer too. Just saying. You could order all the items individually as well. For example, you could have one luchi or maybe skip it altogether. You could also be super hungry and need four or five of those. And that's ok. For me, the combo meal was satisfying, especially because the meat seemed too big for my appetite. 
Beef/chicken chaap and beef/chicken boti seemed to be more popular than the unconventional items such as gurda and mogoj. No surprises there. The chaap were juicy and tender and the portions were generous. However, the meat was a little stretchy and we had to bite it off but that's how chaap is. The boti kebabs were easier to deal with and were succulent and spiced sufficiently. The lemonade with mint shoots was refreshing when paired with the meat. Speaking of which, the fish chaap wasn't bad either. It smelled of fish, yes, but it's a new thing to try.
The perfect ending to the meal was the tea served in one-time use clay pots. Arguably, it's the best tea served in a restaurant but I'll let you judge for yourself. Looking around, we saw the walls were decorated with some brightly coloured posters based on the Dhallywood theme. The waiters' names were on point too. "Kopa Shamsu" was at our service.  Classics from the 90s' films were being played in the background and I heard my mother lip-sync to one of those. Priceless. 
The outlets open at 4 pm. For more information visit: https://www.facebook.com/ChaapShamlao?fref=ts
Address: 
House 28, Road 17/A, Block E, Banani and House 53, Road 3A, Satmasjid Road, Dhanmondi