Games to play when you are angry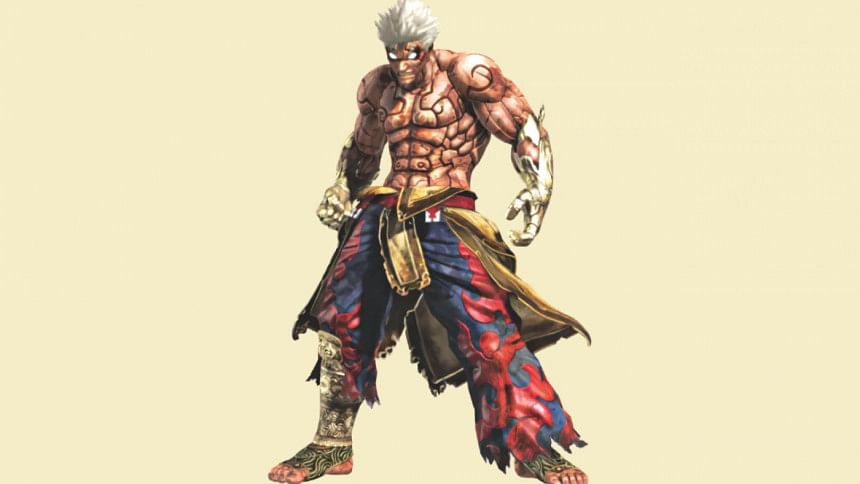 We've all been there. Under the control of all-consuming anger, wanting to destroy something,. People vent anger in different ways. For gamers, it's by playing games like these:
Grand Theft Auto: Vice City (sandbox, third person shooter)-Every GTA game lets the gamer commit wanton destruction all over the city. But GTA: VC holds the advantage in cheat-codes. The cheat-codes in Vice City are extremely easy and fast to use. In no time, you can be spewing bullets with a minigun (the mini part is a serious misnomer), destroying every car in sight with a tank or just running up to people and stabbing them with a katana. 
Bonus recommendation: Saint's Row 2 offers a similar brand of destruction, with an extra dose of insanity.
Burnout Paradise (sandbox, racing)-If you're sitting there mad at the world, Burnout Paradise has two playstyles for you. You can cruise through the picturesque city, do stunts and have a blast of a time. It is a soothing experience. Or you can join races where ramming and destroying opponents' cars is not only encouraged, but sometimes mandated. Zipping through the track while ramming opponents left and right (and watching sweet slow-mo instant replays) easily turns your rage into pure joy.
Bonus recommendation: Twisted Metal offers WEAPONIZED vehicular combat. Nuff said. 
God of War (hack and slash, fantasy)-Any game from the God of War franchise has two crucial ingredients. One, Kratos, the second angriest video game protagonist in history. Two, lots and lots of enemies to kill in increasingly brutal ways. With these combined, you have the perfect game to play when you are angry. Plus, the GOW games are easier to button-mash through than the other games on this list.
Bonus recommendation- Asura's Wrath features Asura, the angriest video game protagonist in history. Despite different gameplay style, the game is thematically somewhat similar to God of War.
Prototype 2 (sandbox, hack and slash)-Both the Prototype games feature extremely powerful protagonists running rampant among (usually) weaker enemies; perfect angry gamer fodder. Prototype 2 gets the nod for its more refined graphics and gameplay. Plus, there is just something satisfying about turning someone into a living bomb and making him explode.
Hitman: Blood Money (stealth, third person shooter)-Sometimes anger doesn't make you want to blindly destroy everything in sight. Sometimes it compels you to methodically and decisively eliminate your problems, one by one. Hitman: Blood Money is THE game to play when you are THAT kind of angry. Arguably the best game in the Hitman franchise till date, it lets you play as a master assassin. The game gives you the designated targets and lots of ways to take them out. Make it look like an accident, gun them down, use bombs- the world is your oyster.
As obliterating digital characters in a video game causes vastly less personal damage than yelling at people, breaking stuff and punching walls; consider a marathon gaming session the next time you lose it. Happy destruction!
Novo Manzoor is an athlete. He surfs the web all day. You can reach him at: [email protected]