FLYING FOR THE FIRST TIME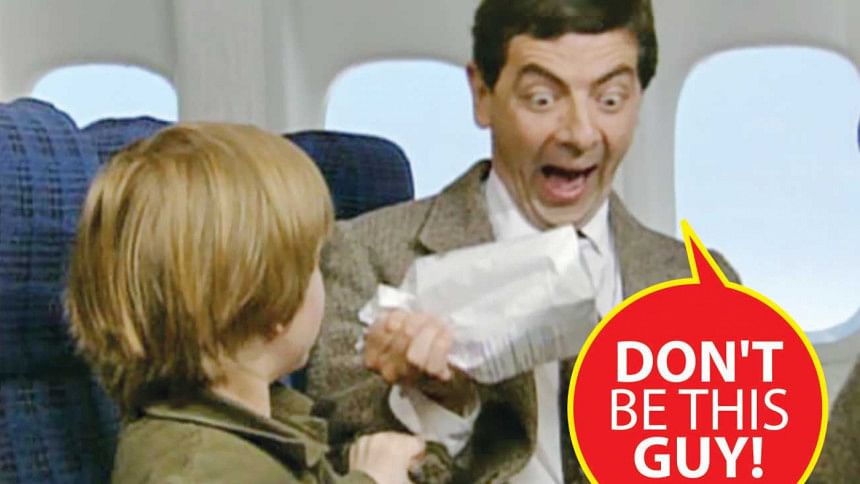 We have all wanted to fly since the first time we saw a plane fly over our heads when we were kids. But whether we're 15 or 25, we're all a little nervous before our first flight. So, this is to let you know it isn't really a big deal.
The first thing you should do when you reach the airport is to check-in at the counter of your airline. They are easy to find at the Hazrat Shahjalal International Airport since it isn't that big. Then proceed to security and then your gates. Remember to check and recheck your passport, ticket etc before starting for the airport. It is best if you keep them handy because you will need them repeatedly. Sit on your assigned seat (as indicated on your boarding pass). After everyone has boarded and if there are still empty seats, you can move to a more comfortable one after you have asked for permission.
You should make sure your hand-luggage, more commonly termed as "carry-on", are not too heavy. You'll have to lift it up to the overhead bins yourself and heavy bags will cause more trouble than they're worth. There is also a chance it might fall off during turbulence and cause serious injuries.
There are specific things you can't carry with you; these include knives (even that cool Swiss-knife you have), firearms, liquid/paste more than 100ml, cooked food, etc. I have seen people try to smuggle in cooked meat for the beloved ones they were travelling to. The tiffin-carrier was thrown away mercilessly. However, no one will stop you from carrying dried food like chanachur. If you have meds with you which include inhalers or sprays in pressurized containers, inform the crew before you board the plane.
Listen to the flight attendants. If they tell you to turn off your electronics for it might interfere with the plane's navigation system, do it. Once the plane is in air, you'll be permitted to turn them on again. Put your seat up and fasten your seat-belts when they ask you to.
Feel free to ask for help from the crew. They will always be at you service. Don't be afraid to embarrass yourself. It's your first time, there's nothing wrong with not knowing which button to press to recline your seat or how to turn the TV off.
And lastly, be considerate of others. Don't recline your seat too much so that the person sitting behind you is uncomfortable. Don't engage yourself in conversation with the guy next to you if he's trying to sleep or read. Don't spread around when you are eating. Don't keep pressing the call button every ten minutes to call flight attendants and complain about every little thing or just because they're pretty. 
Happy flying!
P.S. Brace yourself before you're flushing the toilet. They are LOUD.