Spoonful Metropolis, Ginger Memories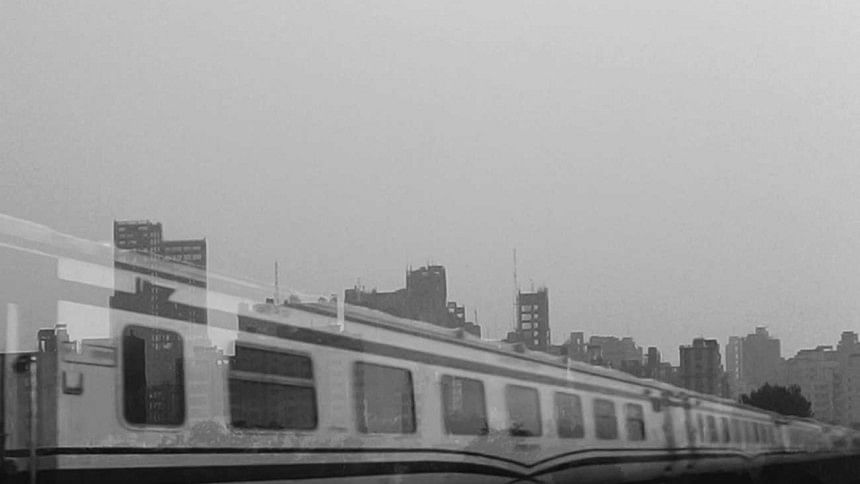 The train arrived late than the scheduled time, almost two hours late. My head was involuntarily swirling. I was half-asleep-half-awake, I regained conscious thought as I was hit on the head by the bulgy swinging purse of a cranky middle-aged woman. The seemingly endless bunch of swarming passengers rushed to descend onto the last station of what had been, up till then, a long tiring ride. Of course, the whole journey didn't suffer from so many party-poopers; it had been a fairly enjoyable ride up until the penultimate station. You can't complain, though, in these areas, at this hour of the day – the homebound people rushing from work by the last acceptable vehicle of the region makes complete sense. What's not fair, though for the people enjoying the train ride up until then, is the complete transformation of an elegant inter-city ride into a bumpy local train for the very last segment of its divine odyssey – leading to an absolute pandemonium.
I stepped down on the platform with hands full of luggage and eyes full of sleep. I actually had no idea as to how long I was planning to stay here, the stuff I had brought was totally based upon my assumption. Well, the decision of tailoring my duration here was not up to me – I had been sent here for an indefinite amount of time, and could be instructed to move to some other place with practically minimal heads-up. I didn't complain, as fresh graduates are often fixated on the mercy of our Lord of Employment, scraping by with whatever they have on their plates.
I always love the idea of a new city. A brand new, previously unknown city, with all its intricacies and austerities. The ideas of walking on unknown streets, passing by totally unfamiliar faces and if you're lucky (or unlucky!) to be faced with a completely unheard dialect of the language that comes through your very own mouth – are intriguing in their own righteous merits. Human beings have always been fascinated by the idea of exploring uncharted territories from the conception of civilization. How could I claim to be exceptional from that age-old inspiration? Of course, every exciting venture comes along with its not-so-exciting repercussions. Just like that, moving to a new city has also got its own routine like getting a place, settling in with your stuff, identify where to eat (in case you can't cook, that is) and how to travel in and around the city. I know these constitute very little of blending in with the surroundings and the locals, but you have to start somewhere, right?
Of course, I couldn't manage a place right away,  so I looked for hotels around the bustling station road. I found a decent-looking one a short while after, and checked in. It was small unimpressive three-storied building, but I was happy with the room I got. It was on one corner of the building, with excellent views of the whole railway station compound. Antique-red railway-carriages were scattered over the haphazard rail-tracks across the lush-green compound. On the far side of the station-compound, the beginning of the sub-urbs could be visible. On this side, however, it was a happening place. A huge bazaar was almost adjacent to the station compound with people pouring in and out even at this late hour of the day. In front of the hotel, there was an L-shaped intersection of roads, on side of L led towards the bazaar and suburbs, the other leading towards the main city. I closed the window, drew the curtains and thought it was time to pay heed to the hunger that I had been ignoring for a long time. But first I needed a shower.
I got outside when there was almost no daylight. The sun had set quite some time back but the intertwined red and blue tinges of varying shades could still be seen throughout the horizon mingled with the silhouettes of the sub-urb. It was a great sight, and I have preserved it to every tiny detail in my memory.
I slipped into a roadside restaurant and tried to bask in the busy, clamouring and warm environment characteristic of every typical restaurant of the sub-continent. The waiters with a not-so-clean gamchha laid over one of their shoulders, cater to your needs heartily. And how they appreciate that little act of goodwill is always a feel-good experience. You won't ever walk out of a roadside restaurant poor-fed and also, you won't ever walk out of a roadside restaurant with a heavy heart. They cater to your dietary well-being and can sometimes take care of your emotional well-being as well.
After the untimely heavy meal, I felt the strong urge for a cup of tea. If you're a tea person, the thing you automatically do after you land someplace alien is to find the tong; the tea of which you appreciate most and the ambiance of which is compatible with your persona. Sometimes it occurs to me that your preferred tong gradually starts to grow as an extension of your psyche and defines the idea of you as a person.
I took the side of the L, leading towards the sub-urb and soon found a cozy, uncrowded tong. I asked for a cup of raw tea with a pinch of chopped ginger and without sugar just like I prefer. The mama of the tong devised the perfect composition and soon, I was sipping on a perfect cup of tea. I planned to venture tomorrow into the main city in search for a place as I had two days off before work was supposed to start. For the time being, however, under the clear evening sky, I thought I would allow the new city to indulge me with all it had for me to unravel.
Ishtiaq Ahmed is a travel enthusiast who devours fictions, dreams of Paris and writes only when his brain parasites need a place to crash. Can be reached at [email protected]