Bottle Green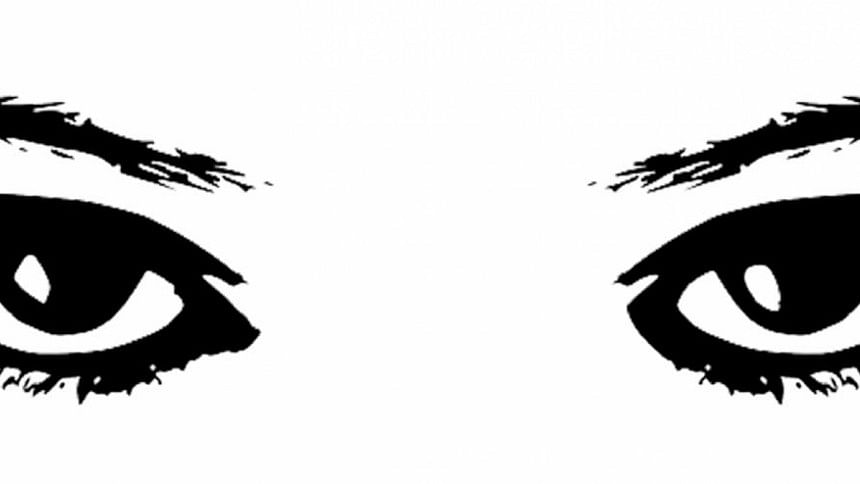 "I dreamed that you bewitched me into bed
And sung me moon-struck,
Kissed me quite insane."
"Plath," I whispered.
"Yes, Plath." There was a hint of happiness in his voice. I could tell he was smiling.
The cool breeze bore with it the intoxicating fragrance of wild flowers and made the boat sway in its harmony.  I lay on my back, closed my eyes and listened. The ripples that formed on the water, the little waves that swept against the oars, his breaths, my heartbeat -- I listened, for that was all I could do.
I kept my eyes closed as his mellifluous voice mollified my insides but only for a moment. All of a sudden, it felt as if my arteries had tied themselves into a knot around my heart like barbed wires and restrained it from beating. My eyelids fluttered open. Darkness -- there really wasn't much of a difference than when I kept them shut.
He probably noticed I had stiffened up, for he came to a halt and I had a feeling he was looking at me. I wondered if he really thought I was as beautiful as he said I was. It was strange, having to form an image, or a mere idea about your own appearance from someone else's words. But I knew I could believe him. Who else would I believe?
"Do you ever kiss her quite insane?"
For a while, I couldn't hear him breathe and it terrified me, for it was what told me I wasn't alone.
"You know I don't feel for her that way," he sighed.
The barbed wires loosened up slightly, only to be replaced by an excruciating pain. I couldn't help thinking about the poor soul and how horrible she must feel. How pathetic it must be to wake up every morning, for days after days, months after months, years after years for as long as she breathed, next to a man who did not love her the slightest bit, who did not even want to kiss her or make her feel whole. I found the thought of such a life revolting and yet I smiled, for there was a tiny part of me-- a malicious, clingy and insecure part of me-- that was happy. 
"Go on," I said, before lying back down against the coarse wood.
He began reciting the final poem. I listened and thought of the day eight years ago when he'd told me he loved me and that he was mine and only mine to have. I remembered I had sat on his lap right here in this boat and traced circles on his eyelids with my thumbs. I could still hear him chuckle. "What's the colour of your eyes?" I had asked and he became silent. I could feel teardrops forming beneath my fingertips. "Tell me, please," I had begged. I'd wanted to know so much, I just had to.
"Bottle green," he mumbled, before he wrapped his strong arms around me and bawled. I guess it was at that moment he realised that even though he said he was all mine, and he knew I loved him with all of my being, I could never be the girl he would wake up next to every morning for the rest of his life. That was the only time I held him; it had always been the other way round.
There was something on my mind today and it fed on me like a parasite. I desperately needed an answer so I sat up once again and stopped him. 
"What's wrong?" He asked, concern ringing through his voice.
I didn't know how to answer him, where to begin or how to end. I wondered if he would never read me poetry like he did if I asked him what I was about to. I wondered if I would lose my best friend who had been my light for as long as I could remember. I wondered if I'd lose the man who had left his beautiful wife in bed today saying he was only going for a walk, only to come visit me and read me silly poetry. But I had to know.
'I showed this book to mother last night. She-"
"You're not supposed to show this book to anybody. This is our book. Why would you-"
"No, I didn't let her read the poems.  I just asked her how many poems there were. And -- and she said there were six. And all this time… all this time, you've only read me five."
He remained silent, and with every second that passed, I felt myself break, bit by bit.
"Why would you skip out a poem all this time?" I demanded, my feeble voice trembled as my nerves got the best of me.
"Because the poem is all about colours.And you wouldn't know what the poet is talking about."
Fool. He thought my thoughts, dreams and imagination were monochromatic. If only I could explain to him how vibrant they were. If only I could give him a peek of the explosions of colours, the fireworks that took place behind the vacancy of my eyes every moment I was with him! But my insecurities didn't let me. What if he didn't believe what I said?
Guilt burdened the air between us. I could tell he hated himself now, and I couldn't let that happen. How could he love me if he didn't love himself?
"Hey, I know all about colours," I chuckled. 
"Oh yeah?" His voice sounded jagged. "Which colours do you know?"
"Well, I at least know one," I replied as steadily as I could.
"Which one?"
"Bottle green."