OUT INTO THE BLUE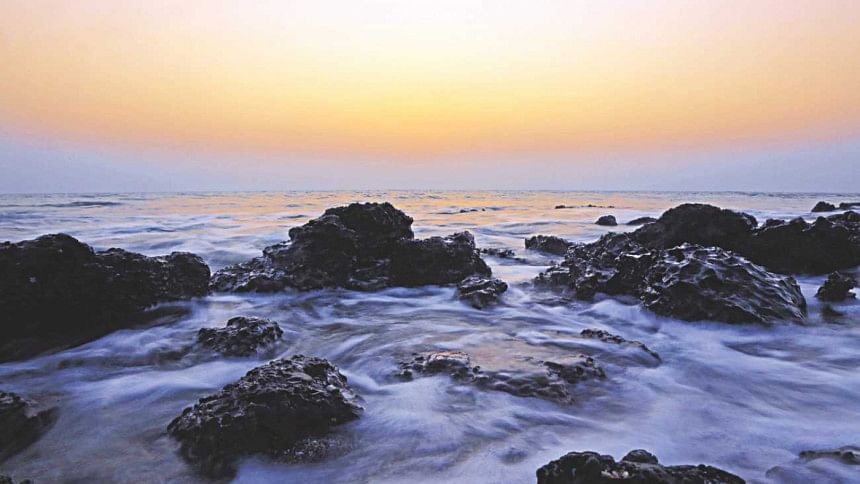 Graduating is a tricky place to be in. Although you can't stop gloating about the fact that you're done, leaving behind your friends and carefree days is just plain depressing. Thus, 9 friends and I set out for a trip to one of the most beautiful places in Bangladesh - Saint Martin's Island, or Narikel Jinjira. 
DAY 1 

The non-AC bus from Arambag Bus Station in Dhaka reached Teknaf after a journey of around 12 hours. After breakfast and some sightseeing we boarded our ship, the Keari Sindbaad. Upon arrival around noon, the coral fry we had for lunch was one of the highlights of my trip. 
From the jetty we rented a boat and set out to Chhera Dip. Due to the low tide, we had to change boats, descend early, and set out for a 40-minute walk to the resort instead. Now if it was summer, the walk would have been a daunting task, but the weather being the right mix of sunny and windy, it was the most blissful experience ever. We finally arrived at Music Eco Resort which is situated at the southwesternmost part of Saint Martin's Island. It had a unique tent-based accommodation with all the modern facilities (including proper washrooms). It has its own kitchen and specialised chef, and due to zero access to nearby markets, was bit of an expensive stay. The tents were placed under coconut tree shades. My heart, however, is still set on the hammocks. There is a small lake inside the resort area which is filled with corals. Apart from sea turtles, many birds can be seen nesting there as well. The natural part of the area has been preserved very carefully to ensure the breeding of wildlife. This is a place where one can just relax, listening the sound of the sea and nature with your near and dear ones. From the resort we were able to witness sunrise, sunset and even a full moon. It was indeed a breathtaking experience.
DAY 2

Following a great first day and an early morning breakfast, we left Music Eco Resort, rented a boat and went back to the main beach. We checked into Rojmary Inn, located right across the beach. After drenching ourselves for well over an hour in the cool waters, we finally had the heart to bid adieu to the beach and head back to the hotel. A quick shower, lunch and some much needed nap later, we resurfaced at the beach and enjoyed some street food. Be it shrimp, tuna, pomfret, coral or crab - everything was cooked to perfection. At midnight, we went to the back to the beach, played some music, had some tea under the moonlight and gossiped away in remembrance of our best days.
DAY 3

We woke up at 5 the next morning to witness the sunrise. Our first activity of the day was an early morning bike ride all around the island. We went back to the hotel for a brief nap and checked out at 11 a.m. We still had 2 full hours to spare till our ship arrived to take us back and so we spent the time taking all the pictures we possibly could. Ominously, the moment we were about to get on the ship - dreadful things started happening one after the other. Firstly, due to overload, we couldn't manage tickets and had to travel without seats. If two hours wasn't long enough, the curse of the low-tide haunted us further as we were stuck for an additional 2 hours on the ship. To make life even worse, after we did finally arrive, our bus got delayed by another 3 hours. Life and its lemons, eh?
Finally at 2 a.m., we arrived at a chilly Chittagong and decided to stay the night over at a friend's house to give ourselves some break from the constant travelling. The heartwarming hospitality and home-cooked food brightened our moods and got back us our will to live that was otherwise gone with that horrific experience of the previous day.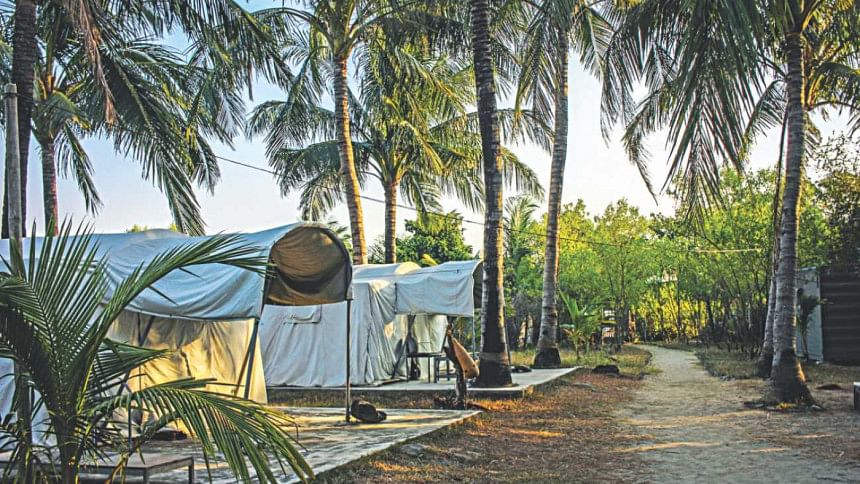 DAY 4

After a good night's sleep, mouthwatering breakfast and some difficult goodbyes, we set out for Dhaka in an AC bus. 
EXPENSES

Along with food, boarding on the ship, boat and bus rides - each of us needed around BDT 7000 for the whole trip. You can bring down the costs to as much as BDT 5000 or even less if you're going on a less luxurious ship, or a non-AC bus to and from Dhaka. I must say though - the seafood, the ghastly ship experience, the boat rides, the long walks across the beach, and the full moon was worth every paisa. 
Visiting Saint Martin's Island with your friends will certainly gift you with some unforgettable memories. Experience it as soon as you can because who knows where we all land? Before succumbing to the perils of life, live a little. 
Rafidah Rahman is a teeny-tiny Hulk, she's always angry and she's always hungry. A cynical dreamer and a food enthusiast, she's your everyday entertainment. Correspond with her at rafidahr[email protected]  or https://web.facebook.com/rafidah.rahman.39