Voice of Business launches BRANDrill 2018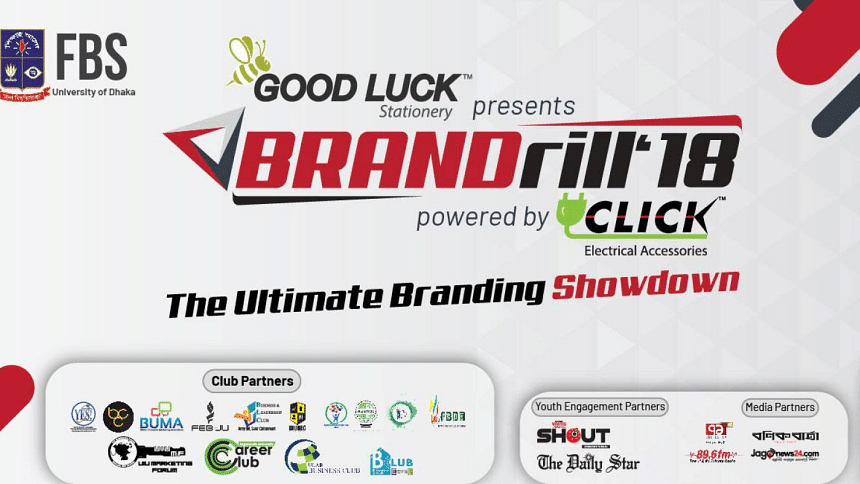 Voice of Business (VOB), the largest student-run publication and a prominent business club of Bangladesh from the Faculty of Business Studies, University of Dhaka, is launching its signature branding competition "BRANDrill 2018". VOB has been catering to students' needs through workshops, seminars and events for the past 10 years, and aims to continue that legacy this year with "Goodluck presents BRANDrill, powered by Click."
Last year, VOB launched its newest addition "BRANDrill - the Ultimate Branding Showdown", the first ever national competition of FBS, University of Dhaka. More than 200 teams participated in the competition with 10 teams making it to the finale – consisting of high performing individuals proclaiming their right to the championship. This year, BRANDrill is back with Good Luck stationery as its title sponsor and Click as its co-sponsor. VOB will partner up with clubs from more than 20 universities in and around Dhaka for this event.
The registration has begun from March 27, 2018 and will continue till April 7, 2018. The competition will consist of 3 rounds. The first round will take place in early April where the selected teams will present their slides and TVCs. The top 10 teams will then make it to the final round. The winning team will receive BDT 1,00,000 as prizemoney. The first and second runners-up will receive BDT 60,000 and BDT 40,000 respectively.
BRANDrill helps students to learn branding in a more practical manner. The immense response from teams all over Bangladesh in the 2017 edition showed that students are willing to think out of the box and practice branding if they are allowed to do so in a fun way. And given how the market is a global battlefield, and the weapon is branding – these young warriors get the right opportunities required for one to flourish as a great brand manager. VOB is proud to host all these young minds, and promises an amazing experience for all.
SHOUT is the Youth Engagement Partner of BRANDrill 2018.
To learn more about BRANDrill 2018 keep your eyes on the Facebook page of "Voice of Business". The online registration link of Goodluck presents BRANDrill powered by Click is given below:
https://docs.google.com/forms/d/e/1FAIpQLScWNq3ushm24pG1deP5AEyg_Yf3MJd_tGhFPgNfmOpRTY1Jug/viewform