Stockholm beckons for Junior Water Prize winners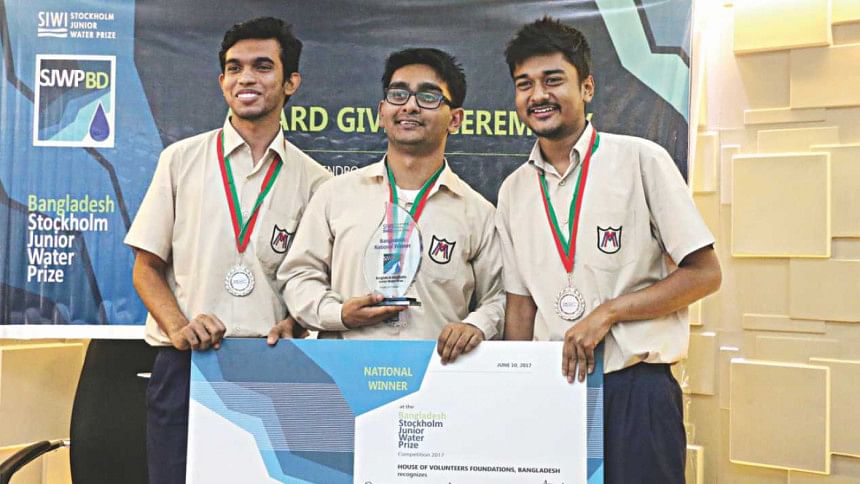 Team from Mastermind School wins ticket to Sweden as Bangladesh finds her junior water innovators who would represent the country in the international finals of Stockholm Junior Water Prize.
The Bangladesh Stockholm Junior Water Prize (SJWPBD) is a national competition where the winning team gets to participate in the international finals of Stockholm Junior Water Prize, held during the World Water Week in August. Participants from more than 30 countries compete with their projects that would devise solution to global water problems. The selected finalists get a life time experience as they meet other likeminded innovators to build a lasting network and exchange inspiring ideas and view with one another.
This year, Rituraj Das Gupta, Aniruddha Chowdhury and Arnab Chakraborty from Mastermind School won the title of champions. Their project was on using titanium dioxide photocatalyst in degradation of industrial dyes. The project is designed to be cheap, feasible and an effective method of industrial greywater treatment.
The national competition was organised by House of Volunteers, Bangladesh while WaterAid Bangladesh was a co-organiser in the hunt for scalable water projects by 15-20 years of age school and college students of the country. From a total of 75 educational institutions in Dhaka and Chittagong, 35 teams participated in the competition among which 7 teams qualified as finalists for the national competition. A six-member jury consisting of researchers from Bangladesh University of Engineering and Technology (BUET), and WaterAid Bangladesh supervised the competition.
The final round of the competition was held at Bishwa Shahitto Kendro on June 10, 2017. The event was graced by Professor Dr. M. Habibur Rahman, Chairman of Dhaka WASA, Professor, Department of Civil Engineering, BUET as chief guest and Dr. Khairul Islam, Country Representative of WaterAid Bangladesh, as special guest along with Niklas Skogsjö, First Secretary Division of Environment and Climate Change Development Cooperation Section, Embassy of Sweden, Dhaka.
House of Volunteers (HoV), Bangladesh is a youth-led non profit organisation that started its journey in 2007. Although, Stockholm International Water Institute (SIWI) has been facilitating the competition since 1997, it is the third time Bangladesh is holding the competition after successful completion of the national competitions in 2015 and 2016. HoV, Bangladesh organise the competition each year as the nominated national organiser by Stockholm International Water Institute (SIWI). 
Previously, in 2015, a team from St. Joseph Higher Secondary School, comprised of Navid Haider, Sk. Rifayet Daiyan Srijon, and Labib Tazwar won the competition and Bakhtiyar Zaman Bhuiyan of the same institution became champion in 2016.