Encouraging the Pioneers of Tomorrow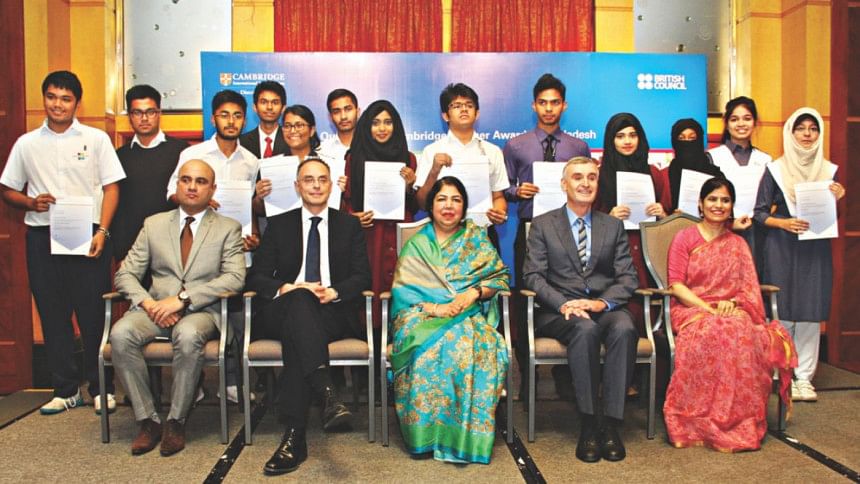 Toppers from schools across the country were acknowledged for their exceptional results at Cambridge's Outstanding Learner Awards ceremony, held on November 27 at the Westin Dhaka.
Conducted by the British Council, the ceremony was attended by Mark Clayton, British Deputy High Commissioner, and Dr. Shirin Sharmin Chaudhury, Speaker of Bangladesh Parliament as Chief Guest, along with other CIE and British Council representatives.
The event started with the attendees singing the National Anthem followed by a speech by Ruchira Ghosh, Regional Director of Cambridge International Examinations, South Asia. She said, "Over the past decade, Cambridge qualifications have witnessed a gain in stature and popularity in Bangladesh. It gives us immense pleasure to see learners across Bangladesh exhibiting their passion to succeed."
Following her speech, Ghosh awarded 13 students who achieved 'Top marks in the World' with certificates. Jim Scarth OBE, Acting Country Director, British Council, in his deeply encouraging speech ensured how each of these brilliant minds have a prospect of studying at the top universities of the world but also stressed on the importance of patriotism and coming back home to work for the development of one's own country.
Scarth presented 'High Achievement' awards to 21 students from schools across the country. Among them, Proma Ayesha Kibria, from Aga Khan School, was elected as the formal student speaker. She made her point stating that Rome wasn't built in a day; similarly, her brilliant results weren't a fluke but a culmination of sheer diligence and determination. She thanked her friends, parents and especially her teachers for supporting her throughout the journey.
Mark Clayton gave away the 'Best Across' awards to the three students who scored highest on a set of subjects among the Cambridge International levels (O/A Level). He believed that the objective of Cambridge programmes is to expand and establish all facets of creative ingenuity, critical thinking and analytical skills required to prepare students for their university life.
Lastly, the honourable Speaker of Bangladesh Parliament, Dr. Shirin Sharmin Chaudhury came on stage and delivered her enlightening words. She said, "It is a pleasure to be amongst the highest achievers. The human resource in Bangladesh is one of our areas of strength. The youth of our country is also very talented, and we must nurture them properly so that they can serve our country as members of the workforce." She felicitated the 31 students who gained the 'Top in Bangladesh' awards.