BLUEPRINTS 1.0
Workshop for National Financial Modeling Competition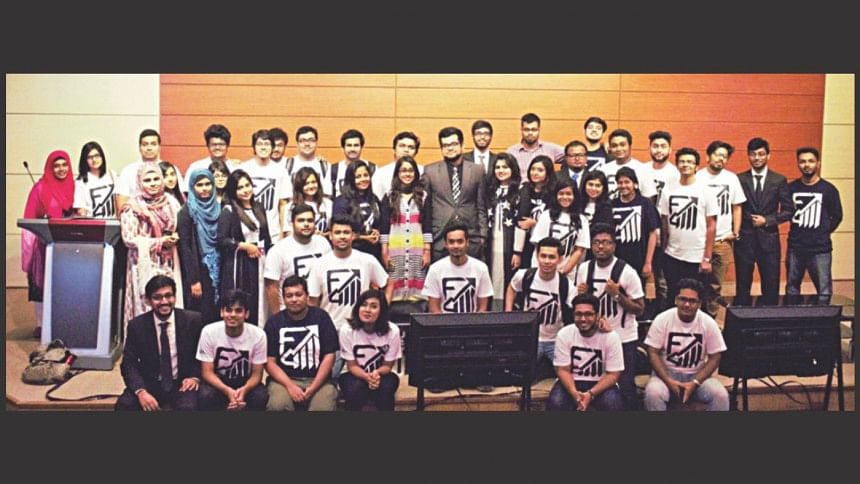 The workshop for the first round of IDLC Presents BLUEPRINTS 1.0 powered by Teletalk, Freedom and Seven Rings Cement, had been organised by NSU Finance Club on November 7 in AUDI 801 of the NSU campus. 
BLUEPRINTS 1.0 is a national financial modeling competition pioneered by the recently established club of North South University. The competition has been initiated with a broad intention of focusing young minds on the potential opportunities in the financial sector of the country. 156 teams (with around 600 participants) participated in the competition from different parts of the country. The workshop was conducted in two sessions.
The conductors of the workshop were Khan Md. Saqiful Alam, a Financial Risk and Insurance Management faculty of North South University, Khandaker Safwan Saad, the deputy head researcher of BRAC EPL Stock Brokerage Ltd, and Mohammad Kashif Choudhury, Assistant Vice President of LightCastle Partners. All of the speakers gradually contributed to developing the essential concepts that participants needed to excel in the first round as well the overall competition in general.
Khan Md. Saqiful Alam specifically stressed the inevitable concepts, like strategic alignment, valuation methods, internal rate of return (IRR) and such other tools needed to approach financial cases. He also discussed Sir Harry Markowitz's portfolio theory along with all the necessary strategies. He said that the beauty of finance exists in the myriad confusions and complex scenarios that it caters to. One, as an enthusiast, shouldn't run from them, but appreciate them to their very core. 
The most interesting part of Khandaker Safwan Saad's presentation was a financial model itself, where he showcased practical examples of forecasting various financial statements, and valuation analysis techniques, beginning with a slight overview of the definition of a financial model and the step by step procedure required in crafting them. Having worked in cement and pharmaceutical industries, he was also able to discuss some real life scenarios. He noted that familiarity with applied skills is very important in the finance sector. 
As the third and final speaker, came along Mohammad Kashif Choudhury of LightCastle Partners to discuss the first round case page by page. Going through all the fictional details, he traced back to the concepts discussed by the previous speakers to address various points in the case to provide an overview of all the ideas in a nutshell.
Finally, at the end, all the speakers got on the stage to address numerous queries put forward by the participants. Many came forward and stated that the session was immensely helpful, not only from a participant's perspective, but also from the outlook of a finance enthusiast. 
Shout is the strategic partner of the event, while Radio Foorti is the broadcast partner.
Jawad is your next-door superhero who needs you to get him his cape. Your curtain will work too. Shout at him on facebook.com/jawad.muhtasim or [email protected]