IMAGINE - WRITE CREATIVELY
The Writer's Territory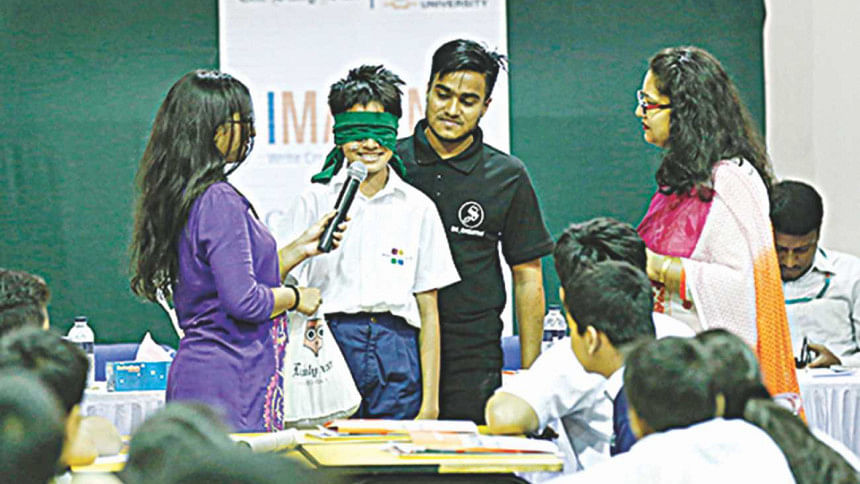 After an awful drag of writer's block stretching months, I opted to cover the event Imagine Write Creatively at Scholastica, Mirpur on March 22 for a kick of writing inspiration. This workshop is a joint initiative run by United International University (UIU) and The Daily Star (TDS) to foster creative writing skills among budding young writers in schools.
At 10 am, 5th and 6th graders lined up in the gymnasium to embark on a 2-hour long interesting journey with trainers Sharmin Sultana, Associate Professor of the English Department, UIU and Naziba Basher of The Daily Star, both of whose passion for writing and language would soon exude throughout the interactive session. 
The welcome speech by Farah Sophia Ahmed, Senior Vice Principal, Mirpur Campus, set the tone for the event. She cheered on with the hope of seeing her students' books on shelves 10 to 20 years from now. Her optimism was followed by that of Professor Dr. Chowdhury Mofizur Rahman, Pro Vice Chancellor, UIU who stressed on the significance of creativity regardless of profession, pursuit, or passion. The students were hooked as soon as the workshop began with a warm-up game. The essentials of creative writing were actively pointed out by practical exercises. The students were invited to analyse characters and create backstories from nothing but photographs. Mental note to self: hang out with 5th graders more often because not only did everyone's hand shoot up in the air when asked if they read books, almost everyone revealed that they write too. They were observant and enthusiastic to contribute to the discussion with unique narratives they came up with on the spot. My favourite story would be that of Dark Burgerzack, the alter ego of Mark Zuckerberg in an alternate universe. Aria A Hossain, a student of 6th grade generated a shady, mysterious, scary masked monster-esque character who has a soft spot for plushies. 
---
---
After character analysation, the participants learned how to create the setting and plot for a page-turner. They were quick and original in their anecdotes, but what really impressed me was the unbelievable number of kids who were hardcore Harry Potter fans. Some of them were so absorbed in the wizarding world that they connected all the given scenarios with it, be it the forest, beach or castle. I wish my 11 year-old self had been this cool. 
I lurked around the gymnasium to talk to a few participants about their takeaways from the session. My favourite 5th grader duo is officially Mahir Asif Chowdhury and his best friend Samin Kamrul both of whom are, mind-blowingly, writing their own novels with a view to publishing them in future. Mahir has written 4 chapters and is ecstatic at the prospect of incorporating the workshop's tips into his novel. He also added, "This is hands down the best workshop I have ever been to in our school." Samin told me that his novel is based on the popular videogame Legend of Zelda where he is crafting his own characters and the Imagine workshop definitely would further its progress. Mohammad Mashrur Mahtab Mahi, another 5th grader told me that he attempts to write but most of the time schoolwork gets in the way. 
My heart melted at the sight of little children cherishing a love for the art of writing. The exceeding number of volunteers for games than what the workshop had the time to suffice was justified. I wish one fine morning, someone had taken me out of class to play charades about Harry Potter and The Hunger Games when I was in school. Hence, props to the Imagine team for relentlessly spreading the joy of writing among children because the light I saw in them needs to remain ablaze even when they grow up because a lot of them have masterpieces to tell.
Anupoma Joyeeta Joyee is a perpetually sleepy Law student who emotionally identifies with ducks and occasionally sets out on writing sprees. Feel free to rant to her at [email protected]