THE PROCRASTINATOR'S GUIDE TO ACING FINALS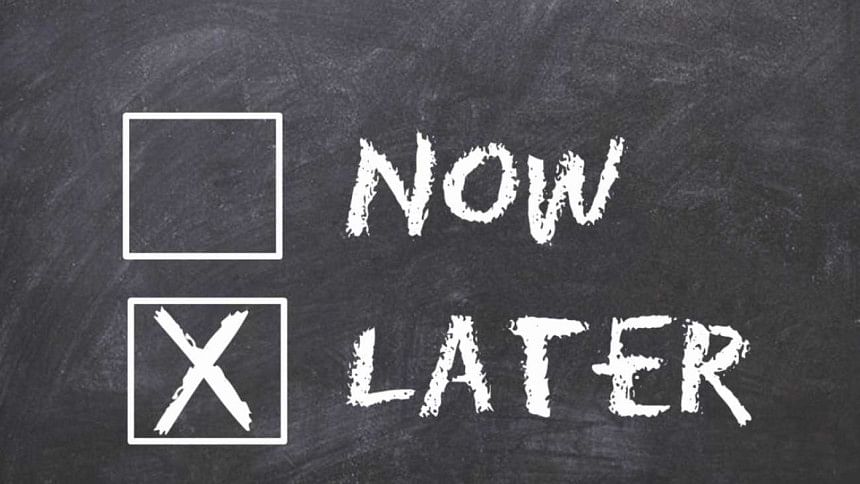 You go home after a long day at your educational institution, eagerly anticipating nap time. Just when you're about to hit the sack, you get a text from your friend. "Exactly 1 month till final exams :0" the message reads.  You freak out for a moment as images of the syllabus, to-do lists and notes flash across your eyes. You go to sleep anyways.
PUT OFF CREATING THAT STUDY PLAN

Every year it's the same. Spend hours gathering all your planners and stationeries, and patiently printing out the extensive syllabus. The next logical step is to fit in all the chapters in the time that you have left. But honey, you can't wrap your head around the primary school math that allows you to create a routine now, can you? You better shut the planner and download the new Ed Sheeran album. After all, you might need it for the study break that will last the entire preparatory period.
START WATCHING A GRIPPING TV SHOW

What better time to latch onto a TV show/ book/movie/ fandom than three weeks before exams? Go ahead, post that "Watching 13 Reasons Why" status on Facebook. Of course the only downside is you will get so engrossed in it that you'll lose a week of potential study time. But it's just one week right?
GO TO THAT WEDDING CEREMONY OF PEOPLE YOU DON'T REMEMBER MEETING

Never forego wedding food for anything, ever. Give yourself an excuse to dress up. It's only one night of partying and two days of post-partying. You could have covered 5 chapters but BIRYANI. Exams come and go but murgi roast doesn't present itself often.
KEEP ZONING OUT DURING CLASS

There are only two weeks left and the teachers have devoted themselves to hammering the entire year's worth of lessons-that-you-so-blissfully-forgot in your head. If you could ignore them for a year, why break the record now? Feel free to let your mind wander across meadows, butterflies, Cole Sprouse's abs, unicorn frappuccinos and drakeout burgers.
DON'T MISS OUT ON CRAMMING

With less than a week left to go, you finally have the chance to straighten yourself up. Get high on sugar or caffeine, pile your desk with textbooks you haven't yet touched and pull that all-nighter. You may even send a snap of yourself drooling over the books every hour with that time filter. Caption it "lyf got me like". Oh and don't forget to publish epiphanies about the pointlessness of life on social media at 2 a.m.
To-do: Write about procrastinating exam prep while procrastinating exam prep. Check. I should go study now. But will I? 
Mashiyat Nayeem doesn't have time for your compliments, complaints or remarks. Do not try to contact her anywhere as she needs to study. Sincerely, the sane part of her brain.