My experience at the Australian Scout Jamboree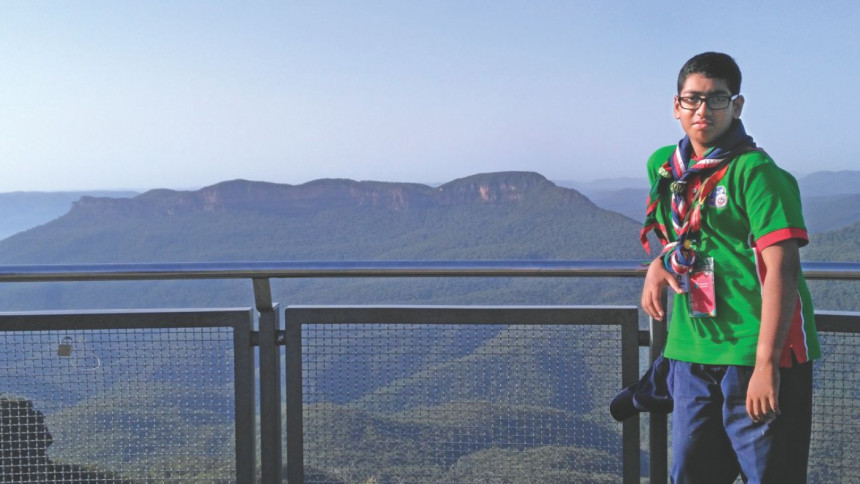 The day had finally arrived. January 1, 2019. It was the day when the Bangladesh contingent would fly to Australia for what promised to be an amazing adventure at the 25th Australian Scout Jamboree. Our group consisted of 16 young Scouts from Sunnydale School, and we were about to witness one of the best events in the scouting world.
After a freezing transit of sixteen hours in China, we were greeted with some very hot weather in Adelaide. It was an intriguing prospect to stay in such scorching weather for the next 12 days. Leaving the fear of getting sunburnt aside, I looked forward to the new experiences awaiting me.
Arriving at our jamboree site, we noticed that there were already many tents such as international hub, the pitch, etc. All these tents were accumulated in the shape of a mall, known as Alawa mall. After daylong adventures, every night we were allowed to talk to our parents using Wi-Fi and roam around. Our sub camp site was quite impressive as well. Our troop, C324 was led by a gentleman named Bill Pettit. On our arrival we each received a buddy daypack which included a hat, handbook, and lunchbox for overnight/daylong activities. Next day during the opening ceremony, we proudly witnessed our national flag being hoisted. We all had fun at the concert and enjoyed colourful fireworks. The jamboree chief delivered an inspiring speech for the participants.
Our activities began on the next day. The first activity was the "Cube", which included a mud zone, an obstacle zone, and a vertical zone. It was a three-hour activity but we did it all in an hour. We earned wristbands and badges after the activity. There were many activities everyday such as "Bang", "Splat", "Whizz", "Hi Tech", and many more. There were two daylong activities, "Metro Mania" and "Wet 'n Windy". In Metro Mania, we roamed around Adelaide, and played goose chase. Wet 'n Windy, on the other hand, was once-in-a-lifetime experience. We were taken to the Murray River, where we had to man our own boat. It was a engaging and enjoyable activity. We also had an international night when the Bangladesh contingent performed to some popular songs like Tak Dhum Tak Dhum Bajai Bangladesher Dhol, Joy Bangla, etc.
At the closing ceremony, we were congratulated for completing the jamboree and given badges. A slideshow of the pictures taken during the jamboree was shown as well. Here, we made many friends from different countries. All in all, we were quite happy to join in this jamboree experience. I would like to encourage those who are interested in Scouts to apply for such jamborees and to have such challenging experiences with people from around the world. It is surely an exciting, important and memorable event of my life.
The writer is class six student at Sunnydale School.