String Lights in Your Room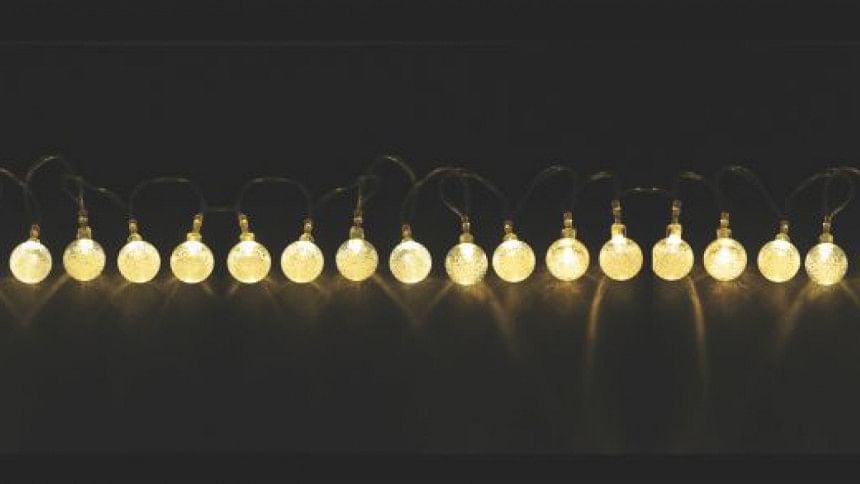 String lights are cute. You've seen them hanging from your neighbours' homes. They are essentially the famous morich baati without which Bengali weddings look ridiculously plain and underwhelming.
The string lights available in the market for room decor are a little fancier version of these humble yet gorgeous wedding lights. Woollen, thread-based or nice little round plastic shades on each bulb makes for a soft, down-lit glow. The shades also form patterned shadows on your walls and that's absolutely amazing. 
String lights come with a plug for wall sockets. You can then tape them to your wall or hang them down your curtains. You can also place them in a big glass jar. You know those fish bowls you can easily get at Katabon? They work fine too. Just make sure there's power supply nearby. 
To buy string lights, check out the home decor section of super shops. I got mine from Agora Dhanmondi branch for BDT 1200. String lights are available at Anam Rangs Plaza, Gulshan 1 DCC Market and shops near Baitul Mukarram. You can also order online at shops such as Doodlecraft and Kagojer Ishkool. 
You can always DIY your way to them. Just get plain morich baati from hardware shops or those places where they sell wedding essentials. Place your favourite poster on the wall and tape around it. Wrap it around a vase or one of the corner frames of your mirror. 
Check out: www.facebook.com/KagojerIshkool and www.facebook.com/doodlecraft.bd
Dyuty Auronee is an occasional fusspot who loves her tea and authori-tea. Reach her at [email protected]