Origami for the table
As a hostess, you will know that there are many things that go into making a successful and memorable lunch or dinner party. The careful selection of a theme, the menu, crockery and cutlery that make up the best suited dinnerware, and even more so, the eye-catching decoration to go along with all of it.One last thing to add some easy flair to your table is an artfully folded napkin.
The first step will be to get some good napkins. Depending on the event, you can opt for cotton based dinner napkins in solids, checks, festive prints and even polka dots. If you wish for something fancy, various patterns on silk napkins could bring additional cheer to your table.There are many artful and classy -- and better yet -- simple ways to folding a napkin for the table. Make it a fan, a pouch, or even a rosebud, with a bit of effort and dexterity! 
Here, we have three of the simplest folds for you.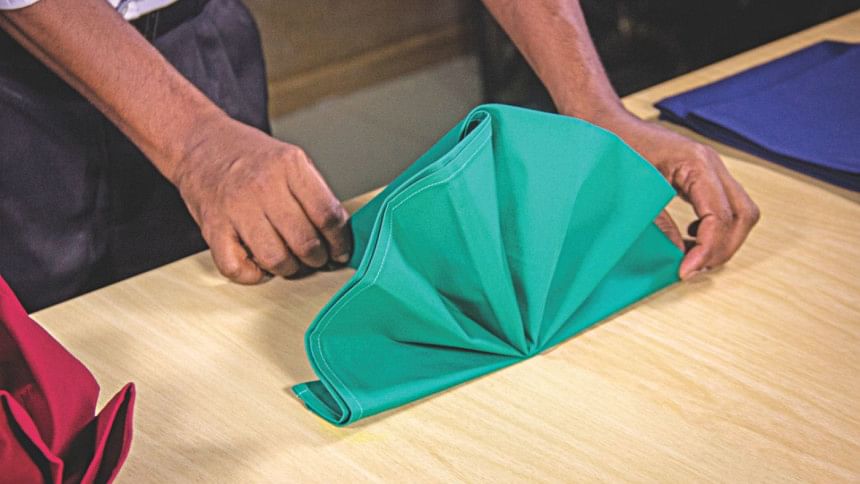 Fan:

Pick your napkin and spread it on a flat surface. 
Fold the napkin in half, lengthwise. 
Make one inch folds to resemble a paper fan.
Carefully hold the final folded napkin, and flip. 
Fold it into half, again lengthwise. 
Fold the corner to tuck in the centre.
Spread out the fold to make it complete.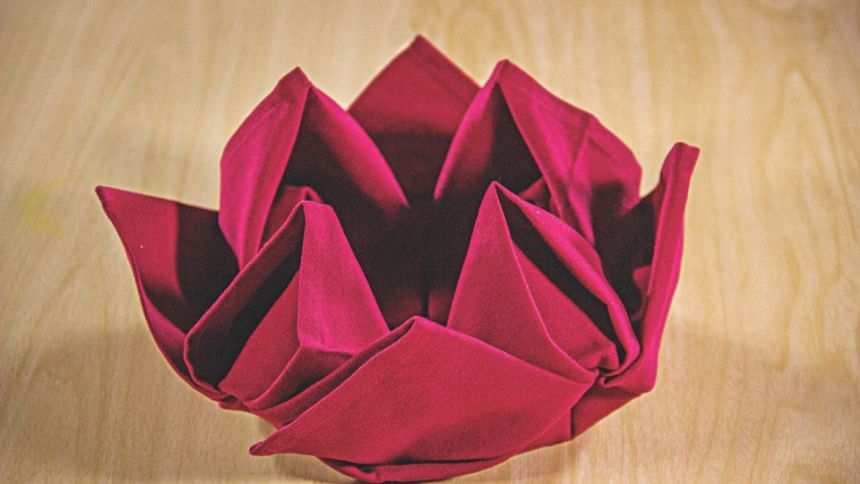 Lotus: 

Take a dinner napkin and spread over a plain surface. 
Fold it in half, diagonally both ways, and press the creases. 
Open the napkin, and then fold all four corners to the centre, to create a square.
Gently flip the napkin over, and fold the corners to meet at the centre.
Hold a finger pressed at the centre of the napkin, reach underneath and pull up the flap at each corner to create the lotus petals.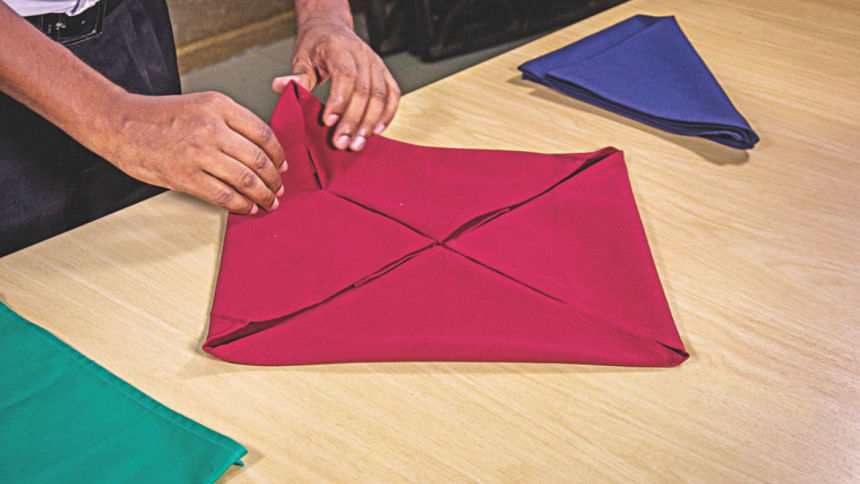 Water Lily:

Take a dinner napkin and spread it over a plain surface. 
Fold the napkin in half, with the open end towards you.
Fold the far-right corner diagonally towards you, resting the point in the centre of the side closest to you.
Fold the near-left corner diagonally away from you, resting it so that it lays right next to the previous fold.
Flip the napkin over gently. 
Fold the bottom half of the napkin up and away from you.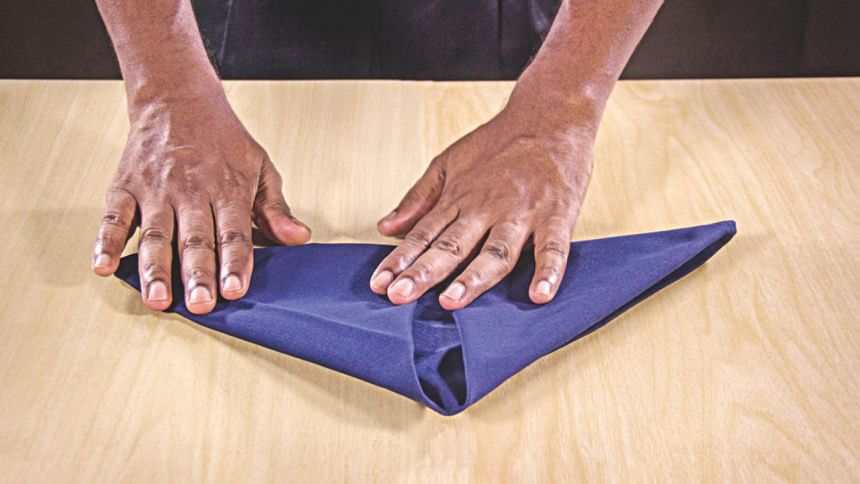 Reach underneath the napkin and pull out the flap on the right, making the near-side come to two points.
Gently roll the left half of the left triangle over and tuck the end underneath the right triangle.
Flip the napkin over, points pointing away from you.
Fold the right-triangle to the left, tucking the end into the other triangle.
Open up the hat and press the material inside down to fill it out so that it becomes circular.
With special thanks to Mizanur Rahman for showing us the different folds. 


Photo: Shahrear Kabir Heemel