Shunno hits the "Lottery"
A star-studded album launch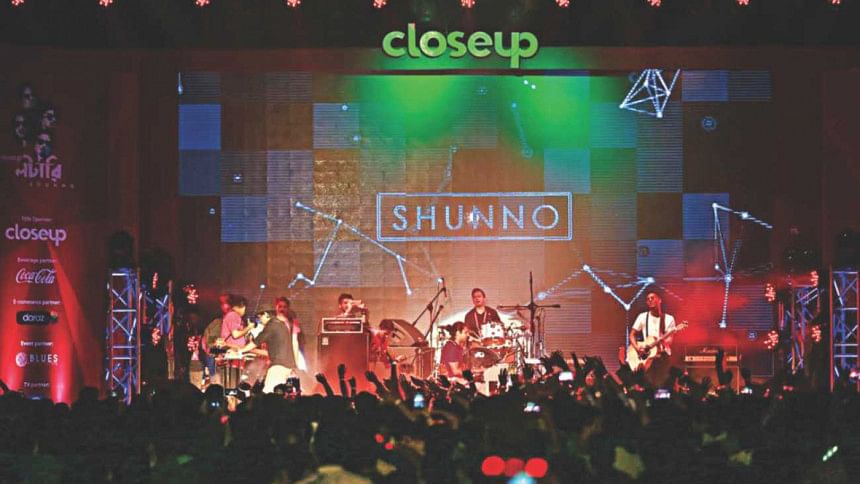 For two and a half hours, the International Convention City Bashundhara (ICCB) was in a remarkably festive mood as it became the gathering hub for music lovers from around the city. Shunno released their much-awaited fifth album "Lottery" on July 8, 2017. The event was scheduled to start at 6:30 PM, but fans started gathering from approximately 4. 
A quick look inside the venue would make it evident that no expense was spared in making it look and feel special; dual monitors were present to make it easier to catch the action on stage, which in turn had a very nice viewing angle as well. There was a food corner and a merchandise shop from Daraz.com, who co-sponsored the event along with Closeup. 
Shunno started the event with the song that got them the most popularity – "Shoto Asha". The energy from the crowd was electric, more so when they realised that the seemingly ordinary bracelets that they had received at the entrance lit up to the beat of the song. This small creative decision by the organisers was supposedly inspired by Coldplay's stylistic ventures during their concerts, and it was a welcome decision nonetheless. When Emil, the vocalist and frontman of the band started speaking to the crowd, there was a sense of gratitude in his voice. "When we were planning our opening concert at the ICCB, I was really sceptical because this is a huge venue. Thank you for turning up. We've been in this long journey together, and I am elated to have you by our side," he said. 
Throughout the concert, there were video packages where the band members talked about their journey, one which went from doing their first album cover shoot with a mediocre digital camera to being one of the most successful rock bands in Bangladesh. Moktadir Dewan, better known as "Beatbaksho" to music lovers, had been with them in the journey since their inception. He said, "They have come a long way. I have known Shaker and Emil since they started their band, and was present during their first album launch in Chittagong. They have gone from two people who played in lounges to form a band that resonates in people's hearts." 
Sufi, the flamboyant vocalist from Arbovirus added his bit of insight: "There are not many bands that have this level of dedication to have stuck around for so long. Even though Shaker is not in the band, he has done his all throughout their journey to support them." And support them, he did. Shaker Raza, even though he left Shunno to pursue his own path, was at the venue cheering for Emil, Michael, Ishmam and Labib throughout the event. 
On stage, Shunno mixed up their renowned tracks with the new ones very well. The crowd not only sang along with their old hits which included "Rajahin Rajjo", "Bedona", "Mon Tore", "Sritir Chhera Pata" and "Godhulir Opare", but also tried to participate in the new tracks. "Lottery" and "Priyo Ma" were among the most memorable performances. 
There was a video package where the band members' mothers talked about how proud they were of their children. Among the people who were visibly moved, was Sumi, Chirkutt's frontwoman. "They are a complete band. They bring so much energy and positivity to the table," she said. 
Positivity was indeed in the atmosphere, as the crowd left happy with their surprise gift packages which included Shunno's album, a badge, a poster and a T-shirt. Closeup did a tremendous job in arranging a stellar concert. Closeup's Brand Manager, Farah Ahmed, who was present at the event stated, "Closeup is always connected with the youth lifestyle of the country with music, concerts, dramas and much more." The fans certainly hope that there would be more of the same in the future.