World Health Organization and BMSS organises WHO Simulation 2023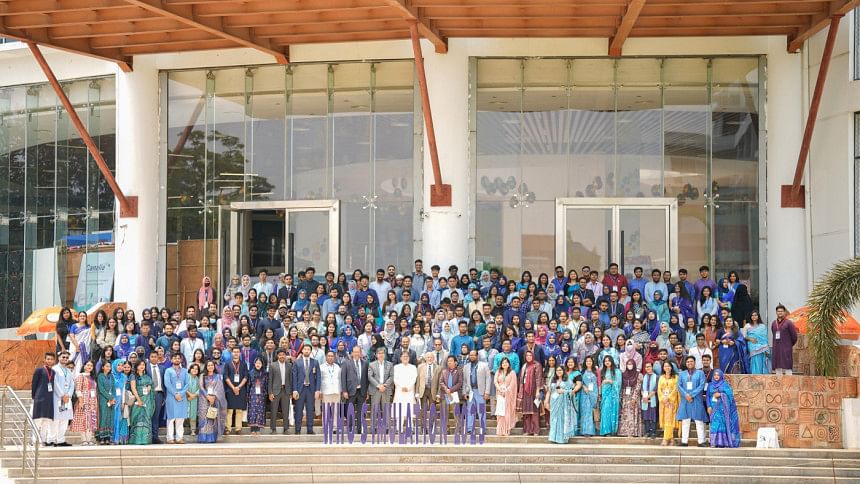 On April 28 and 29, Bangladesh Medical Students' Society (BMSS), organised WHO Simulation 2023 with support from the World Health Organization, Bangladesh at Daffodil International University (DIU) with 500 delegates from 40 medical colleges across Bangladesh. The Department of Public Health of DIU was the organising partner of the conference. The entire event was conducted under the supervision of the Director General of WHO Simulation 2023 Dr MD. M Islam Bulbul.
On April 28, the event was inaugurated by a video message from WHO representative Dr Bardan Jung Rana. The event convener was Prof. Dr ABM Alauddin Choudhary, Head of the Department of Public Health at DIU. Prof. Dr Mazharul Islam, Line Director, Planning, Monitoring, and Publication, Ministry of Health and Family Welfare, and Prof. M. Mustafa Zaman, Advisor, Research and Publication, WHO Bangladesh graced the event as special guests. The Guest of Honour was Prof. Dr M. Lutfar Rahman Sir, Vice-chancellor, DIU. The Chief Guest of the ceremony was Dr Shamil Uddin Ahmed Shimul, Member of Parliament of Chapai Nawabganj-1. The guests collectively unveiled the WHO Simulation Magazine in the ceremony. 
The opening plenary was led by Plenary President Dr M. Omar Khaium, Faculty of Allied Health Science, DIU, and Plenary Vice President Nadia Nasreen Nadi, Vice President for External Affairs of BMSS. The dais members of five specialised committees were called up on stage to discuss their respective agendas and expectations from delegates.
Throughout the first day, effective committee sessions were held of the five specialized committees – Specialised Committee on Gender Equality, Maternal and Child Healthcare, Specialised Committee on Research & Innovation in Healthcare, Specialised Committee on Non-Communicable Diseases, Specialised Committee on Communicable Diseases and lastly Specialised Committee on Health Equity and Health Services. 
On 29 April, the event started with final committee sessions where delegates prepared draft resolutions of their respective committees. Later on, the closing plenary was conducted by the Plenary President and Vice President where the dais members of each committee presented the final resolution, which delegates voted on.
For the closing ceremony, respectable chief guest Mohibul Hasan Chowdhury, M.P, Deputy Minister, Ministry of Education graced the event with his presence. The event wrapped with a performance by the Bangla rock band Shironamhin.
SHOUT, Square Group, United Hospital, Kazi & Kazi Tea, Fries & Co, ACME, NutriPlus, Asian TV, Nexus Television, Le Delicia, Well Food, and Bellissimo were the event partners.