SUB Pharmacy Department hosts International Conference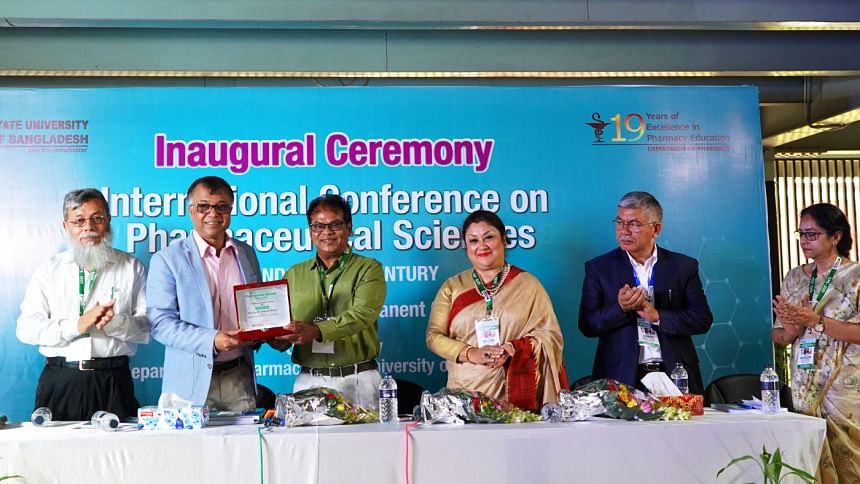 The Department of Pharmacy, State University of Bangladesh (SUB), has organised the International Conference on Pharmaceutical Sciences. Senior officials of pharmaceutical companies, respected researchers, faculties, students from more than 30 universities in the world, including the United States, South Korea, Malaysia, India and Nepal, are participating in the conference.
The conference is being held at SUB's South Purbachal Permanent Campus. In the opening ceremony, the Chairman of the Conference Organising Committee, Advisor of the Pharmacy Department of SUB and Former Dean of the Faculty of Pharmacy and Professor of the Pharmaceutical Chemistry Department of the Dhaka University, Prof Dr. Mohammed Abdur Rashid gave a welcome speech. In his welcome address, he highlighted various recent aspects of pharmacy research and the aims and objectives of the conference. He further shed light on pharmaceutical formulation, novel drug development, traditional and herbal medicine, nutraceuticals, biotech products and pharmacy practice.
SUB's VC (Acting), Prof Dr. Nawzia Yasmin presided over the opening ceremony. Dr. A. M. Shamim, President of the Board of Trustees of SUB, Professor Dr. Md. Aftab Ali Sheikh, Chairman of Bangladesh Council of Science and Industry Research (BCSIR) and Professor Dr. Panna Thapa, academic advisor to the VC of Kathmandu University, Nepal, was present as the chief guest of the conference.
In addition, Prof Dr. Hassan Kawsar, the Treasurer of the University administration (acting), Prof Dr. Kohinoor Begum, Head Of Pharmacy department, Md. Moklesur Rahman Sarkar chairman of the Scientific Committee of the conference and Professor of Department of Pharmacy, Professor Md. Saiful Islam Pathan, senior teacher of the department, Md. Kamrul Islam, Associate Head of department and faculty members of Department of Pharmacy were also present along with deans and heads of various faculties of the university.
Dr. AM Shamim, President of the Board of Trustees of SUB, who was the Chief Guest at the event, emphasized in his speech the importance of research on this subject to sustain the pharmaceuticals sector in this period of the fourth industrial revolution. Besides, the special guest of the event, Professor Dr. Md. Aftab Ali Sheikh, Chairman of BCSIR, thanked SUB Pharmacy Department for organising a timely conference and expressed the opinion that such an arrangement would play a helpful role in creating research environment in universities.