Speakers call for coordinated efforts to combat hate speech and misinformation in Bangladesh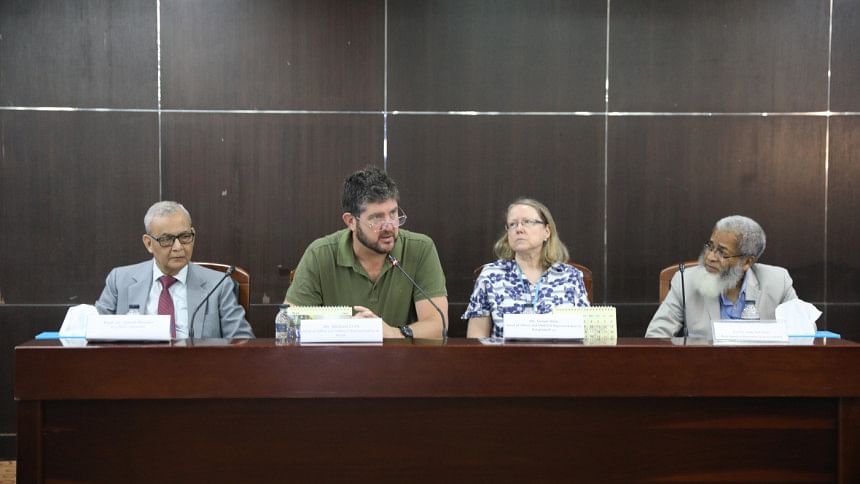 A special talk on "The Role of Journalism Education in Combating Hate Speech and Misinformation" was held on May 24 at the Syndicate Hall, organized jointly by North South University's Office of Public Relations (PRO) and Media and Journalism (MAJ).
Chaired by Professor Dr. M Ismail Hossain, the Pro-VC of North South University, the talk saw the participation of esteemed guests, including Michael Croft, Head of Office and UNESCO Representative to Nepal and Dr. Susan Maree Vize, Officer-in-Charge, UNESCO Dhaka Office.
During the discussion, the speakers stressed the need for coordinated efforts by all relevant stakeholders to tackle the spread of hatred, intolerance and attacks on media freedom. They highlighted the importance of balancing critical thinking with a rational approach to promote peace and sustainable development.
Michael Croft emphasised the influential role of journalism educators in training media students to combat hate speech and misinformation. Referring to UNESCO guidelines on these issues, he urged continued dialogue with students and media practitioners for a progressive outcome in addressing this growing problem.
Dr. Susan Maree Vize emphasised the values of diversity and tolerance as the key drivers for positive outcomes in communities facing the challenges posed by hate speech and misinformation. She underscored the significance of fostering an environment that promotes inclusivity and respect.
In response to student questions, both speakers addressed additional concerns such as the safety of journalists, media freedom, ethical standards, public trust, and the role of tech giants and UN agencies in combating misinformation, fake news and hate speech against various communities.
Professor Dr. M. Ismail Hossain highlighted the importance of a multi-stakeholder partnership approach to combat hate speech and misinformation. He called upon researchers to collaborate with the industry and academia to find meaningful solutions to these pressing issues.
The event also featured Dr. Samiksha Koirala, NSU's Assistant Professor in the MAJ department, who welcomed the participants. Dr. Harisur Rahman, Associate Professor at MAJ, provided an overview of NSU's MAJ program. Professor Dr. Abdur Rob Khan, Dean of the School of Humanities and Social Sciences, delivered a vote of thanks, while Asif Bin Ali, faculty member of MAJ, moderated the talk.