Footsteps deploys S.O.S. medical boxes to mitigate first aid inadequacy in rural communities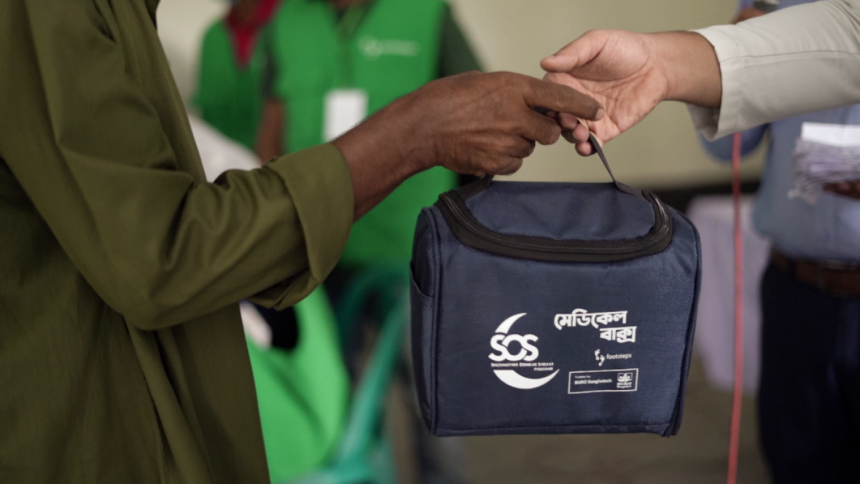 "While deploying oxygen cylinders during the pandemic, we came to understand that the inadequacy of primary healthcare service in the rural areas was just a regular scenario. People face critical health hazards and even death stemming from minor health issues like fever, cold, diarrhoea, and the list goes on. And to address this deprivation amongst the people of rural communities, our S.O.S. program conducted research and decided to deploy first aid kits," stated Dr Yeasir Iftekhar, the project coordinator of Shushasther Odhikar Shobar of Footsteps Bangladesh.
Shushasther Odhikar Shobar (S.O.S.), a health program of Footsteps Bangladesh started its journey in September 2021 by responding to the oxygen demand in rural areas and deploying oxygen cylinders accordingly. The program works to ensure effective and affordable primary healthcare services through deployment programs, training sessions, and other social ventures. Moreover, S.O.S. aims to enhance knowledge and comprehension of health commodities administration to manage a variety of communicable and non-communicable illnesses in rural communities.
While the affluent have access to adequate medical services and resources, the significant proportion of our population, mostly the marginalised, are unable to afford such an elementary yet unavoidable necessity, and they are constantly at risk of easily treatable diseases and infections, such as fever, common cold, diarrhoea, gastritis, and so on. There is a severe shortage of medical supplies, physicians, and even hospitals or medical centres in rural areas of Bangladesh. To get to the nearby health facility or clinic, most families must travel for miles and hours simply to see a doctor who may or may not be available.
Because of these adverse scenarios, many families forgo medical care and treat their loved ones with subpar medical alternatives, which may lead to even the most minor illnesses, such as cold, being life-threatening. The S.O.S. program has stepped forward to change the latter scenario in households of rural areas and ensure the availability of first aid kits in the households so that they can respond to minor injuries or preventable illnesses. The S.O.S Medical Box, having Xpress Pharma as the medical partner, consists of 24 essential medical components. S.O.S. medical box can equip a family with the tools and information required to ensure first aid to the ailing and reduce the severity of a wide variety of diseases and symptoms.
Recently, through a deployment program in Mirpur, Kushtia, S.O.S. has facilitated 200 families with medical boxes. Moreover, awareness-building and extensive training on how to utilise each component of the box and basic healthcare has been conducted. The Changemakers volunteered the deployment program successfully. A well-explained guideline was provided with each of the boxes for the convenience of the households. The medical box has medicines and tools as first aids for sprain, cut, burn, cold, cough, fever, gastritis, stomach ache, headache, diarrhoea, dehydration, and many other health issues.