AECC hosts Multi-Destination Education Fair for students interested in academic opportunities in the US, Canada, and the UK for the 2023 intake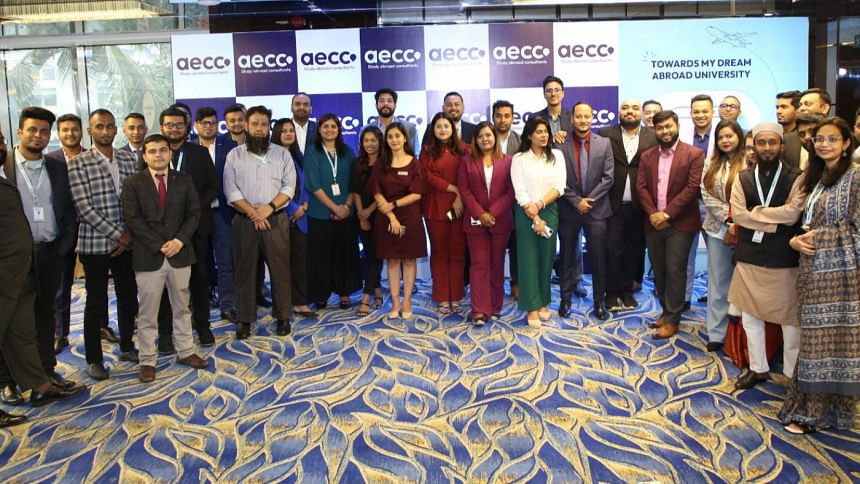 A Multi-Destination Education Fair was hosted by AECC Study Abroad Consultants on February 19 at Renaissance Dhaka Gulshan Hotel for Bangladeshi students willing to pursue their education abroad. The daylong event featured 25 university representatives from the US, Canada, and the UK with opportunities for on-spot applications to internationally acclaimed institutions for the 2023 academic session and onwards. 
Several students from across Bangladesh, including notable young influencers like Rakin Absar, Shoumik Ahmed, and Amin Hannan Chowdhury, among others were part of this event. There were opportunities for one-on-one consultation with representatives from not only universities, but also Navitas and AECC academic counsellors who were on hand to walk students through the university application process, pathway program, and VISA application.
Some of the institutions offering on-spot application and guidance were Long Island University, University of Hartford, University of West England (UWE) Bristol, Centennial College, University of Massachusetts-Boston, Fraser International College, etc. A direct benefit of it was that one of the lucky applicants would also receive a laptop or cash equivalent to $1,000 AUD when they travel to Canada, the United Kingdom, or the United States with an AECC processed Visa Grant.
"AECC intends to genuinely help students, which is why we organised the education fair," says Farzana Hossain Arin, Branch Head of AECC-Bangladesh in Dhaka. "The message we want to deliver to the students is that we are providing a completely free, one-stop service for everything they need." 
Rafsan Zilani, one of Navitas' representatives, mentions, "The benefit of applying through AECC is that they are one of the finest consultation firms in Bangladesh, which is why we are here to collaborate with them."
AECC is a leading international student recruitment organisation that prioritises students by offering objective and honest student advice. They work with over 750 universities and colleges worldwide and have contracts with many of the world's top universities, with over 6000 students worldwide. They have a strong influence in 14 countries and 50 cities around the world, including Bangladesh, and their highly experienced and certified education counsellors also have a 100 percent visa success rate. Academic counselling, admission processing, VISA processing, post-VISA accommodation hunt, and other free services are provided by AECC.