BULLETIN BOARD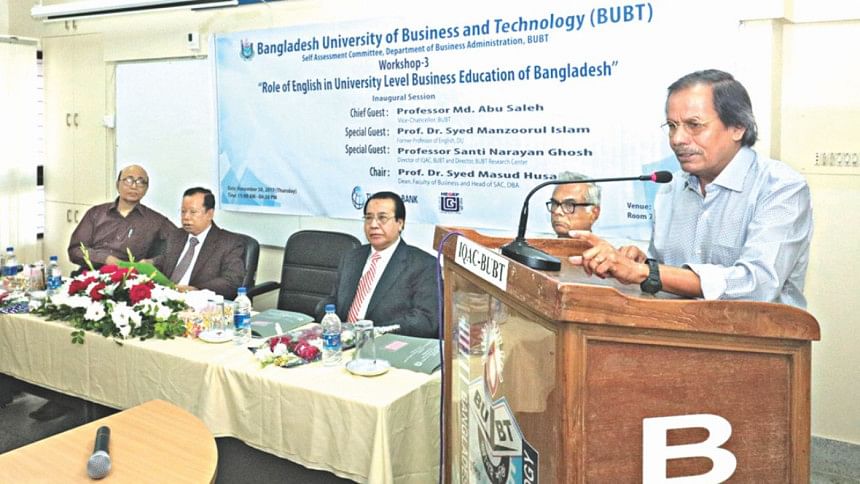 BUBT organises seminar on the role of English in business education
A day long workshop on "Role of English in University Level Business Education of Bangladesh" was held at Bangladesh University of Business and Technology (BUBT) on November 30, 2017. The workshop was arranged by the Department of Business Administration of Faculty of Business as a part of ongoing Self-Assessment Programme under the World Bank funded HEQEP Project of UGC of Bangladesh. The chief guest of the programme was Prof. M. Abu Saleh, VC of BUBT.
The keynote speaker and special guest was Dr. Syed Manzoorul Islam, former Professor of English of Dhaka University and a renowned writer and academic. The workshop was chaired by Prof. Dr. Syed Masud Husain, Professor of Accounting and Dean, Faculty of Business of BUBT. Special guest to conduct the afternoon session of the workshop was Prof. Syed Anwarul Huq, Professor of English and Dean of the Faculty of Arts and Humanities of BUBT.
The keynote speaker emphasised that the business education throughout the world is tremendously dependent on this language. As there is no other language which can be used as a substitute in this globalised world, a business student of Bangladesh must acquire competitive skills largely being dependent on the skills of this language.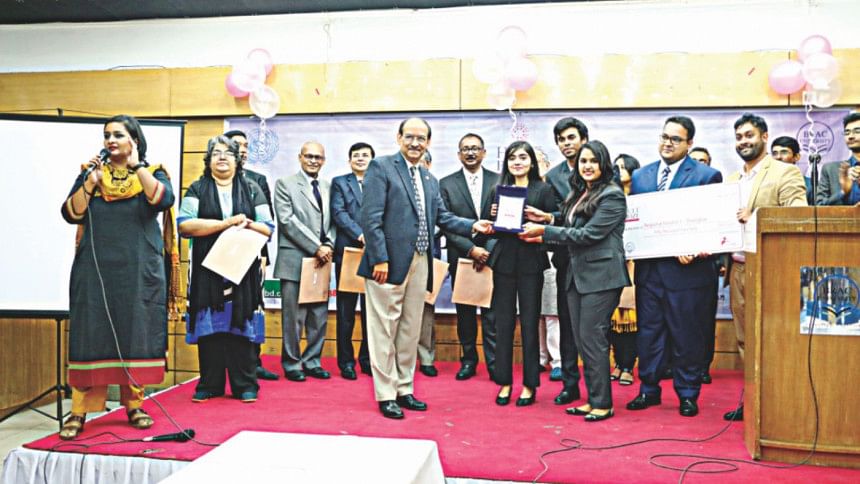 BRACU holds finale of HULT Prize 2018
The final segment of HULT Prize 2018 @ BRAC University (BRACU), hosted by BRAC Business School, took place on November 30, at BRACU's Mohakhali campus as 6 finalist teams went head to head presenting their visions in hopes of transforming them into reality.
Team Illumination was the first presenter, followed by teams HULK, Aspirant, Stalwart, Elevate, and finally, Tesseract. Once the teams got off stage, the judging panel, led by VC of BRACU, Prof. Syed Saad Andaleeb, took some time deliberating over the results. He then declared the winners and distributed the trophies, and Nazmul Karim, Vice President and Head of Branding, City Bank, handed out the prize money.
Team Elevate emerged as the Champion, securing a seed fund of BDT 50,000 sponsored by City Bank and a fully-funded trip to Shanghai by BRAC Business School, where they will be competing in the Regional Finale of HULT Prize 2018. Teams HULK and Aspirant sealed spots as the 1st and 2nd runners-ups, winning seed fund of BDT 30,000 and BDT 20,000 respectively. The runners up will be competing in Singapore and Malaysia.
The grand finale marked the end of the chapter of an incredible journey of HULT Prize 2018 at BRACU.
AIUB launches book on human resource management
The Department of Management and HRM organised the launching programme of a book titled "Understanding Human Resource Management: Cases from Bangladesh" on November 27, 2017 at the Banani campus auditorium. The authors of the book are Dr. Abu Mohammad Yusuf, a part time faculty and Customs Specialist, USAID-BTFA Program; Abdul Kader Nazmul, Associate Professor; Anisa Sultana, Senior Assistant Professor of AIUB; and Lamia Farha, Management Counselor, Bangladesh Institute of Management.
The programme began with the welcome speech by the Pro-VC and the Dean of FBA Prof. Dr. Charles C. Villanueva. Among the distinguished audience, academician Prof. Dr. Mahbub Ahsan Khan, Institution of Education and Research (IER) Additional Director, Institutional Quality Assurance Cell, University of Dhaka, and M.A. Mannan, CEO & Lead Consultant, SEARCHLITE MLC were the guests of honour and expressed their impressions on the book. The MBA Programme Director Dr. Nisar Ahmed; BBA Programme Director Farheen Hassan; Department Heads; Programme Coordinators; students; representatives from the administration, and authors' family members were present.
The book was unveiled by VC Dr. Carmen Z. Lamagna; Dr. Hasanul A. Hasan, Founder, Treasurer and Vice President, Administration and Human Resource; and Nadia Anwar, Founder and Vice President, Student Affairs.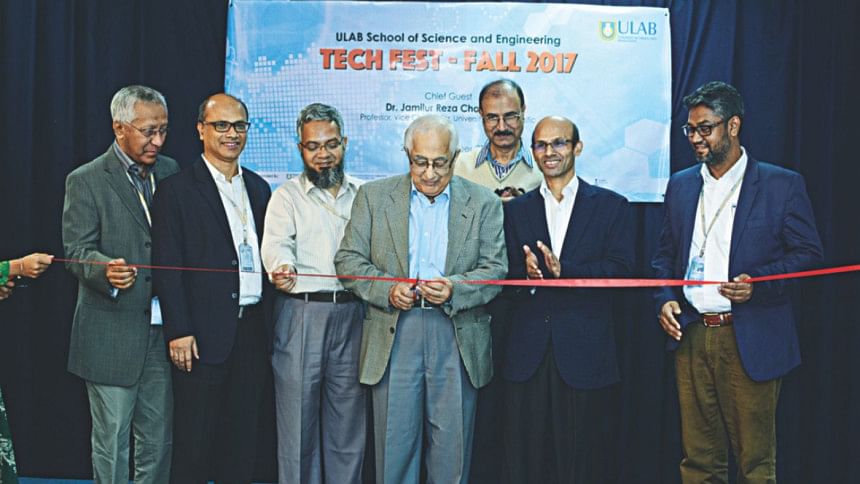 ULAB organises Tech Fest – Fall 2017
The School of Science and Engineering (CSE/EEE/ETE departments) of University of Liberal Arts Bangladesh (ULAB) is organising a 2-day festival titled Tech Fest – Fall 2017, from November 28-29 to engage, educate and encourage young student innovators.
Poster presentation, project showcasing and an activation campaign for Digital World 2017 were among the events of this Tech Fest. The programme was inaugurated by Prof. Jamilur Reza Choudhury, VC, University of Asia Pacific. The renowned professor congratulated the young talents and urged them to come up with more innovative ideas that contribute to the development of our society. Prof. H M Jahirul Haque, VC of ULAB, gave the welcome speech. The heads of the CSE and EEE/ETE departments, faculty members and students of the engineering school were also present in the ceremony.
IUB arranges lecture on "Ensuring Quality in Learning and Teaching"
The Office of the Pro-Vice Chancellor at Independent University Bangladesh (IUB) organised a guest lecture titled, "Ensuring Quality in Learning and Teaching" on November 29, 2017 at IUB campus in Bashundhara, Dhaka. The key speaker of the seminar was Prof. Sherman Young, Pro-VC, Learning and Teaching, Macquarie University, Australia.
Prof. Milan Pagon, Pro-VC, IUB, delivered the welcome speech.
Prof. Young made an in-depth presentation on the topic where he mentioned the global context of higher education and learning. He also focused on the learning and teaching scenario of the 21st century. He mentioned about the present diverse, digital and automated nature of higher education.
Following the presentation, floor was open for question-answer session where both students and faculty members participated enthusiastically. Sarwar Jahan Minar, Sr. Officer, Pro-Vice Chancellor's Office, IUB, delivered vote of thanks. Senior members of the faculty and administration and a full-house students attended this thought-provoking seminar. 
SEU celebrates 15th Anniversary
A grand gala celebrating 15th Anniversary of Southeast University (SEU) took place on November 22, 2017 at the permanent campus of the university at Tejgaon, Dhaka.
The ceremony was inaugurated by chief guest Asaduzzaman Khan Kamal MP, Minister of Home Affairs. The ceremony was also attended by special guest Md. Rezaul Karim, Chairman, BOT, SEU Trust. He expressed his firm conviction of transforming the university into a world class institution by the year 2030.
The ceremony was presided over by Prof. Dr. ANM Meshquat Uddin, VC, SEU. The faculty members and students of the university held a rally to mark this occasion. They also took part in a colourful cultural programme. The ceremony came to an end with musical performances by Ferdous Wahid and Habib Wahid.