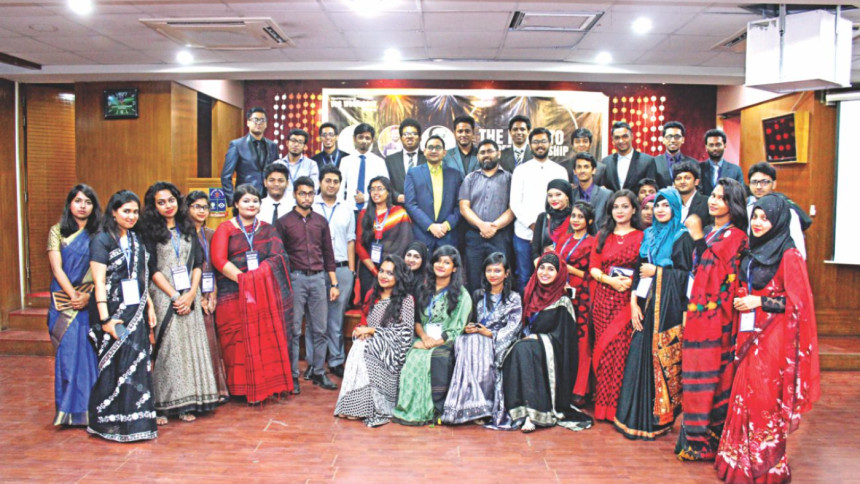 VOB Week 2016 at DU
The Voice of Business (VOB) has unveiled its 7th issue on March 28, 2016 in the presence of noted personalities. 
Dr. Debapriya Bhattacharya, macroeconomist and distinguished Fellow of Center for Policy Dialogue was the chief guest. Prof. Dr. Md. Kamal Uddin, Treasurer of University of Dhaka and The Dean of FBS Prof. Dr. Shibly Rubayat Ul Islam attended the programme. The special guest Ishtiaq Ahmed, CEO of Omera Petroleum Ltd was also present. 
In the second session of the day, there was a seminar on entrepreneurship. Minhaz Ahmed, founder of Better Stories Bangladesh, Fahad Ifaz, M4P Project Lead in Myanmar, Private sector and Market Development (M4P) Consultant and Ferdous Mottakin, Founder, VISA Thing were the speakers of this session.
On the second day of the "VOB Week 2016", there was a seminar on women leadership. Zara Mahbub, Head of Communication and Service Quality, Prof. Dr. Mehtab Khanam, renowned counselor, Najia Andaleeb Preema, Director of Bangladesh Brand Forum and Jesmin Ehsan, CFO of Ericsson Bangladesh were the speakers of this session. On the third day, there was a "Youth Carnival" arranged by VOB. Youth organisations BYLC, Social Business Youth Network, JAAGO Foundation, Community Action, ActionAid, PDF and BASIS participated in the carnival. The event came to an end with an event participated by former and current VOB members on March 31.
The Strategic Partner was Future StartUp, Knowledge Partner was Bangladesh Graduate Network (BGN), Youth Engagement Partner was The Daily Star (Shout) and Media Partners were RTV, Radio Shadhin, BDNews24.com, DU TIMZ and Geeky Social.
BUFT NICHE project researchers visit Sri Lanka
A researcher team of sixteen members from BGMEA University of Fashion and Technology (BUFT) made an exposure visit to Sri Lanka from March 27 to April 3, 2016 as a part of the Netherlands Initiative for Capacity Development in Higher Education (NICHE) project. 
The visit was organised by MDF Training & Consultancy which is implementing the project NICHE/BGD/199 with NUFFIC financing under titled "Corporate Social Responsibility (CSR), Sexual & Reproductive Health Rights (SRHR) and Innovative Leadership in the Ready Made Garments (RMG) sector of Bangladesh". 
The NICHE team members were - Dr. Swapan Kumar Saha, S.M. Akterujjaman, Faisal Bin Alam, Md. Arafat Hossain, Farhana Jannat, Mallick Rakibul Hasan, Md. Ariful Islam, Summiya Sultana, Marjana Jahir, Md. Maruf Sarker, Mohammad Mahbubul Haque, Sarmily Sarker, Anindya Chakraborty, Sumaiya Benta Nasir, and Syeda Helmi Afrah, with Kamrun Nahar (Project Coordinator). 
Other participants were Ineke Anne Pitts, Branch Director of MDF South Asia & Coordinator of the Project; Ahmad Sajid, Project Implementation Specialist of Mott MacDonald and AKM Ahsanul Haque, Director of Research and Training, CSR Bangladesh.
Cultural function and drama at Happy Times Int'l School
Happy Times International School arranged a cultural function and drama based on the theme of "Celebrating Childhood" on the April 7, 2016 at Bangladesh Shishu Academy. With performance poetry, songs and dances by children, the event focused on exploring the beauty and innocence of childhood when mystery and adventure lurk around the corner and fantasy comes alive in the imagination. The original drama "Unheard Voices", however, highlighted another face of childhood: the struggle for survival of children who are poor, vulnerable, exploited by society and made victims of wars over which they have no control. Saidur Rahman, Country Manager, Edexcel, the chief guest on the occasion, stated that Happy Times was one of the key schools working with Pearson Edexcel and that it had proved its excellence not only through its results but through extracurricular activities which gave students the skills required by universities at home and abroad.
SU establish Institutional Quality Assurance Cell (IQAC) 
The Ministry of Education, with the assistance of the World Bank, established the Institutional Quality Assurance Cell (IQAC) at Southern University Bangladesh (SU). Under the Higher Education Quality Enhancement Project (HEQEP), IQAC of Southern University was formally inaugurated by Prof. Dr. Mesbahuddin Ahmed, Head, Quality Assurance Unit, HEQEP, UGC. 
A discussion and presentation programme was held on March 28, 2016. Prof. A. J. M. Nuruddin Chowdhury, Director of IQAC of SU presided over the programme while VC, Prof. Dr. Md. Nurul Mustafa was present as chief guest. Founder and initiator of SU, Sarwar Jahan, Quality Assurance Specialist of QAC, HEQEP, Prof. Dr. Sanjoy Kumar Adhikary and Prof. Dr. M. Abul Kashem were also present as keynote speakers.
Prof. Dr. Mesbahuddin Ahmed, Head, Quality Assurance Unit, HEQEP, described the various steps UGC has undertaken to improve the quality of education in higher education institutions and the steps taken in establishing accreditation standard and promote quality assurance practices in private and public universities of Bangladesh. 
EU team visits permanent campus construction site 
A delegation team consisting members of the Board of Trustees (BOT), consultants and engineers, and top officials of the Eastern University (EU), led by Abul Khair Chowdhury, Chairman of BOT of EU visited the permanent campus construction site at Ashulia, Savar. The team monitored the progress of work. VC of EU, Prof. Dr. Abdur Rab, Members of BOT, Md. Azizul Islam, Engr. Kh. Mesbah Uddin Ahmed, Liaquat Hossain Moghul, Ali Azzam, Afazalur Rahman, Registrar of EU, Maj. Gen. Kazi Ashfaq Ahmed, psc (Retd.), Project Director, Engr. Md. Sirajul Islam were the other members of the visiting team.
The under construction permanent campus of EU will have academic buildings, accommodation and residential facilities for students, playground, auditorium, central library, medical center, swimming pool, gymnasium, residential facilities for teachers and officials. 
Korean Cultural Festival at IUB
The department of Media and Communication of Independent University, Bangladesh (IUB) organised a Korean Cultural Festival on April 7, 2016 at IUB campus in Bashundhara, Dhaka.
Prof. M Omar Rahman, VC, IUB, attended the programme as the chief guest  while Mi Seol Park, First Secretary and Consul of Embassy of the People's Republic of Korea, Dhaka as the special guest. 
Among others, Prof. Zakir Hossain Raju, course teacher of Korean Cinema and Society at IUB and Prof. G M Shahidul Alam, Head, Department of Media and Communication also spoke on the occasion. The students of Korean Cinema and Society of IUB delivered presentations on Korean economy, pop-culture and films.
Chaitra Sankranti Festival at WUB
World University of Bangladesh Cultural Club arranged a Chaitra Sankranti Festival and it was inaugurated by Dr. Moshiur Rahman, the Advisor for Economic Affairs of the Prime Minister, People's Republic of Bangladesh. The festival was presided over by VC of the University, Prof. Dr. Abdul Mannan Choudhury where welcome speech was given by Prof. Dr. M Nurul Islam, Pro-VC of the university. Morsheda Choudhury, Treasurer and Dr. Musfiq Mannan Choudhury, Secretary, BOT of WUB were also present as special guests.
A large number of stalls were anchored by students with varieties of items resembling traditional Chaitra and Baishakhi foods and artistic materials. The festival continued till April 12.