One Little Ghost, Too Many Adventures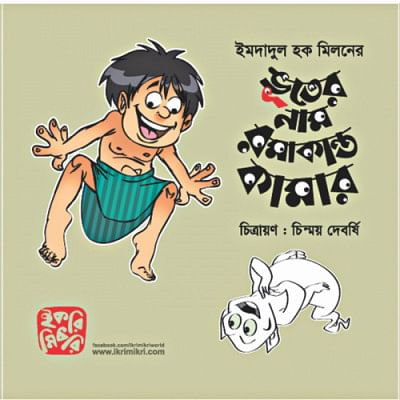 Vuter Naam Ramakanto Kamar is a graphic children's novel first published at Ekushay Boi Mela 2016 by Mahbubul Haque of Ikrimikri Publication. Written by Imdadul Haq Milan, with Chinmay Devorsi's illustrations, this book is old chocolate in new packaging, as I would put it. Vuter Naam Ramakanto Kamar was a full-fledged children's novel by Imdadul Haq Milan in 1992. Reading this little graphic novella now with the literary mind-set of a grown reader felt all too nostalgic, as I had spent a few good afternoons reading that novel back when I first discovered the joy of reading. 
The vibrant paperback edition illustrates the daylong adventures of a young ghost Ramakanto Kamar with little background details on the perks and troubles of being a ghost in a human infested world. It's a lot of pressure being a ghost and to top all that if your ghost-self gets lost in a gigantic field for an entire day with no idea about how to get back to your ghostly abode – the adventures are bound to get crazy. All would have gone fairly well if not for the human doppelgänger of Ramakanto and his nosy friends and his even nosier cows who don't know how to take the presence of a ghost normally without losing their minds every second of the day. Laltu, the doppelgänger, is the wise guy this story needed from the beginning since Ramakanto was too confused and paranoid for a paranormal, scary being. Laltu is too practical to believe that Ramakanto is a ghost even after he expressly states so because he is smart enough to deduce that doppelgängers are casually found while grazing your cows in broad daylight. After messing up a lot, Ramakanto finally makes it into the night with the help of Laltu. I will let you find out about the rest of their adventures by yourself (SPOILER ALERT: The paranoid ghost and its comparatively smarter doppelgänger end up being friends). 
This book will give a good laugh to readers who are just getting into the habit of reading. Full of interesting phrases and allegories, the ingenious adventures will make the little ones want to have a quest of their own. While the 1992 book of the same name was targeted for young readers with the ability to grasp fuller version of novel without visuals, this one is more appropriate for even younger readers who will feel wooed not only by the imaginative expeditions of the ghost but also by the colourful pictorial representation. The visuals complement the story rendering the book altogether a good package. Don't worry if your little one ends up wanting to befriend a bouncy, little ghost after reading this book; as this story reveals – not all ghosts are bad.  
Anupoma Joyeeta Joyee is a perpetually sleepy Law student who emotionally identifies with ducks and occasionally sets out on writing sprees. Feel free to rant to her at [email protected]