A Beginner's Playlist of Russian Films
Our perception of Russia is mostly based on the Western viewpoint, isn't it? Here are 10 Russian films, across a variety of time periods and genres, which can act as your first few steps into the real world of Russian culture.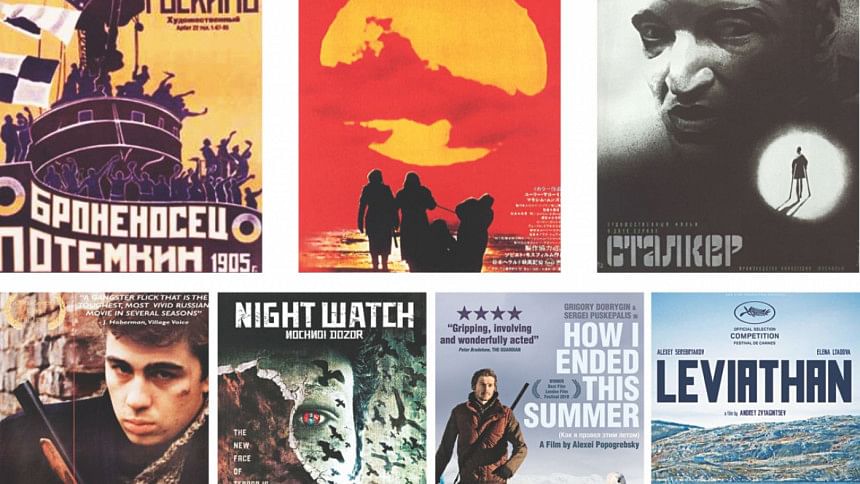 BATTLESHIP POTEMKIN (1925)
Director: Sergei Eisenstein
It is a black and white silent film, nearing its 100th birthday. It is an out-and-out propaganda film and a must-watch. Based on a story about an officer's mutiny on a ship, the cinematography and presentation of this film has been influencing films ever since. Surely one of the finest films of all time.
OPERATION Y AND SHURIK'S OTHER ADVENTURES (1965)
Director: Leonid Gaidai
A collection of three adventures by the main character, Shurik. He is a simple person who, somehow, always finds his way out of tricky situations. The film received widespread popularity, and its catchphrases are still used by fans worldwide. 
DERSU UZALA (1975)
Director: Akira Kurosawa
Technically, this is not a purely Russian film as it was made by legendary Japanese filmmaker Akira Kurosawa. Made after a suicide attempt, the film is about Russian explorer Vladimir Arsenyev. The Oscar-winning film explores a tragic friendship in the Russian wilderness. Recommended for any fan of Kurosawa's signature style.
STALKER (1979)
Director: Andrei Tarkovsky
A surreal drama set in a mysterious area named the "Zone", Tarkovsky's masterpiece is dripping with symbolism. Video game fans may recognise the film as the influence for the "Stalker" series of games. In a case of life imitating art, the Chernobyl disaster happened seven years after the film was released, and created a depopulated zone, just like the film.
MOSCOW DOES NOT BELIEVE IN TEARS (1979) 
Director: Vladimir Menshov
The film centres around three women going through life in Moscow, in 1958, and 20 years later. It is some very engaging and accessible drama. The film won the Academy Award for Best Foreign Picture.
BROTHER (1997)
Director: Aleksei Balabanov
Set in the disillusioned, post Cold War Russia, Brother follows Danila, a young man who is trying to turn his life around. His quest pulls him into the proximity of the underworld, and the film explores his struggles with fate, family and his morality.
RUSSIAN ARK (2002)
Director: Alexander Sokurov
A 96-minute, single-take film. The film is set in the Winter Palace of St. Petersburg, using the setting to travel through 300 years of Russian history. If you are fond of films that break the fourth wall, you will love this one. 
NIGHT WATCH (2004)
Director: Timur Bekmambetov
No relation whatsoever with GoT. This urban horror fantasy explores the uneasy truce between the forces of Day and Night, and the people who want to shatter it. Action film fans would do well to check this out, and its sequel, Day Watch.
HOW I ENDED THIS SUMMER (2010)
Director: Alexei Popogrebski
Two characters, stuck together in a remote Arctic island fight mistrust, madness and each other. Another psychological thriller that is full of allegory. 
LEVIATHAN (2014)
Director: Andrey Zvyagintsev
Won the Best Picture nod at the Golden Globes. A father tries to fight being illegally ousted from his land, and things spiral out of control from there. This is not a happy film. Only drama fans need apply.
Novo Manzoor is an athlete. He surfs the web all day. You can reach him at: [email protected]