MADVISER An app to reduce your mobile bills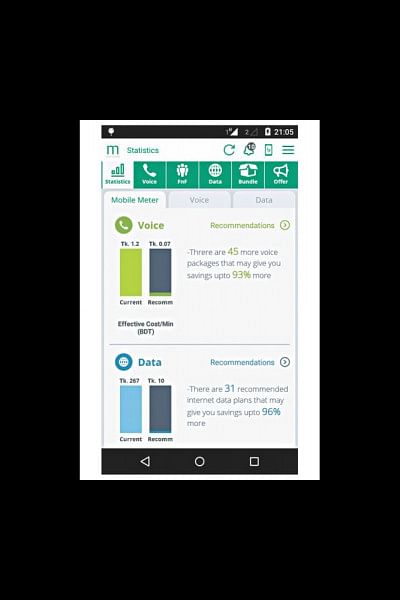 Platform: Android (2.3 and above)
Size: 4.4 MB
Rating: 4.5/5
Madviser is a free local app by Humac Lab that helps to minimise your mobile bills by suggesting the best packages for you. 
You start with providing your mobile number. The app then analyses your mobile usage behaviour over the last seven days, such as voice calls and data. It compares your current voice and data packages with other available ones and shows how much you can save just by switching to a different package offered by your mobile operator. Moreover, the app analyses your calling patterns and suggests which numbers you should add as your 'FnF'. All these insights, comparisons and suggestions are provided in the form of infographics that are easy to understand. 
Another added advantage is the easy activation of voice or data packages, FnF numbers and special offers from within the app. All you have to do is let Madviser analyse your mobile usage pattern, see its recommendations, and click the activation button if you like the suggestion. 
Though there are some complaints, the app generally got positive reviews from users. I personally think it's a great app as it helps in optimising your mobile bills based on your unique usage. Give Madviser a try and see if you can save some mobile balance; I know I did.