ANIME REVIEW
An Anime to Get Tangled In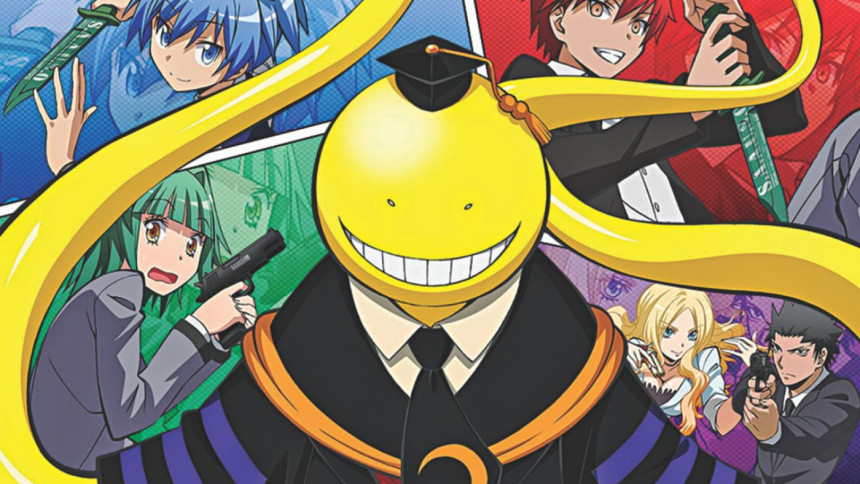 Only on rare occasions have I ever gone into an anime without knowing a single thing about the story. Going into Assassination Classroom was one of those rare occasions. 
From the opening scene the show puts forward its unique premise. There was a classroom where as soon as a yellow, round-headed octopus-like-monster enters – the apparent teacher – the students began to shoot at him. And I was hooked.
Assassination Classroom is a comedy at its heart with one of the strangest premises I've seen in anime (and I watch plenty of anime). The story is about the classroom 3-E, which happens to be a classroom full of assassins. But not in a cool way where they're trained to be assassins, but even better: they're just everyday children who are given the responsibility of killing a monster who destroyed half the moon and is planning to destroy the earth – the monster who also happens to be their teacher. And a great teacher at that.
The anime was adapted from the manga of the same name, and the artwork remains true to its roots. The animation is also smooth and executed beautifully; props to Studio Lerche. The soundtrack is great in capitalising both the light and heavy moments. Although it's the former that reigns in the anime.
If there was any flaw to pick on it's that the ensemble cast doesn't always work. Making all the students in the classroom part of the main plot results in a lot of characters, some with far greater potential than others. Luckily, it doesn't stick out as the protagonist of the show. The teacher himself is the strength of the series along with its core. The teacher named Koro-Sensei, despite being the possible destroyer of the planet itself looks out for his students and trains them to become better assassins, students and people. The assassin training is never really taken seriously, but rather the tropes are more often deconstructed with each episode. The anime goes on like a slice of life without feeling like there's any real immediate danger that the protagonists have to worry about.
The show has a lot of heart to it along with its humour. It's pretty heavily character-focused with one of the students of the class often taking central role in episodes, and having both their characters and back story explored. Dynamics between characters are also explored, and new characters that come into the show add to its charm. 
Ultimately the show sucks you into its classroom with its own set of lessons to teach its viewers most of which are drenched in humour, mind you. Assassination Classroom with its ongoing second season has a lot of potential and expectation to live up to, and here's to hoping that it will.