Shoppers can only visit markets within 2km of their locality: DMP
Set of directives issued to contain the spread of coronavirus ahead of Eid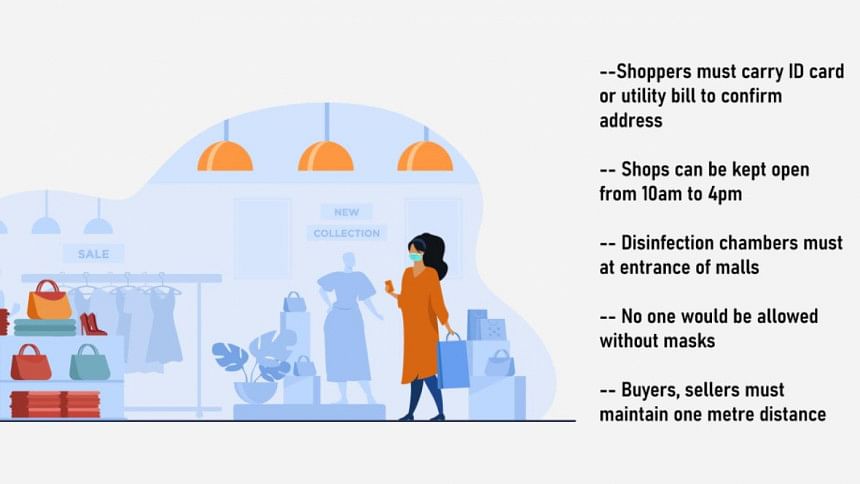 Dhaka dwellers will only be allowed to visit markets, shops and shopping malls located within two kilometres of their respective areas.
Dhaka Metropolitan Police (DMP) came up with a set of directives today in an effort to contain the spread of coronavirus in the capital.
DMP also said shoppers will have to confirm their home address by showing their identity cards or original copies of utility bills.
Meanwhile, the shopping malls and shops can be kept open from 10:00am to 4:00pm as per the schedule announced by the government, but no hawkers or roadside stalls will be allowed, according to the directives signed by DMP Commissioner Shafiqul Islam.
DMP also asked to install disinfection tunnels or chambers at the entrance of every shopping mall and thermal scanners to measure body temperature.
"Each store must have a separate temperature measurement system," reads the directive.
Every shopping mall should follow directives of health ministry including the arrangement of hand sanitisers and no one should be able to enter a market without wearing masks, it said. Vendors and store employees have also been asked to wear masks and gloves.
If anyone goes to a market without wearing a mask, he/she has to buy it before going in, said DMP, adding that in front of every shopping mall, a banner with the warning "Disregarding health directives will cause risks to life" should be put up.
Buyers and sellers should maintain a distance of at least one metre (about 40 inches) and authorities will not allow more customers to enter than can be accommodated while maintaining this distance, read the directive.
DMP further asked to discourage the elderly, children and unwell persons (heart disease, diabetes and others) from going to shopping malls.
The market authorities will make arrangements to evict those who have finished shopping -- through announcements using loudspeakers -- to avoid unnecessary gathering and the shopping malls have to be marked with separate entrance and exits, according to the directives.
Shopping malls should also have disinfection process in the parking lots and drivers should stay in their respective vehicles, read the directives.
DMP directives also added that rickshaws and CNG-run auto-rickshaws will be available in a limited scope, but only two passengers will be able to travel in an auto-rickshaw at a time and every passenger and driver will wear a mask.