Family heirloom: 1967 Toyota Corona RT40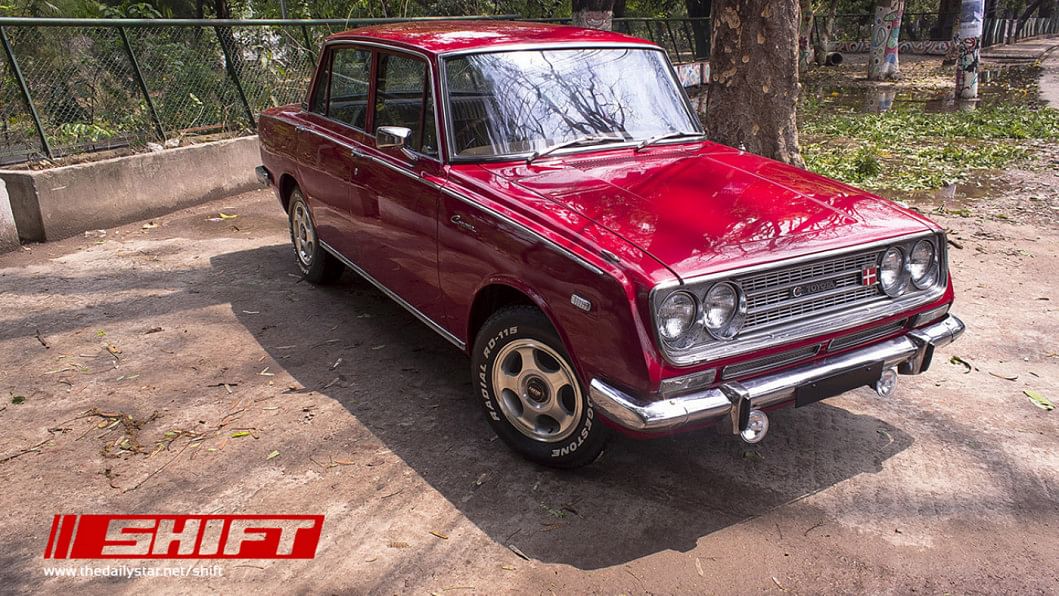 Back in 1957 Toyota launched a tiny affordable car with the girly name of Tiara. It was also called the Corona and the car was a midget with basic instrumentation and light weight. It didn't sell very well though. The second generation improved upon that and did slightly better. It was the third generation that caught the public eye. What you see in the pictures here is one of those: a 1967 Corona of the T40 series. 
This did so well in sales that they made everything out of it: a beautiful Italian designed 2-door hardtop, a sedan, wagon, pickup truck, van and quite possibly a robot and a dishwasher. The Aussies put these through endurance races where they dominated as an unknown Japanese upstart. The success continued when Toyota did a performance test where the car ran reliably for 100,000 kilometers. This was back in the day when a car that started two days in a row was considered reliable. And if the rust had not caught on your foot through the floorboard by the week, it was a keeper.
I have a soft spot for old cars. Park this beside Scarlett Johansson in her red headed glory and I would have a difficult time keeping my eyes on the lovely Avengers actress. The restoration has gone for mostly original fittings. It has received leather upholstery everywhere including the spare wheel cover. And it is beautifully done; taut, tan, smooth. Aging Hollywood celebrities could take a few lessons here on how to maintain their youth. They should become a car.
The RT40 is owned by a man called Maqsood Ahmed who prefers to be known as Max. I don't know what he does and I don't care. Most likely he is an international master thief but he has great manners and taste.  He showed me around the whole car giving me scoops and snippets on every possible detail. They say if you want to know a person, visit their workplace, home or toilet. And the same goes for the person's car. The Corona is impeccably maintained. Everything is where it should be. The changes made are subtle and elegant without causing offense like those unusual modern wheels with white stenciling. And it's rust free, much like the owner.
The car went through a lot in its lifetime. It's seen a war and suffered a bit too. But now it looks like the day it rolled off the factory albeit for those modern wheels. And it runs like the day it was born too. You get the occasional squeaks and thunks as the old column mount shifter engages the gears with a solid mechanical clunk. The heavy gauge metal doors with the thin rubber seals shut loudly and satisfyingly. You don't ride this car, you be a movie star in it.
People stare and many pull out their smartphones to Instagram as it rolls past. While this particular Corona model was an in thing for people wanting a posh car back in the day, most have disappeared due to crashes, neglect and rust. It's a great feeling as I ride along despite occasionally making farty noises as I move around on the leather seating. The car glides over most bumps. Gear lever moves with a little cajoling. This car feels alive like a friend, confidante. And Max treats it like one. It can't get dirty, it can't stay wet after the rain and it can't ever be dusty inside or out. Those are the rules. The engine whirs and purrs at the same time. It's a pervasive sound that you don't want to drown out with a loud track from a Soundcloud playlist. I felt alive to be in a car that itself was alive. Cars should not be the silent mice that they are now. Toyota did it right with this model, taking hints from contemporary styling and made a car that stood the test of time. This particular Corona has been in the same family for 48 years, longer time than most human family members are willingly kept in a family. And the family loves their RT's. Yep, Max's brother owns a white Corona. And I've been introduced to them by the equally car crazy nephew of his. Classics like these become not just a story of metal, rubber and petrol but also a huge story of the people that love them.
I don't see that love being heaped on the last generation sterile Corona. Maybe four decades from now after all the cool kids have crashed their 97 Corona Premios and one remains, the story might rinse and repeat. 
---
Its not often we get to meet a man who shares the same kind of zeal for classic cars as us, especially a person who happens to own a classic. Naturally, we pick his brain to see what makes him tick. 

Why so much love for the car? 
Look at it. There's few things like this on the road.

Mechanicals?
The 67 car has a stock 1490cc 2R engine. The bumper was in bad shape and the re-chroming was done from India. The car still has the stock drum brakes all around. Some bits and pieces had to be sourced from different places during the restoration process. Tail lights were brought from Pakistan.

Plans? 
Still searching for white wall tires and original hub caps. I also want to give it a new paint job because the last time I had it done, a few cracks developed in the paint on the fenders. 
Courtesy of the car crazy nephew, Farhan Ahmed.