The best or nothing: 1998 Toyota JZX100 Chaser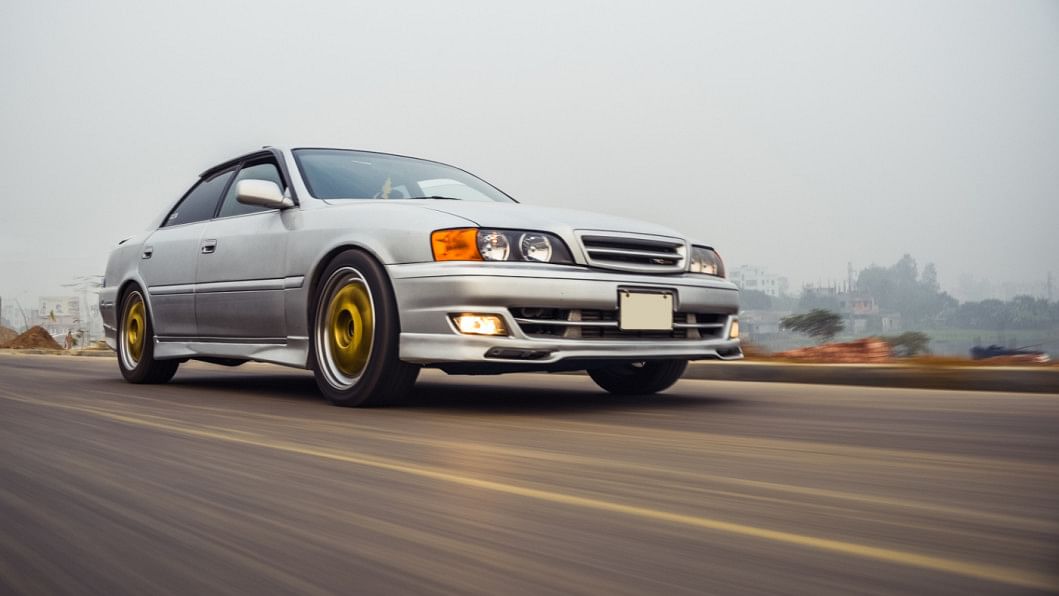 You either do it differently or don't do it at all. Two brothers Ornob and Akib made it a point to stand out from the trend that has caught up in the past year or two- throwing in a turbolicious 2.5L 1JZ Tourer V transplant into an X chassis. Mark IIs and Chasers being the common choice, Dhaka has seen plentiful of these from early and late 90s generations transformed into glorious appeal-mobiles. The brothers previously owned rare JDM gems such as a factory SV30 Vista GT and an S type 6 MT Mazda RX-8, and they certainly knew very well what to do with their 1998 X100 Chaser Tourer.
First impressions.
Humongous four pot cross-drilled TRD brakes in the front and re-worked OEM rotors in the rear with street & circuit use Dixcel Z brake pads. Obviously there are no circuits around, but it clearly signifies the kind of abuse this brake kit can endure and what kind of power requires you to have it in for that extra stoppage assurance. 3.0 liter 2JZ-GTE twin turbo- around 280 hp and 320 lb-ft of Supra performance is packed into this Chaser; one of the first of its kind in Bangladesh too. Otherwise, it is a sober looking JZX100 Chaser- a humble silver coat, subtle TRD kit all over and late model LED rear lamps. Even the front bumper with its centre support panel still intact, trying hard to conceal the large Greddy intercooler.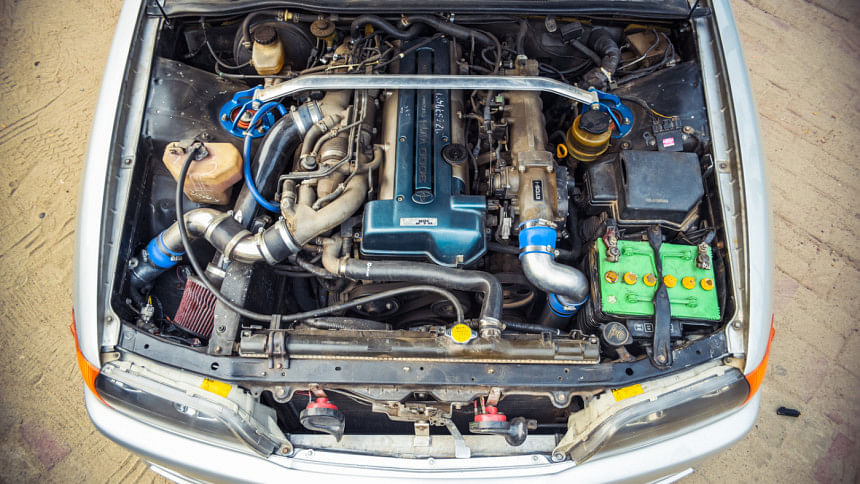 Ride impressions.
Now I'll be very honest. I've been in some fast cars and some serious fast cars. This sleeper of a Chaser will pin you back to the factory semi buckets from the moment the throttle is dabbed. Very minimal turbo lag, that's twin turbo efficiency for you. The brothers wanted to have proper fun with the machine- hence the 5 speed tranny along with the bullet proof Tourer V differential and Torsen LSD. The sick gear ratios will shoot the car naught to 80 km/h in first gear and 130 in second. By the time you finish third, the Chaser's rear jolting to keep up with the RWD traction, you are doing speeds which I should not bother mentioning here. And all that in under 15 seconds. You do realize there are two more gears left to go berserk with, and to accommodate that, there is no speed lock in this madhouse either.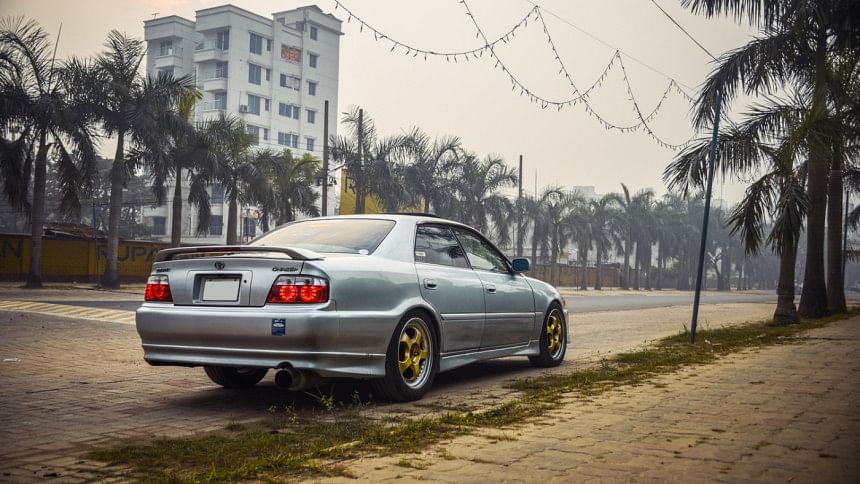 Click next for build details and daily driveability
---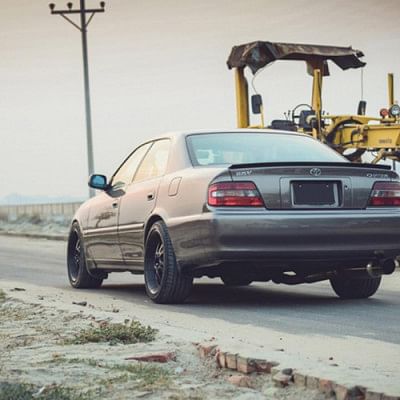 Here's another Chaser that's been built to impeccable standards. Engine bay looks like art >
---
All this nerve wrecking drama is unexpectedly not so wild. The Chaser's butt squats at every short shift, the speedometer synched with the tachometer as they simultaneously climb north. The car behaves like a prowling Doberman on a leash, obedient and ready to do exactly what you command - shoots comfortably at a straight trajectory beyond 200 km/h and brakes like a performance German sports saloon. That is because the brothers went out of their way to ensure the Chaser gets all the handling upgrades necessary for a balanced ride. 18" Work Meister S13p rims with sticky Michelin PSS grippers hug the road in the direction you steer despite the tail wanting to go happy with all the torque from the behemoth motor. K-Sport coilovers and Cusco sway and strut bars in the front and rear was thrown in for minimal body roll. They even installed the lower arm and nose bar between the front bumper and intercooler - now that's dedication to handling detail. With all that to control the body dynamics, sharp turns in the rather heavy Chaser merely feels like lateral G-force tug of war.
The carbon fiber clad factory Tourer interior hasn't been man-handled much, except the fact that the centre console stereo compartment now houses engine monitoring essentials from AEM- boost, oil temp and AFR gauges and an HKS type 1 turbo timer. Hard core. Who needs stereo when there's twin turbo wheeze, blow off chatters and Fujitsubo endbox shatters? The TRD knobbed super short throw manual stick was sourced from NHT Japan along with a lovely Nardi steering wheel and Greddy Profec B spec 2 boost controller.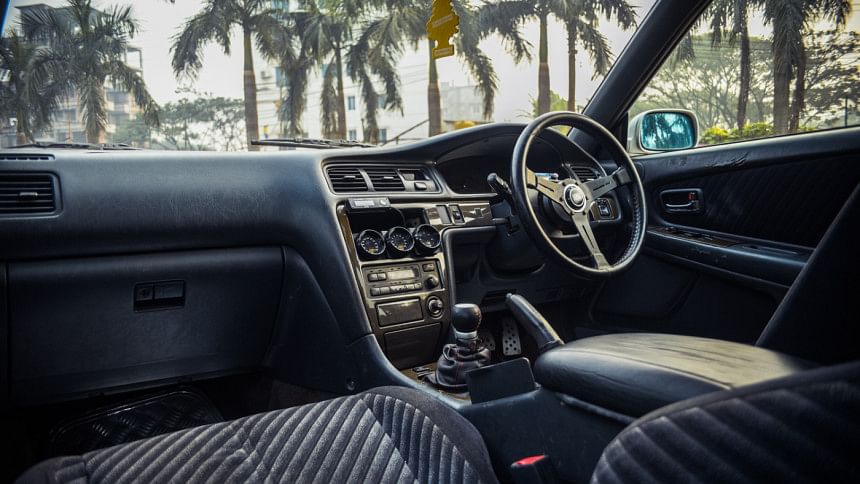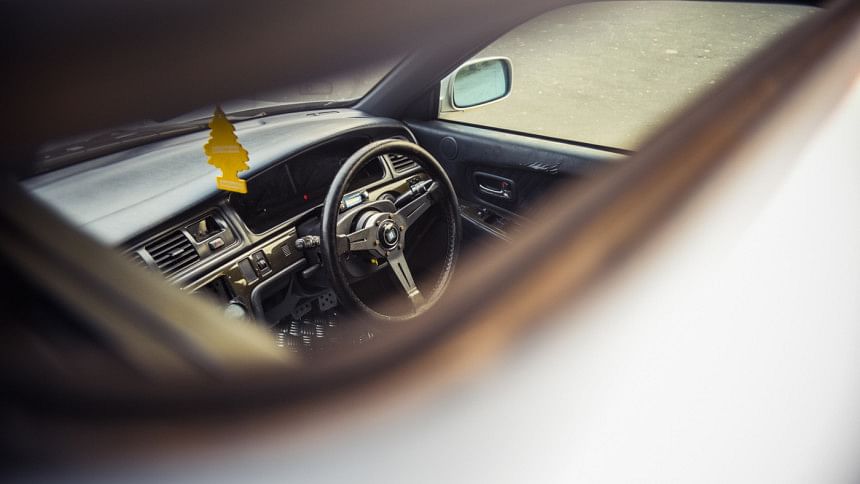 Parts scavenging from all over the place.
Hunting down genuine parts for a project car is painstakingly agonizing, says Ornob, who spent more than what was required to get to this point of the Chaser build. Importing parts from Japan has been challenging, specially large ones such as the front mount GReddy intercooler, Fujitsubo Super Legalis R exhaust system and the TRD body kit. Then there are the imported tyres, rims, stabilizing bars and the tid-bits. The engine and box was bought separately from our very own Dholaikhal due to the sheer unavailability of this 2JZ-GTE 5 speed combo.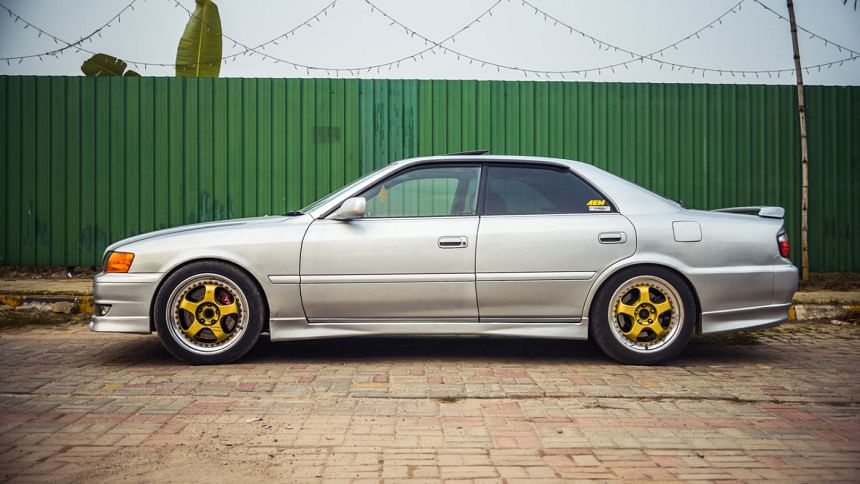 ---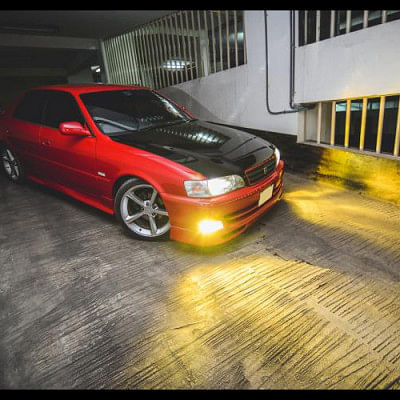 Curious to find out how a Chaser runs as a daily CNG converted vehicle? Like this red one >
---
Weekend queen or daily?
This four door Supra is not a garage queen or a once a week fling. Neither is it a daily. It has been made for practical fun. When your fourth car in the house is a 2JZ-GTE JZX100 Chaser, it is more of a thrashing fun machine. Think of it in this way- Toyota endowed the X chassis with a 2.5 1 JZ-GTE as a performance top off the line Tourer V, but what these brothers built is more than that. When the pulse tickles for some boost rush, the Syed brothers sets the Dhaka roads on a turbo wheeze and blow off trail unmatched by many.
Specs
Toyota
JZX100 Chaser
Engine: 3.0 litre 2JZ-GTE, CT12B twin turbo, GReddy front mount intercooler, NGK plug wires.
Drivetrain: 5 speed M/T, Clutch Master FX400 clutch, Fidanza light-weight flywheel, JZX100 differential with Torsen LSD.
Management: GReddy Profec B-spec 2 boost controller, HKS turbo timer, AEM AFR, oil temp and boost gauges.
Intake-exhaust: AEM intake, Fujitsubo Super Legalis R exhaust.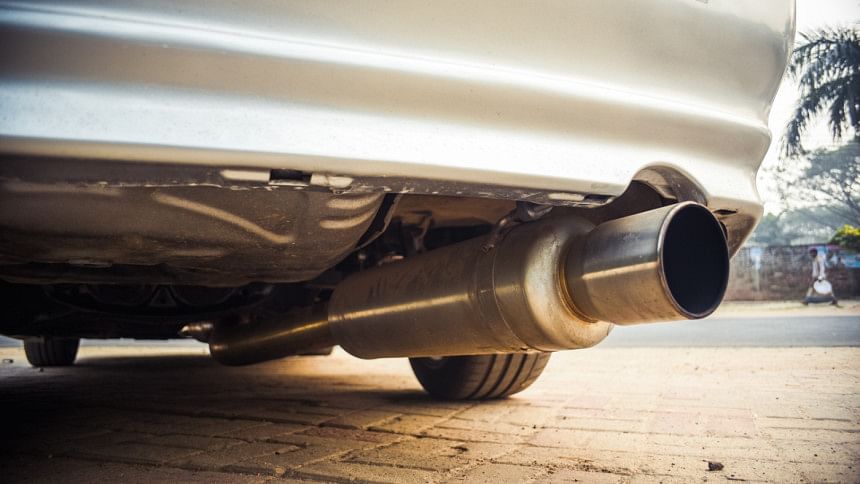 Controls: NHT short throw shifter, NRG boss kit with Nardi steering wheel, Razo pedals.
Handling and braking: K-Sport adjustable coilovers, TRD four pot big brake kit front and JZX100 rear rotors with Discel Z brake pads, Cusco front and rear sway bar, strut bar and lower arm bar, Work Meister S13p 18" wheels, Michelin PSS tyres.
Body: TRD grille and body kit.


Photos: Tasdid Chowdhury