The flying stuntman of Netrokona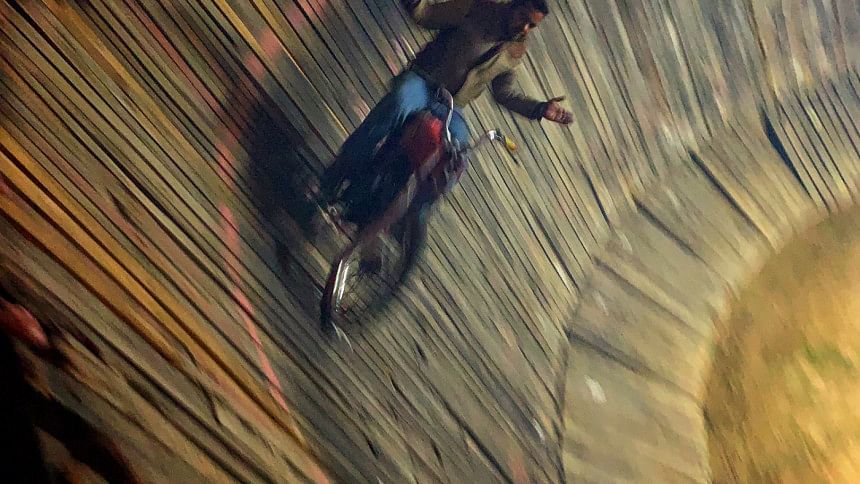 You're standing on a raised wooden platform that's meant to be a gallery, with hundreds of others who are cheering and applauding, for they are about to witness a stunt unlike any they've ever seen before. In front of you lies a steep vertical runway made of wood--almost perpendicular--that ends in the ground below where an old Maruti 800 and a contraption of a motorcycle is parked.
The clock's ticking. The applaud gets louder as a man in a brown jacket and a faded jean walks in through a trapdoor below and stands in the middle. The crowd goes silent. The show's about to begin. Welcome to the game of danger.
The wall of death
In other parts of the world, it's known by many names; the wall of death, metrodome, silodrome or the well of death. Our protagonist Rashed and his merry band of showrunners, however, prefer to call theirs "The game of danger".
Their stunt, like the wall of death stunts all over the world, is a carnival roadshow featuring a barrel-shaped wooden cylinder made of wooden planks, inside which motorcyclists and drivers, and in our case, Rashed, ride along the vertical walls and perform stunts, held in place by friction and centrifugal force. For those, who have never seen such a stunt up close, it's indeed a show of a lifetime.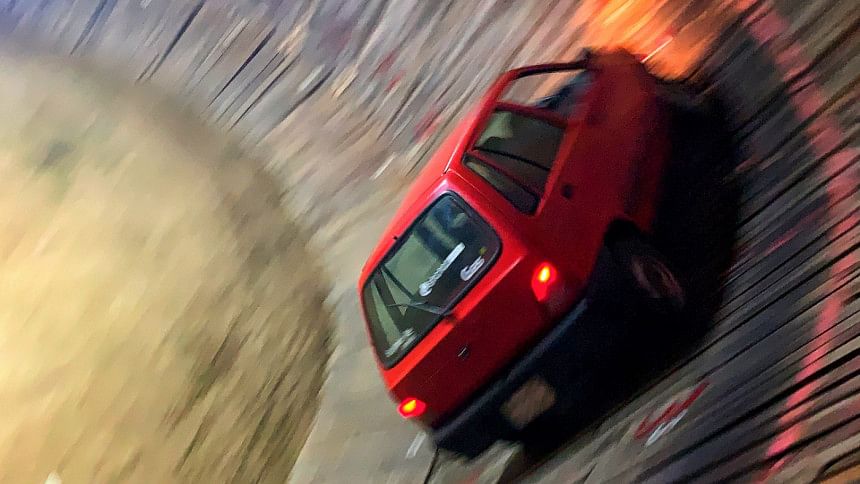 Rashed, the daredevil
Rashed's "The game of Danger" travels all over the country, performing in carnivals big and small in local towns and villages. I caught him by chance while I was on a weekend getaway in Netrokona, searching for some sort of local nightlife when I came upon this carnival where they were performing. A ticket price of 20 takas was money well spent considering the stunts I witnessed that night.
Rashed, our stuntman, started at the bottom with his motorcycle. After two rounds, he started ascending, first on an initial ramped section and then on to riding vertically once he attained enough speed. Twice, thrice, he kept going on in a circle. The makeshift wooden floor beneath our feet trembling. And just when I thought it couldn't get any better, he lets go of the handlebar. A loud awe from the crowd followed by louder cheers.
He wouldn't stop there. He decides to pull up his legs and sit in a crossed position while riding vertically on the ramps! The stunt went on for 3-4 minutes until he slowed down and went back to the ground. He got down from the bike and waved at the crowd. A round of applause. It was time for the car.
Just as with the bike, he started going slowly with the car, first on an initial ramp, then on the vertical ones. The wooden platforms started to tremble heavily now with the car running over them. A couple of rounds like that for 2-3 minutes until he decides to finally call it off and go down. Obviously, he gets down from the car to a hero's welcome; loud cheers and claps.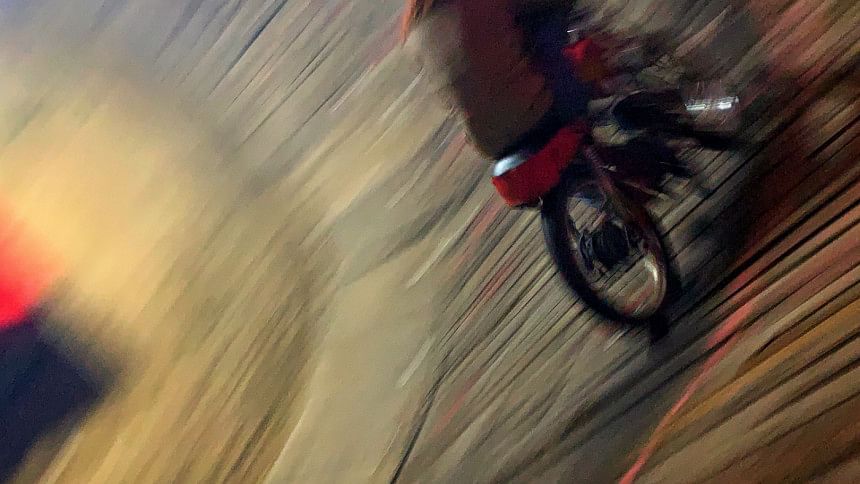 How the stunt works
The physics of the trick lies in centripetal and centrifugal forces; the forces that act on an object when moving in a circular path. With enough speed, significant forces are generated and the centripetal force acts on the motorcycle of the car inward and centrifugal, outward. Together they balance out each other and keeps them in their position and stops them from falling.
At the apex, riders often experience "greying-out", an impermanent loss of vision and sometimes, vertigo.
A flying dream
I caught up with Rashed two months later, while I was writing this article amid a countrywide lockdown. Tracking him down with the phone number which he displays in large and bold fonts outside his stage wasn't exactly rocket science. He told me that in his 20 years of career as a carnival stuntman, this was the first time someone had reached out to him to write about his stunts--an honour I was glad to bestow upon myself.
According to him, he started performing stunts when he was 15 and he learned it from his father, who was a stuntman at BFDC. At a young age, he had to start earning and education was a luxury he couldn't afford at that time. But he has no regrets, for he does the things he loves the most; putting up a good show and travel all over the country. When asked if he knows how exactly the stunt works, he says that he does not really know the science behind it in technical terms, but he knows his tricks and that God watches over him.
Before I put the phone down, I asked him if he ever wishes to become a professional stuntman in the movies like his father, to which he replied, quite dramatically, "No. I wish to become a hero".
(photos: Zarif Faiaz)