A new way to travel in Dhaka – Amphibious Cars
If it rains for longer than the time it takes to make a U-turn on Green Road, Dhaka gets flooded. How do you get around then? Get one of these amphibious wonders, of course.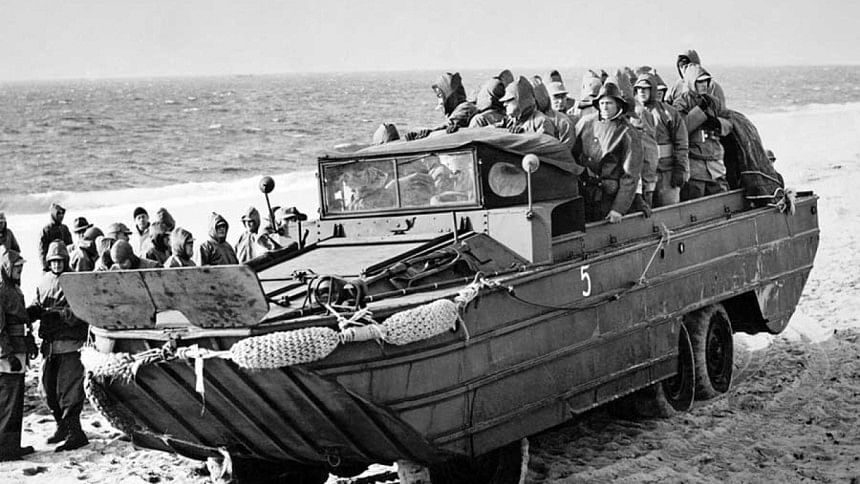 General Motors DUKW
Built as amphibious troop transport during World War II, the DUKW could fit 25 soldiers or carry a weight of up to 2.3 tonnes. Fondly called "Ducky", the first ones rolled out of the factory in 1942 and was famously used by George Patton to land Allied troops in Sicily. They also saw action during the D-day landings in Normandy, France. While overshadowed by the Jeep Willys, the DUKW lent the Allies a huge tactical advantage.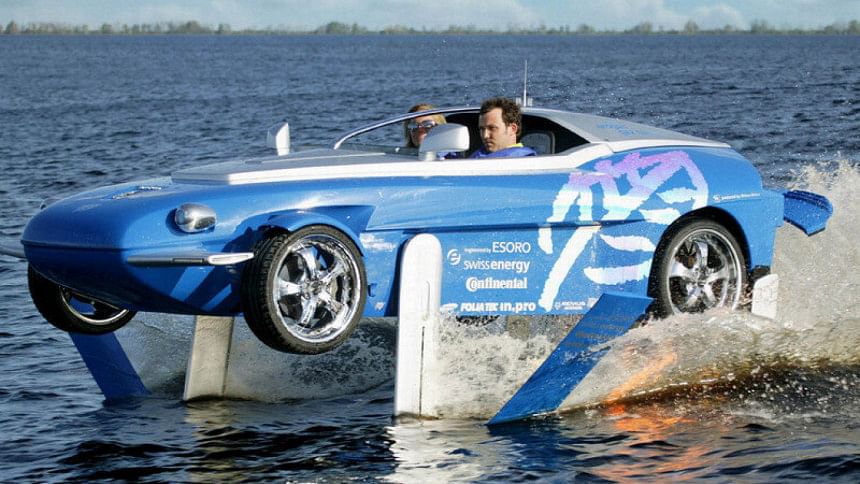 Rinspeed Splash
If speed records were held for amphibious vehicles, the Swiss-made Rinspeed Splash would probably kill off the competition on both land and water. It'll do 120 MPH on land and 45 knots in the water, which sounds like a bad idea since the Splash doesn't come with windscreen - rendering its name highly appropriate. Hydrofoils lift the Splash out of the water like a racing yacht, with a single propeller taking it up to speed. One has to wonder what would happen if those hydrofoils ever deployed on land.
Volkswagen Schwimmwagen
On the other side of the pond during WWII, the Germans utilised the capable but awkward looking VW Schwimmwagen, the amphibious version of the infamous Kubelwagen. In water, a propeller would drop down and propel it forward, with the front wheels being used as rudders. On land, the 1.2 litre aircooled motor moved it along.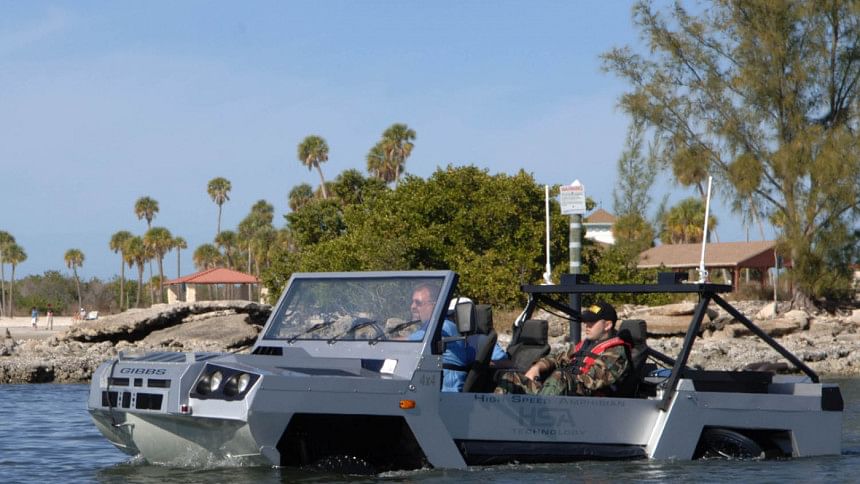 Gibbs Humdinga
Strange name, but having proved themselves with the Aquada, Gibbs Sports Amphibians (they really can't get the naming thing right) set about designing a 4WD off-roader that takes things to the next level. It's powered by a 350 HP V8 motor and has the same working principle as the Aquada, called High Speed Amphibian technology. It'll do 100 MPH on land and about 35 knots in the water - not bad for a lumbering off-roader that can seat 5 people comfortably.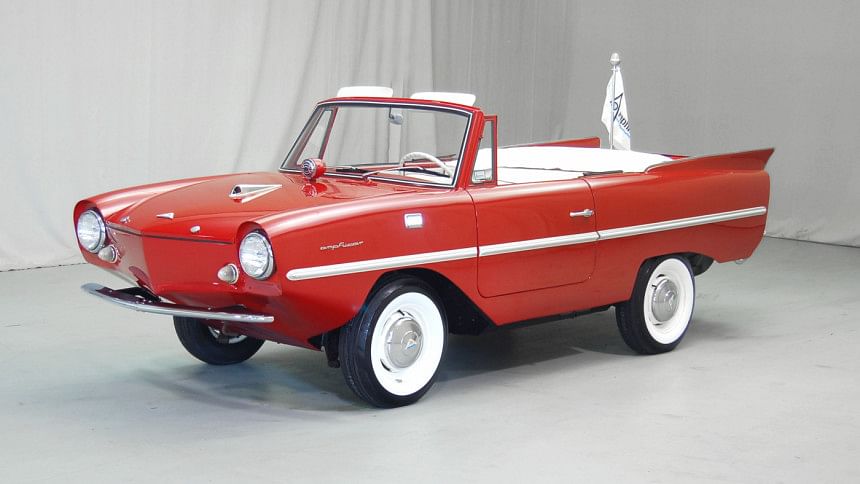 Amphicar
It may look like James May's attempt at making an amphibious sail-boat-car for Top Gear, but this one actually works. It was powered by a rear mounted Triumph motor, with propellers for the water that enabled it to reach up to 8 knots. Launched in 1961 and made for five years, the German designed Amphicar is perhaps the only amphibious car that sort of looks good, despite the ridiculous ground clearance.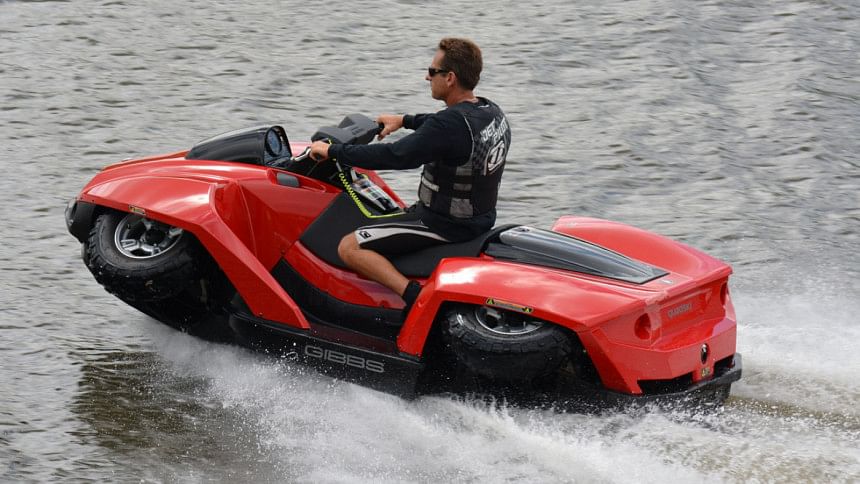 Gibbs Quadski
The Quadski is an amphiquad - an AWD ATV on land, a jetski in the water. It'll do 45 MPH on both land and water and makes dramatic exits off a beach even more dramatic, as it can transition from land to water in just 5 seconds thanks to Gibbs' patented High Speed Amphibian tech. Like the Aquada and Humdinga, that means the wheels fold away and tuck into the frame, allowing you to jetski away to your heart's desire. Wetsuits and shades optional.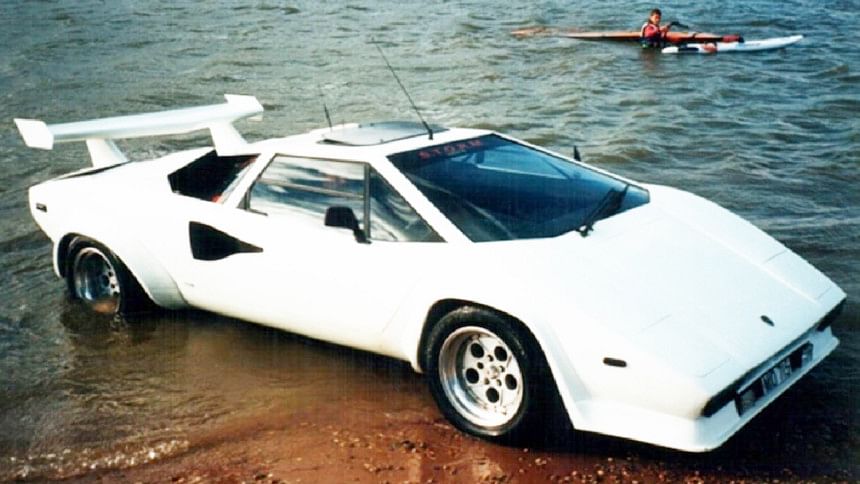 Amphibious Lambo Countach 
The one and only amphibious Lamborghini isn't actually a Countach - it's a custom tube chassis job, built by Mike Ryan, the person who helped build the amphibious cars for Top Gear's hilarious episodes. It went on sale last year for the meager price of around 18,000 GBP, which is much less than buying a Countach and a boat.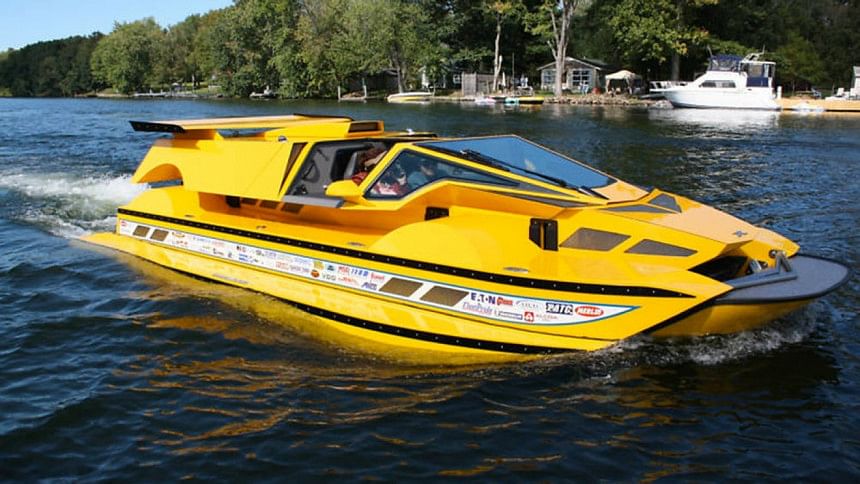 Dobbertin Hydrocar
The Dobbertin Hydrocar, despite its name, is not made of tin - although it doesn't look it, this amphibian is made out of rust proof stainless steel. It'll transform itself into a closed hull water craft within seconds at the flip of a switch. Power comes from a 750 HP Chevy motor, which is more than enough to propel this savage looking beast to ridiculous speeds on both land and water. It's not pretty, but it definitely is capable.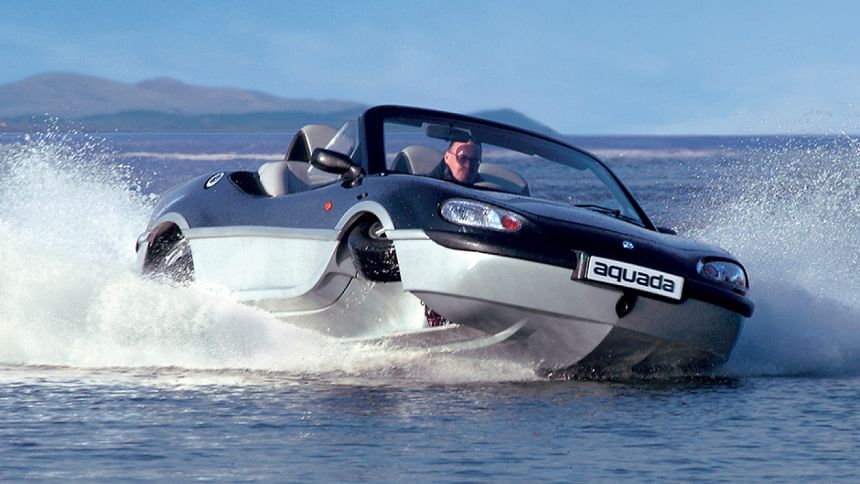 Gibbs Aquada
Powered by a 165 HP Rover 4-cylinder for the road and a jet pump for marine travel, the Gibbs Aquada has wheels that fold away and tuck into the frame when in water. The Aquada's abilities were showcased by Virgin Atlantic owner and billionaire Richard Branson when he crossed the English Channel in just 40 minutes in 2004. The roadster also bears a striking resemblance to a Mazda MX5, which is no bad thing. In terms of actual usability, the Aquada is probably the only amphibious vehicle worth its salt.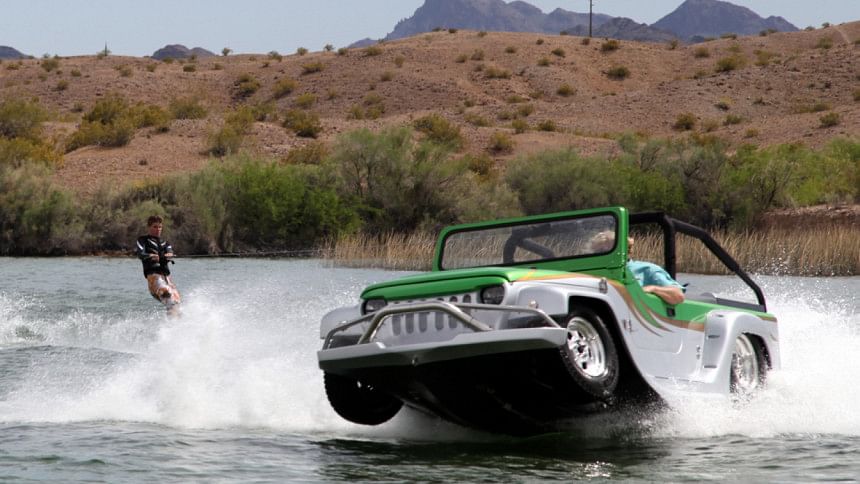 WaterCar Panther
The WaterCar part is fairly self-explanatory, but why Panther? Unlike common house cats, panthers are excellent swimmers and aren't afraid to get their fur wet. They're also notoriously fast runners - the WaterCar Panther is reportedly the fastest amphibious car ever. Even with the blocky appearance and all that heavy running/swimming gear, the Panther will do 125 MPH on land and a whopping 52 knots in the water. It'll also go off-road properly.