Dirty Business: 2015 Rallycross concludes
The second Nitol-Tata Rallycross championship comes to an end amidst much getting-stuck-in-sand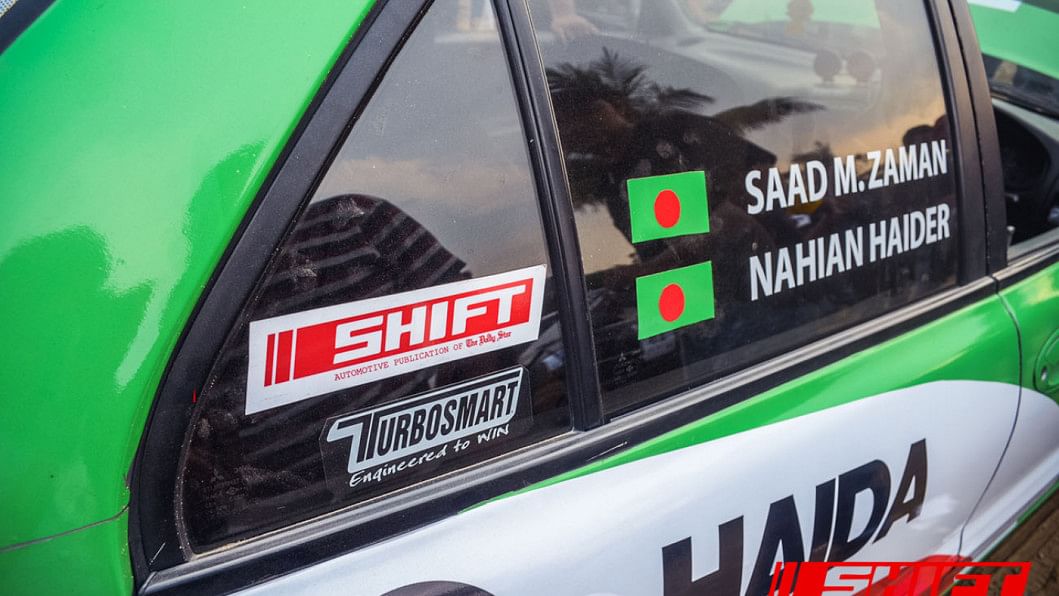 Take an assortment of cars, from tuned AWD turbocharged rally monsters to mundane family sedans and hatchbacks, add some dirt, some drivers (skills optional) and have them race about a makeshift track against the clock.
That is the formula that the organisers utilised when coming up with the only form of (legal) motorsport event held in Bangladesh. It works brilliantly.
On 11th April 2015, after a whole day of mucking about in dirt and mud, the winners were determined: Avik Anwar and his tuned Mitsubishi Lancer Evolution X, sponsored by Mobil 1. In second place, Joy Alam and his recently revamped (with more power) Subaru Impreza STI thundered into a repeat of last year's 1-2 position, Avik and Joy having secured first and second positions respectively in 2014. Joining them on the podium this time was third placed Dr. Sarwar Hossain Chowdhury, driving his converted and tuned Mitsubishi Lancer (converted to Evolution V).
Other than the three overall podium finishers, the rest of the field had some very interesting entries. Its no secret that high-powered rear-wheel drive cars don't fare too well in low traction situations such as dirt or mud, and that was well evidenced on the day of the event. A Toyota JZX100 Mark II, lowered and running low profile street tyres and large wheels on top of the RWD and the immense weight, was beached for almost half an hour on the track before it could be rescued. A mid-engine rear driven Toyota MR2 SW20 also took to the dirt track, but didn't fare too well. If nothing else, it did its best to look good while stuck in the sand.
One thing was clear. Front driven and all-wheel drive cars with loads of low end torque came out on top, as expected. While the underpowered entrants of Group B, C, and D were not very competitive overall, some of the cars posted very surprising times. One of the corporate entrants, Team Greentech Resort & Convention Centre, set a time of 90.240 seconds with a basic Toyota Corolla X with a stock 1.3 2-NZFE engine. 90.240 is quite close to the podium finishers' times, which were 82.923 secs (Avik), 83.844 secs (Joy) and 87.807 secs (Sarwar). Maybe we'll see more of these surprise contenders in future installments, since the first edition also had a surprising time (and a podium finish) from a Toyota Allion, of all things. Another surprise was the relative disappointment of Bappy Rahman's performance in his hyper-tuned Lancer Evolution VI, one of the fastest street cars in Bangladesh. Everyone expected it to do brilliantly, but instead it ended up beached on the track more than once.
Another valiant effort that must be mentioned was from Saad Mujtaba Zaman driving his bright green 4G93T powered Lancer: given a bit more time to set up the car and adjust to it, he might have done brilliantly.
Other than a couple of organisational foibles here and there, the event pulled off without a hitch. One thing we had a gripe with was the organisers wouldn't allow visitors to freely photograph the event. An event like this needs people to share and engage with others. This was a missed oppoprtunity to publicise the rally. Compared to last year, this year was a much lower trending topic. BUt the bigger space meant people could move around freely and that was a plus point.
Avik Anwar deserves a standing ovation for coming back from a serious leg injury a day before the race to win the Rallycross for a second time in as many years, while Joy's effort at uprooting Avik will be put down as another entry into the everlasting tug of war between Mitsubishi Evolution and Subaru STI. It was specially heartbreaking to see Joy come within a second of victory and end up second, since the night before was spent with his Subaru strapped up to the dyno, breaking in the engine for a 1000 kilometers after a few vital engine modifications.
Sarwar Hossain entered three vehicles this year, and his serious attitude towards winning could be evidenced in the way he set up his Evo IV, Mitsubishi Galant and Honda Civic, stripping them almost completely and tuning them to an inch of their lives to gain some advantage.
Watch out for more on this topic.
Hit that plus sign below for the whole gallery of crazy rides