Scientists discover why Mars is losing atmosphere every second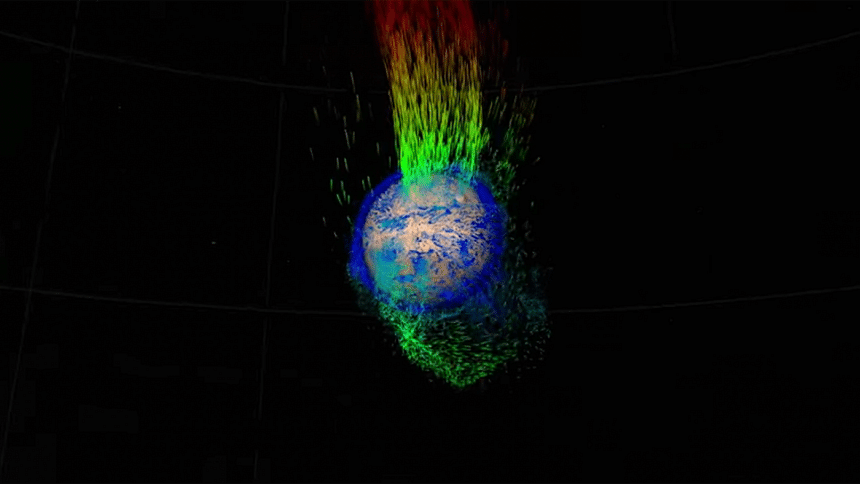 Scientists suspect that planet Mars looked a lot like the Earth billions of years ago. But due to an unknown phenomenon around 3.7 billion years ago the Red Planet's climate got severely changed and, over time, left the surface dry, desolate, and frozen — a lifeless shell of its former self.
Planetary scientists have wondering for years where all the surface water and atmospheric carbon dioxide — important for possible plant growth — went. Now, these questions are one step closer to being answered thanks to NASA's Mars Atmosphere and Volatile Evolution, or MAVEN, mission, which recently completed one year in orbit around Mars.
The scientists announced that Mars is currently losing about one-quarter pound of atoms — the same weight of a quarter-pounder hamburger — in its atmosphere to space every second. One of the main causes of this extreme loss is the solar wind, fast-moving charged particles ejected from the sun, reports Business Insider.
When the solar wind is especially dense — after a particularly powerful event like a solar flare or coronal mass ejection — the amount of atmospheric loss is 10 to 20 times more. Over time, this loss has thinned the Martian atmosphere to what it is today, which is less than one percent the thickness of Earth's, the report added.
"This is exciting to me to think that a [powerful solar] event like this increases escape because solar storms were more common and more intense earlier in solar-system history,"said David Brain, a co-investigator for MAVEN, during a NASA teleconference. "This immplies not only is Mars' atmosphere escaping today but much of that atmosphere was lost early on."
These results will not only shed light on just how habitable Mars was in its distant past, but also the potential habitability of similar worlds in distant solar systems with a star much like our sun.