Now Bangladeshi student wins bronze in int'l robotics challenge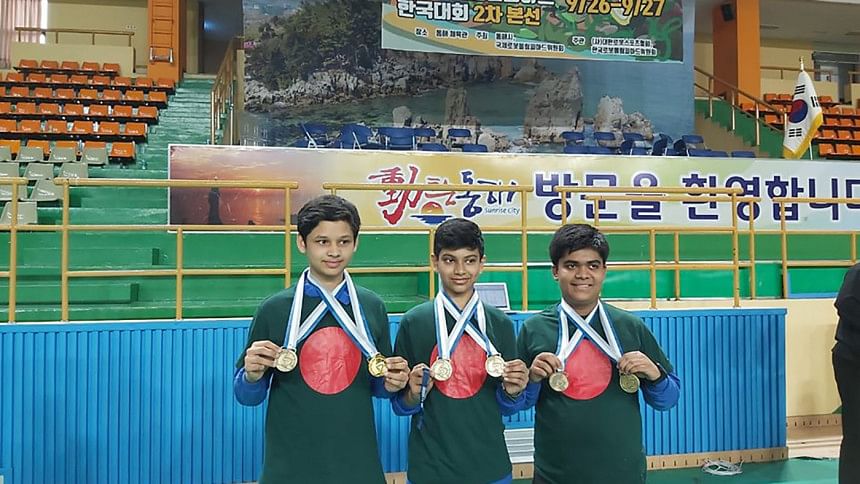 A Bangladeshi student won a bronze medal today on the last day of International Robot D Challenge in South Korea.
Quazi Mostahid Labib, a student of Chittagong Grammar School (Dhaka branch), won the bronze medal in 'Robot in movie' category of the competition.
READ MORE: Bangladeshi student wins gold in int'l robotics competition
His achievement came after another Bangladeshi student, Rafihath Saleh Chowdhury, won a gold medal in 'Robo Scholar Challenge' category of the same event yesterday.
Rafihath, a student of Jalalabad Cantonment English School and College in Sylhet, also won the technical award in the same event today.
Tafsir Tahrim, another student of Chittagong Grammar School (Dhaka branch) and Bangladesh's third competitor in the event, also won technical award in 'Mission Challenge' today.
The technical award is the fourth position after gold, silver and bronze which is also very prestigious, said Professor Dr Lafifa Jamal, president of Bangladesh Robot Olympiad.
She said Bangladesh got tremendous result in the International Robot D Challenge as this was their first participation in this competition.
During the two-day event, Bangladesh got one gold, one bronze and four technical awards.
"Our youngsters are very creative and that's why they did fantastic," said Lafifa, also the chairperson of Department of Robotics and Mechatronics Engineering of Dhaka University.
Last year, Labib and Tahrim won gold medals for the first time as Bangladeshis during the International Robot Olympiad, said Lafifa.