Vaccine registration builds antibodies: Study
Voting registration creates democracy, gym memberships generate fitness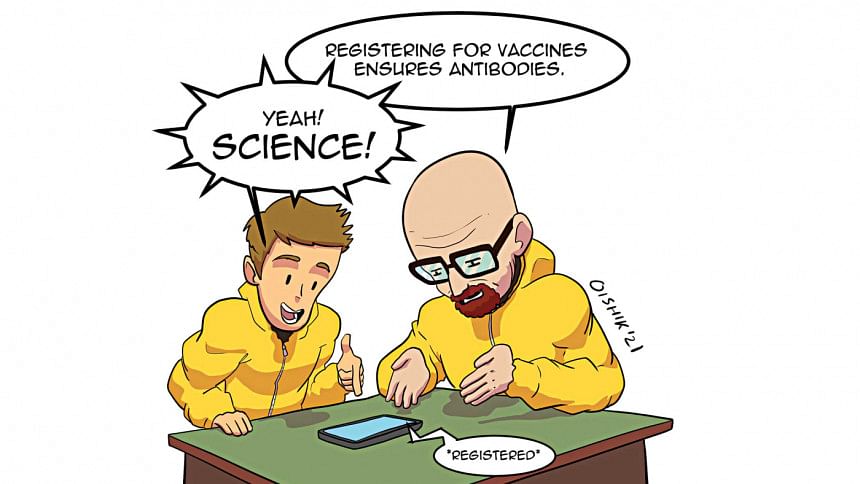 In a revolutionary new study conducted last week – meaning it started and ended last week, the rpm was off the charts, experts say – by Chapasthan scientists offers the potential to solve all problems.  
Titled "Life Hacked", the study found that merely intending to do something produced the desired outcome, but this is only applicable for Chapasthanis.
When the country was in a rush to open universities but at the same time faced with an insufficient vaccination rate, the scientists stumbled upon this discovery. The government had said students need to be vaccinated for universities to reopen amid the Covid-22 pandemic, but with the reopening date approaching, not enough had gotten the doses.
Government scientists however discovered that just by registering for the vaccination, students were building antibodies.
This triumphant discovery led to other areas of inquiry.
"We found that a full and functioning democracy in Chapasthan can be achieved simply if people are registered to vote," said the lead author of the study, Kolpona Bijoy. "And this will change our country and take us to the top of the world, because this intention-means-reality business is unique to us."
Students were delighted because according to the study, just by registering for their courses they had obtained degrees.
Chapasthan is also set to become the fittest country in the world as millions have registered for gym memberships.
Meanwhile, elated homeless people have been applying for home loans.
"I submitted my application, and now I am living in this posh house," a previously homeless man said while lounging in the living room, while the couple who already lived there was busy applying for gun licences.
The source of all these auspicious developments, Kolpona Bijoy, was asked how he stumbled upon this world-changing discovery.
"I just intended to find it and there it was," he said, and registered for a plane ticket out of the country. 
Email your satire pieces, cartoons, comic strips or whatever tickles your funny bone to [email protected] and you too may have something to show for wasting your time